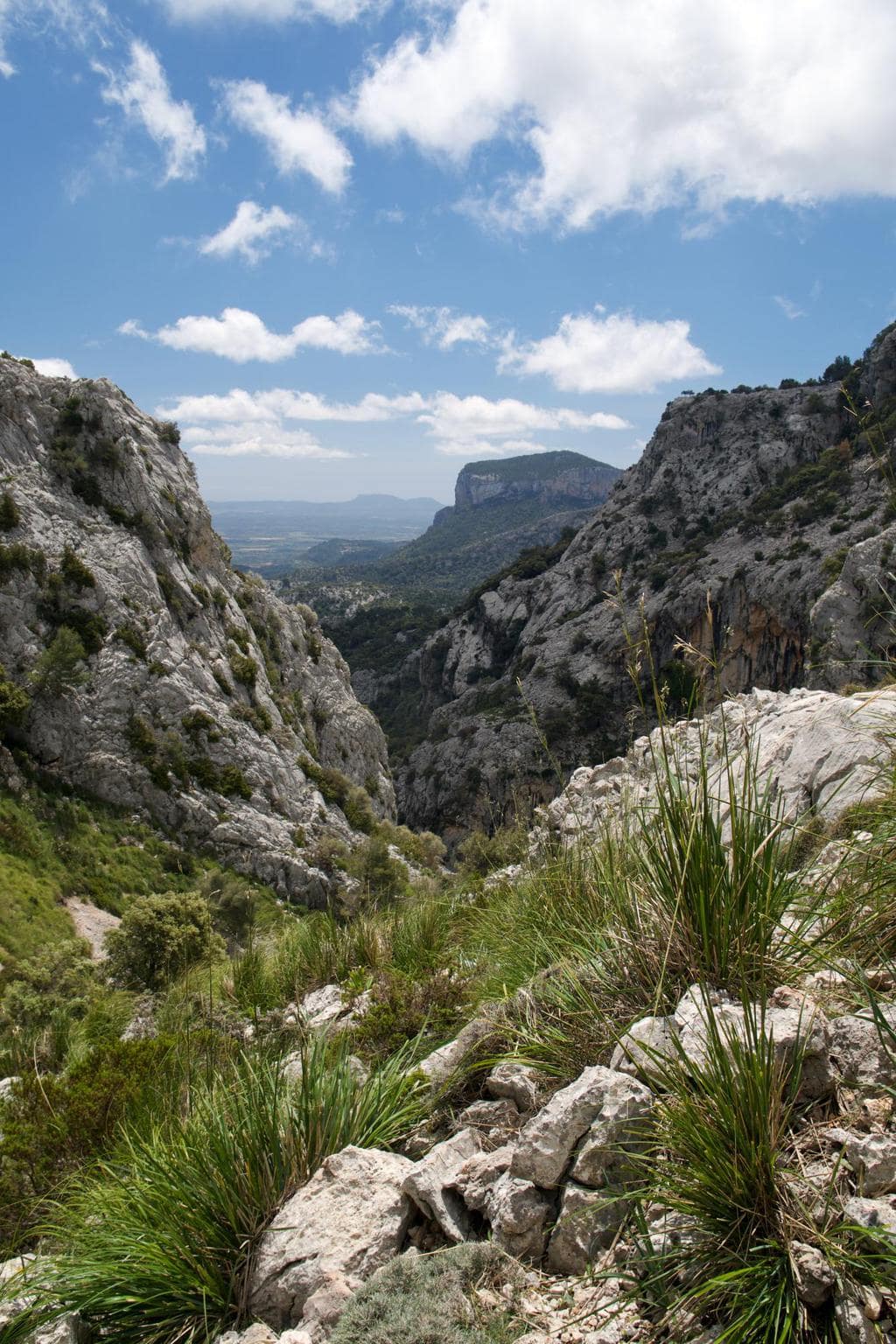 It rained tonight and this morning it is much cooler. When I look at the mountains in the background of Port de Sóller, I am glad about my decision to take a cab for a few kilometers and not walk up there. It is cloudy and dark.
I start my hike at nine. If I walked all the way I would have started at six to get to Refugi Tossals Verds in time.
There is no-one at Port de Sóller. I am the only person. I follow the signs in direction of Sóller. Suddenly a dog barks at me from the side and I am scared to death. His barking echoes from the mountains on the other side which sounds crazy. I love the cool weather and the way to Sóller and I go really fast. After one and a half hours I arrive in Sóller. The guide-book says it takes two hours to go there.
There is a lot happening in Sóller. Dozens of cars are parked on the streets for sale. There seems to be a celebration in the city centre. And although it is still before noon, there are a lot of people around. Too bad it is Sunday, because the food market is closed and I would have loved to see it. I go to the supermarket which is supposed to be open today to get something for dinner in case the dinner in the refugi is as bad as yesterday. There are a few stores open in the city center, I suppose because of the celebration, but I don't want to get something there, but in a bigger supermarket. My chances to get hummus, are much bigger there. When I arrive at the supermarket, it's closed. Google Maps was wrong there. So I go back to the city centre and have a coffee, while I look for a taxi stand.
The taxi stand is only two minutes walking distance away and it has the prices to several destinations written on a sign. The trip to Cúber will cost me 35 EUR. But the celebration is also happening at the taxi stand, so I ask a police officer where the taxis are today. He tells me, but I can't find it. After walking around for 15 minutes, I ask the receptionist in a 5-star hotel if she could get me a cab. 'She could only do that, if I had a room there', she tells me. And because of the celebration the taxis won't come to the hotel anyway. But she is kind and shows me on a map, where the taxis are and thus I find them.
During the cab ride I get sick. I breathe deeply to calm my stomach. The taxi driver speeds up the serpentines and overtakes other cars and bikers risky and I am glad as the drive is over. At the view point at reservoir Cúber are a few tour busses loading on and off hikers. Seems I am not the only one not walking up here. And now I go further to Refugi Tossals Verds.
It is very cold up here. A sign predicts 1 hour 50 minutes to the refugi. In small serpentines the way goes up. I can see my breath in the cold and wet air. I take a short break to get my pullover and a scarf. The scarf smells like detergent, because I kept it in the top of my backpack. How wonderful fresh clothing smells! I am looking forward to have fresh clothes at home.
I suddenly hear running water. This is the first stream that I see on this island. Rosemary bushes are edging the path. I tear-off a branch and take it with me for dinner, not knowing what I will get. The employee at Refugi Muleta called Refugi Tossals Verds to tell them about my eating habits. I am curious about what they will do with that.
The path is muddy and soft. Luckily it isn't that steep here, because with the muddy boots it's quite slippery on the rocks. Then the path turns into a stream. I don't care, since I have waterproof boots. I have to concentrate very hard not to slip on the rocks or trip. I pass a field of debris and then go in serpentines up and down and around the mountain..
I can't get enough of this beautiful scenery. I walk and walk and it is hard to imagine that there is a refugi in the middle of nowhere. I spot a signpost that points towards a rock and take a picture while giggling, because I think this is a funny mistake until I see chains screwed into the rock. Okay, I will go climbing again. This time the chains will help me. As I leave this part behind me, I have another amazing view. I still can't see the refugi.
The sun comes out. I stop for a little while and take off my pullover and scarf. As I get over the next hill, I see a small house in the far. That has to be the refugi. As I walk down the path the hat is like it was swallowed up by the earth. I can't see it anymore. I doubt my mental health. Was this a Fata Morgana? After two times up and one time down in between I am suddenly there. It took me 2 and a half hours to get to the refugi.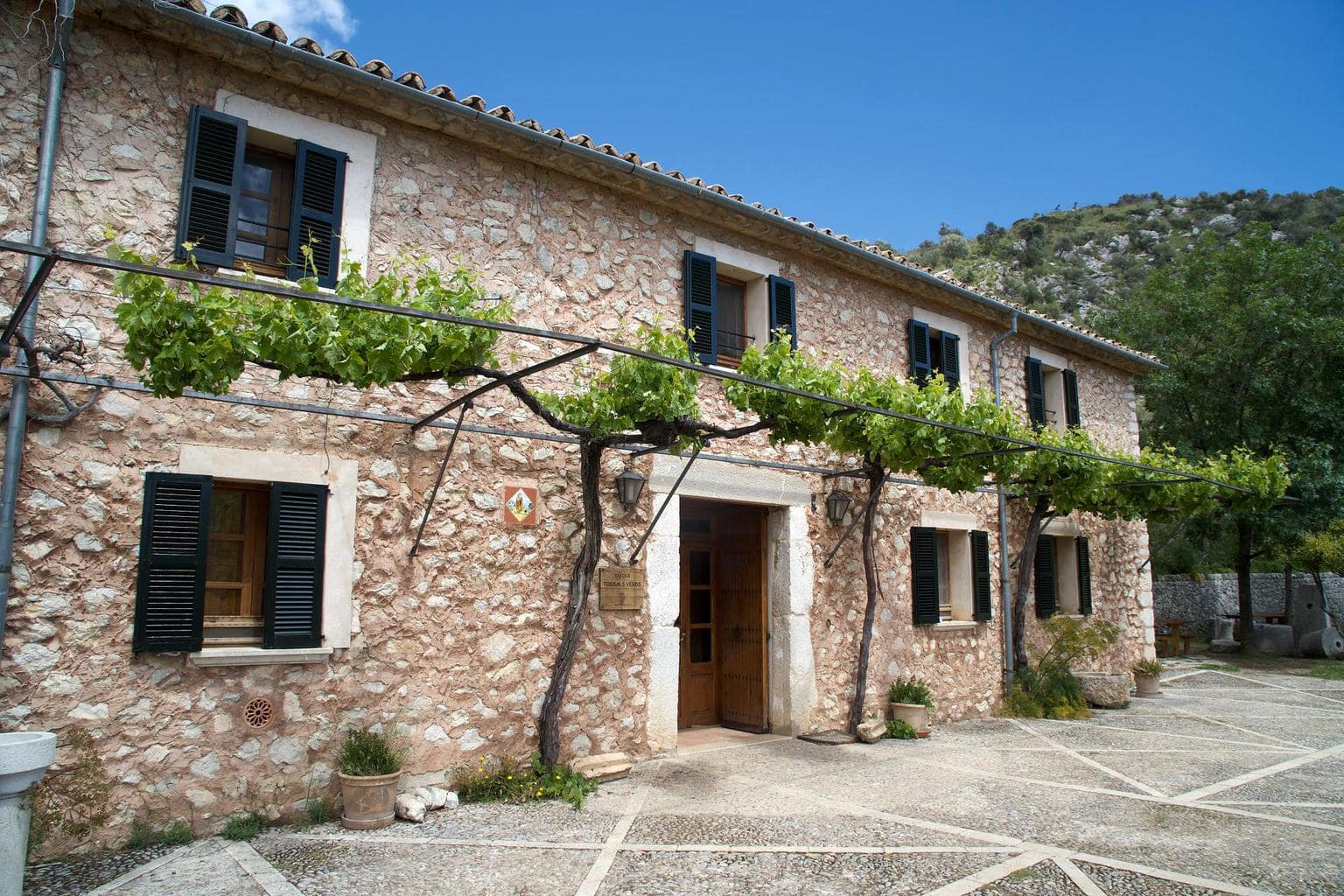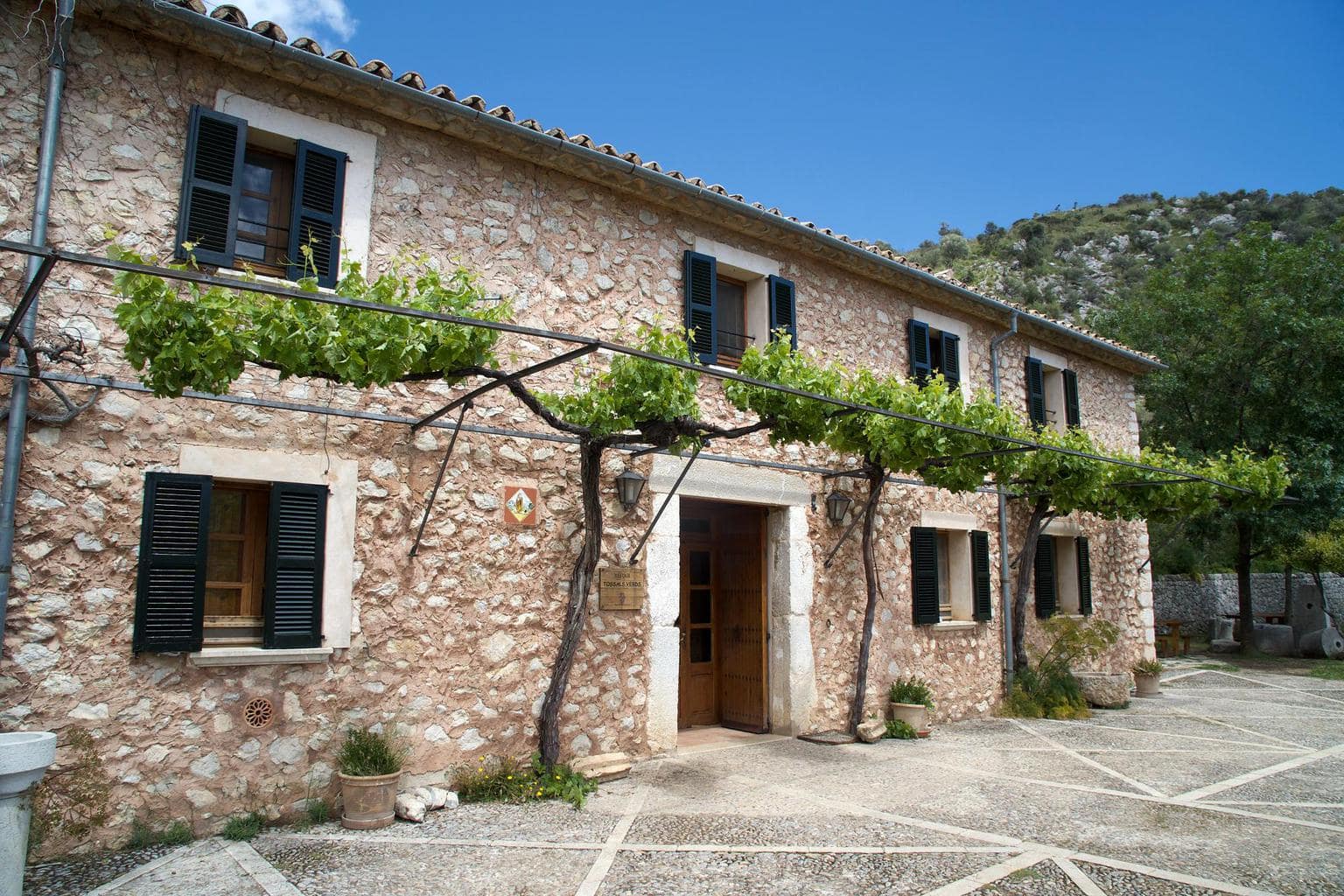 I liked this stage the most. It was so varied and exciting. And those views! I am very happy with my decision to take a taxi in between, because with 763 meters elevation gain, 1084 elevation loss and 13.2 kilometers in total it was exhausting enough. My feet at least say that. They are not used to rocky paths.
I take a lukewarm shower (it doesn't get hotter) and wash my clothes at the well outside, which has freezing cold water. With an air temperature of 13° C (55° F) I am freezing now. And the wind is still icy. But the sun comes out more and more and warm the three layers of clothes, that I am wearing. I am having a late lunch and eat almost everything that I have left in my backpack. I leave the avocado and tomato for breakfast tomorrow. And I still got a few cookies left. Vreni found some of the good oat cookies at the supermarket next to her hostel which I bought in Palma. She is sharing generously. We sit in the garden and talk while drinking lemonade.
As dinner is served around 8 o'clock, I am very excited. First we get a salad platter and then a casserole with braised meat and potatoes. If I would eat meat, I would love this dinner. I wait for a while and then there is another casserole with baked potatoes with swiss chard, artichokes, cauliflower and a deliciously seasoned tomato sauce. I am in heaven. It tastes great and I tell the employee that I loved it. The vegetarian casserole is the first that's empty, because also the meat-eaters get some of it ,too. While I write this report three more persons tell him, that the food was great, but the vegetarian was fantastic. He is pleased. I asked him, if he would be so kind to call the next refugi and tell them I am vegan. He is. This man is so kind, but looks a bit grumpy until you tell him something funny or nice and a smile takes over his face that reminds me of the smile of a little child.
The rest of the evening we have red wine and talk. A typical hiking evening as it is. Tomorrow it's only two more stages.
Incredible, how time goes by!
See you tomorrow!
Rina