After the flight to Palma being a disaster, I arrived at Elena's apartment at half past nine, two hours delayed.
The flight was delayed because the crew couldn't dispatch the flight in Venice on time. In this first 35 minutes delay the airport changed the gate four times each 15 minutes. As soon as I got my MacBook out and got comfortable, I had to change gates again. In the end we were going on the plane from the original gate with 50 minutes delay.
There the next complication was already waiting for me: Three passengers had dropped baggage, but didn't show at the gate (maybe they were at one of the other gates;-)). So the entire cargo area had to be searched for the three bags and get them off the plane. They weren't in the back cargo area, so they had to search the 90 bags in the front cargo area, too. (Thanks to the captain by the way, who told us exactly what was going on!) When the bags were finally found, there was a new information: Those passengers really did want to go to Majorca, but the ground crew checked them in wrong. So we waited for another 15 minutes for them and then took off with two hours delay.
As I arrived at Palma airport, I took a cab, to make it to the supermarket next to the apartment in time to get some groceries, since it is Sunday tomorrow and the shops won't open. And I don't want to start my hike with a fasting day. Three minutes before the store closes, I enter it and grab the next best vegan things, I see. I now have a wholemeal roll, a pretzel, hummus and seitan burgers, that also taste great eaten cold.
After a small dinner I fall into my bed and wake up at 6 sharp. My biological clock… But I turn around and sleep a bit more, because Elena told me about a supermarket, that opens on Sundays at 9 o'clock. The thought of a fresh breakfast is too tempting.
As I leave the apartment at 9 Elena isn't there. I text her via WhatsApp and thank her for her hospitality.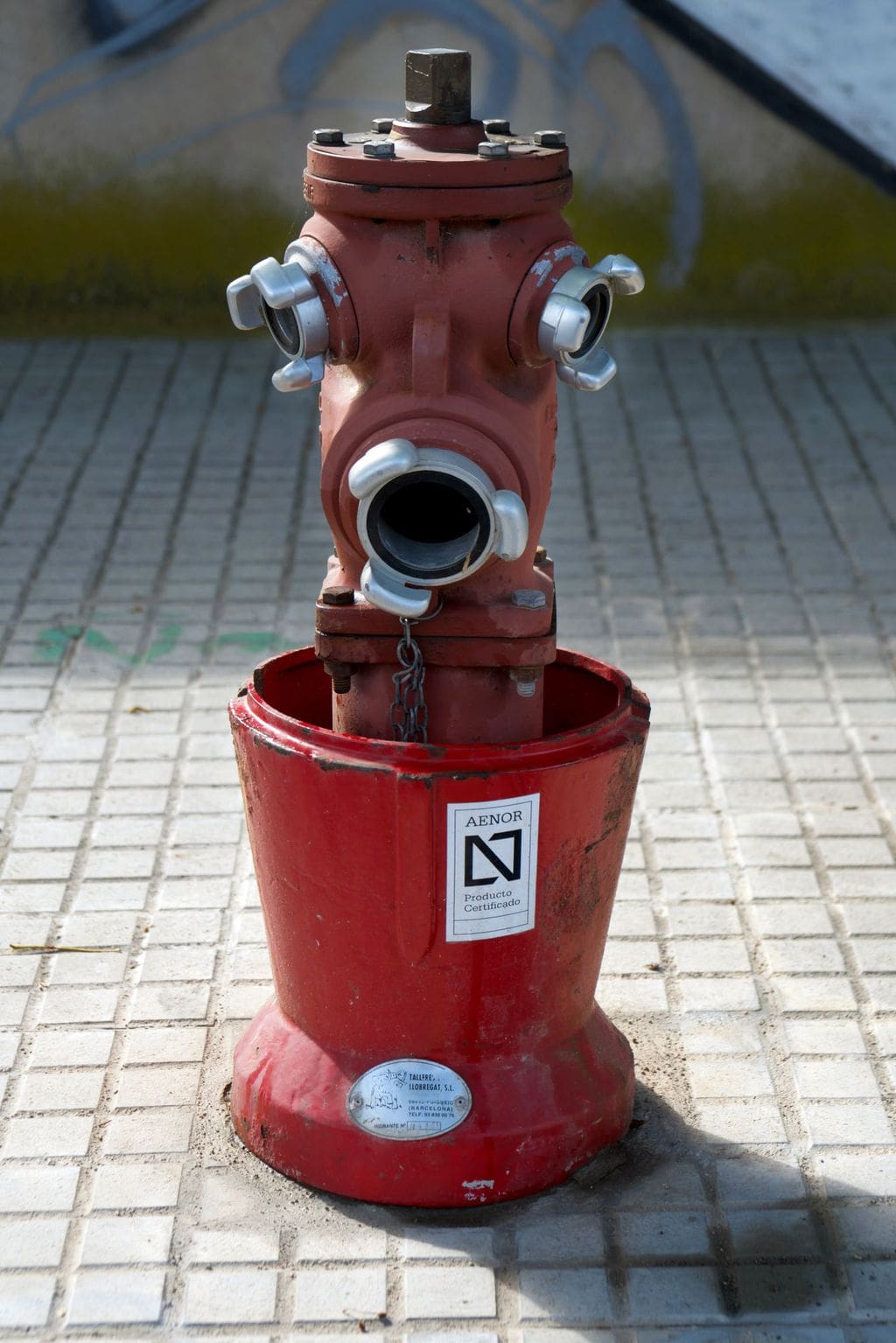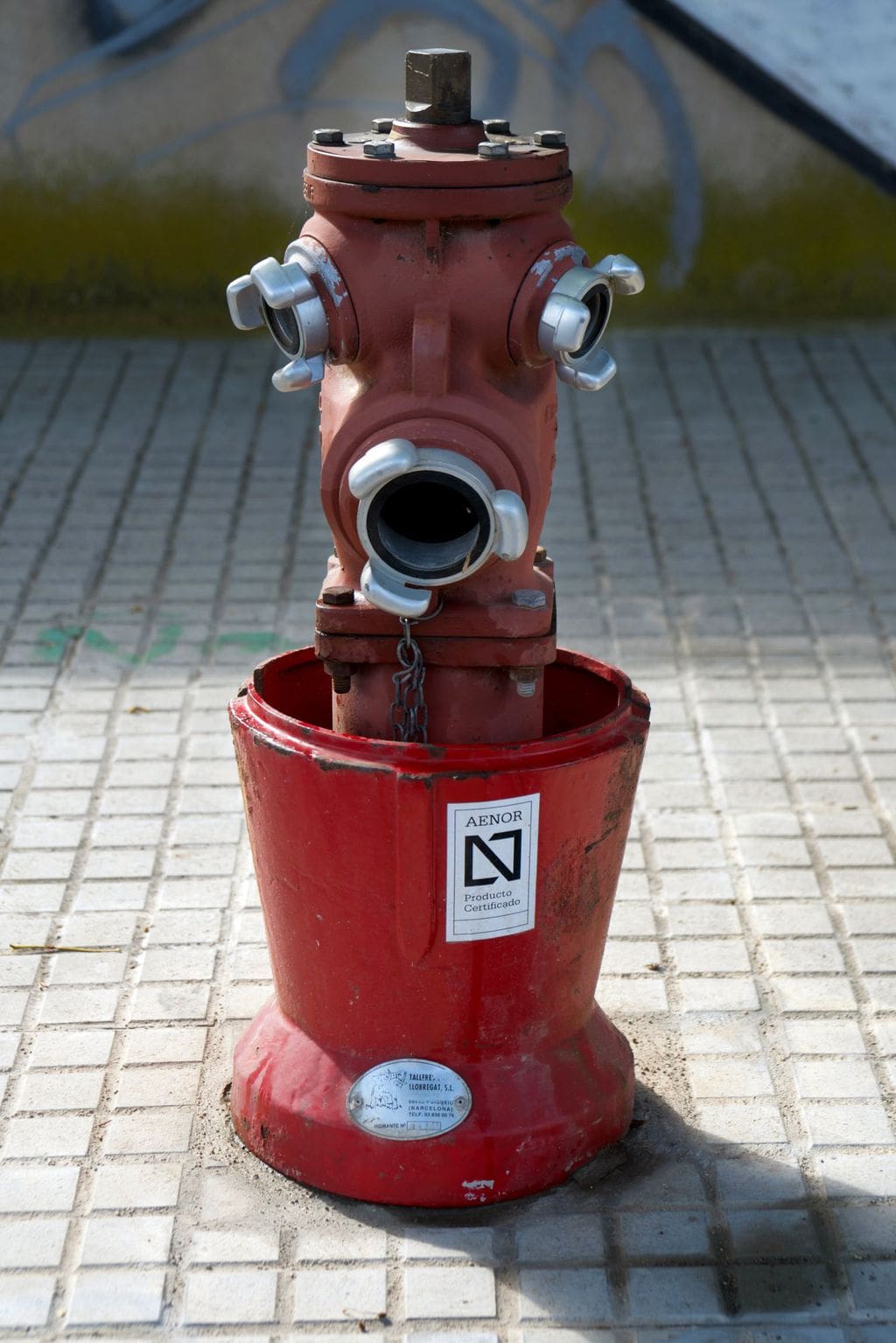 First I go the supermarket to get some provisions. Unfortunately the only sell bananas in 1-kilo-batches, so I will have bananas the next couple of days. But it's not too bad, thus I save some of the magnesium tablets for later. To mix it up a little I get some grapes, a pack of oat cookies. And water, of course. As I am trying to screw my drinking system onto the bottle I recognize that it doesn't fit. How about that. But I have a German water bottle to refill, so no worries.
I start my way to Port d'Andratx. Google Maps tells me that the next connection is by train. So I walk to the next station and stop at the machine to get a ticket. I can buy a ticket for the train and for the train + bus there, but my destination isn't listed. A girl who comes by also has no idea. I look up the way again and find another connection via bus. It will take me 15 minutes longer, but who cares. At the main bus station I get to know, that I couldn't have bought the ticket at the machine, they only sell them on the bus.
The ride costs 5.55 EUR and it takes two hours. I am curios and look up how long it will take to get from Pollença to Palma at the end of my trip and it is also only two hours although farer away. Fair enough.
As I am on the bus, I get a message from Alessandro, my host in Valldemossa. He asks, if he should pick me up from the airport. Well, I know I repeat myself, but I love to travel with AirBnB.
In Port d'Andratx I have a lunch break and eat the rest of the seitan burger with hummus on the second half of my roll. The left-over hummus I dip with the pretzel. In a café I have a coffee (Thanks to Tom Soya) and use the restroom to get the my sticky grape hands clean.
And then my journey finally begins!
Right from the start I smell different scents than elsewhere. Flowery somehow, but I have no idea where they come from.
It is cloudy and windy. In the sun it is very pleasant. But without sun it is quite cold if resting. It is so bright and I need my hat to protect my eyes.
As I am on the way for about quarter an hour it is suddenly totally calm. No tourists are around and there is nobody else around. I walk past a garden with lavender. Not only the sight pleases me, but also the scent. Then I turn into a pinewood – and I am in heaven! I love that scent.
The trail goes up and sometimes straight up. I breathe heavily, my heart races and I sweat. From time to time I turn around. Also Take That sung "Never forget where you're coming from". Please take that literally when hiking. I have taken so great photos while looking back. And you are able to calm your breath. This is a great tip for every day, too: Just look back at what you have achieved so far! 😉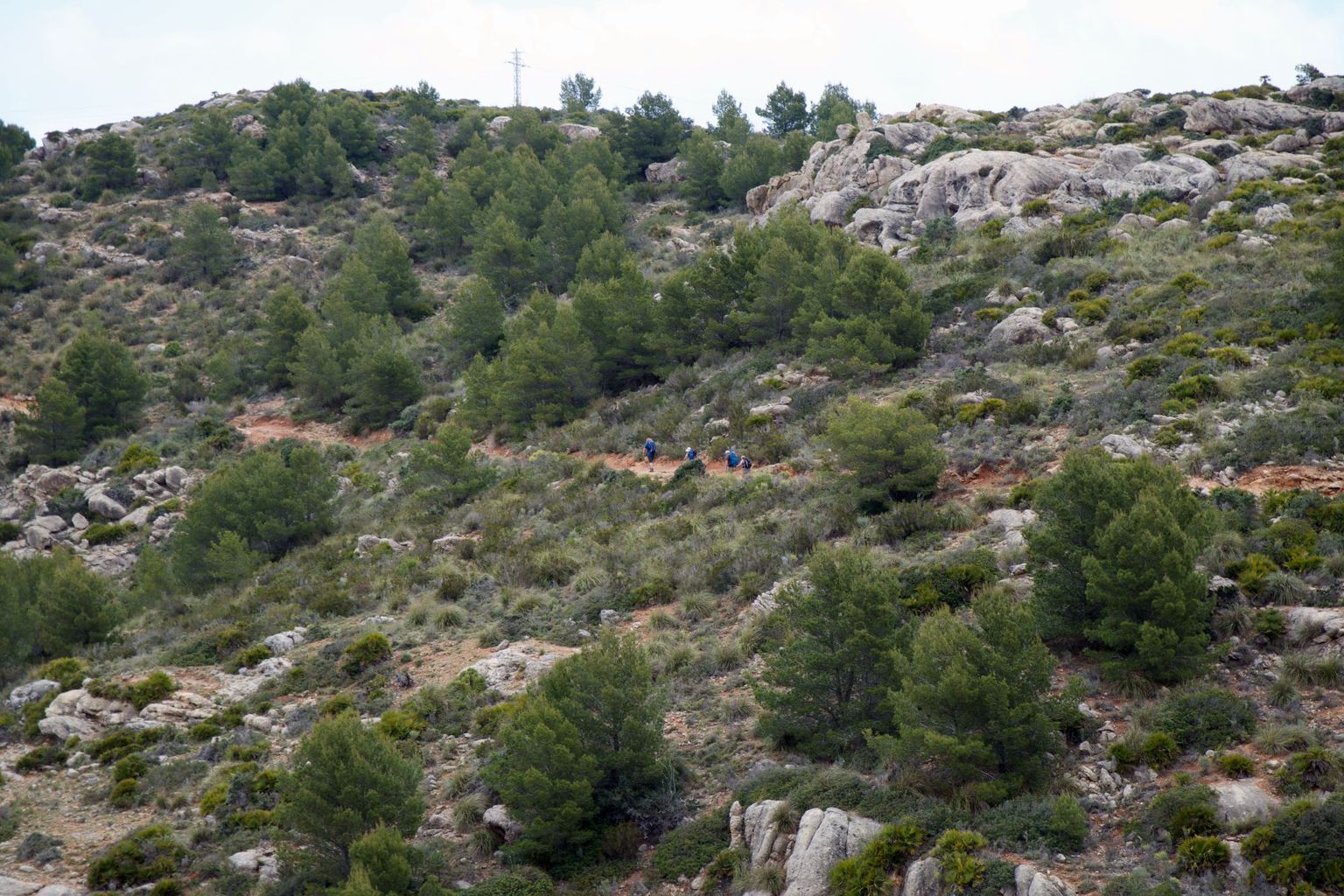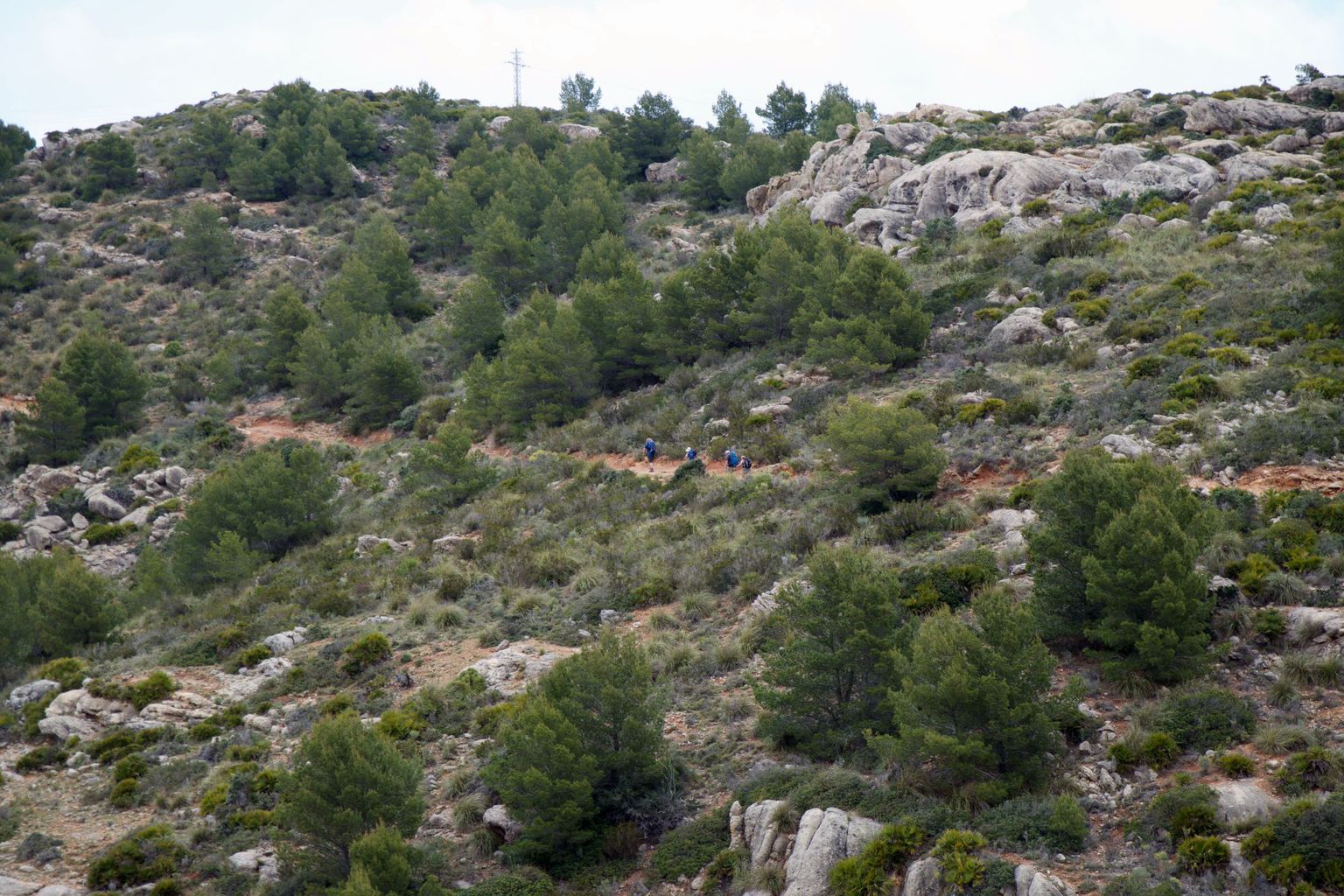 In the far I see some hikers who hike up the hill in front of me. Maybe they are hiking the GR 221, too? They backpacks sure do look like this. Maybe I will meet them along the way.
Only a few puddles tell that it had rained the last three days. The ground is still very dry.
After hiking 4.5 km I take a break. My feet are hot. I let them get some air to prevent blisters. And then a couple of hikers pass me. A young couple has backpacks the size mine is, they are probably also on the GR 221.
I grab my cookies and have some. They are delicious and claim they have a high fiber content. High fiber content with 6%? Lentils have 12%!! I am used to higher doses of fiber and don't have to worry about my bowel movements…

As I surpass the summit, I stop and marvel. I almost don't go further, because I take so many photos. It is just so beautiful here. The path downhill is rocky and I am glad that I brought my hiking sticks that provide the necessary stability.
My soles burn. I have to change soles tomorrow and check if the other ones are better.
Beneath the burning sole I am much easier going now. I don't hyperventilate as much going up and going straight I am fast. I keep my phone in my pocket more often, because the cairns show me the way.
Then the way gets steeper and I proceed very slowly, because there are a lot loose rocks. Suddenly a chain blocks the way, but my navigation app says it's the right way. So I step over the chain and proceed my way. Then I come to a crossing and should go right. But it is the first time I see a mark of the trail and it looks like a shortcut, so I am in.
"Luckily the trail is marked every couple of meters", I speak into my phone, to make a note, as I look up and freeze. Closer than 20 meters two goats are standing in front of me and watch me. Slowly I go down the hill and leave them behind.
I take a lot of photos of Sant Elm and Sa Dragonera, the view is just too beautiful! I take a right turn and I am on a street and then directly at my hotel. I check in and look forward to a shower. I wash my clothes in the sink and hang it on the balcony to dry. Why the hell did I only pack one bra??? I hope it dries fast until I leave for dinner! I guess this is the last time I washed it on this trip…
The rest of the afternoon I stay in bed and edit the photos that I took today. I write the report of today and accidentally erase half of it by hitting a bad combination of keys. So I write it again… That's life!
The clouds that hang over the bay all afternoon are gone in the evening and I am looking forward to a nice sunset. At dinner time I go to the Hostal Dragonera, because I heard they have vegan tapas. They didn't have a room, as I booked all accommodations in February, but maybe they have dinner for me.
As I arrive at Dragonera, there are no tapas listed on the menu. I ask, if they serve vegan tapas, because I heard so. Without any change of facial expression they tell me: "Tapas? No!" – Well, then I will go some place else. I cross the street and sit down at the Italian place called Trattoria Battiato. I have a fantastic pasta arrabiata there with lots of garlic and peppers. It is so hot that I almost burn my tongue.
After my meal I get a bottle of water in the little shop next to the trattoria and walk around a bit to play with my camera.
Well, and now I am going to bed. Tomorrow I will have to walk 12 kilometers with an elevation gain of 590 meters.
My guide-book says it will take 4 1/2 hours for that. Since I don't have wifi, reception or food at the next stop, I will shop for some food tomorrow morning.
Sleep tight, see you tomorrow!
Love,
Rina