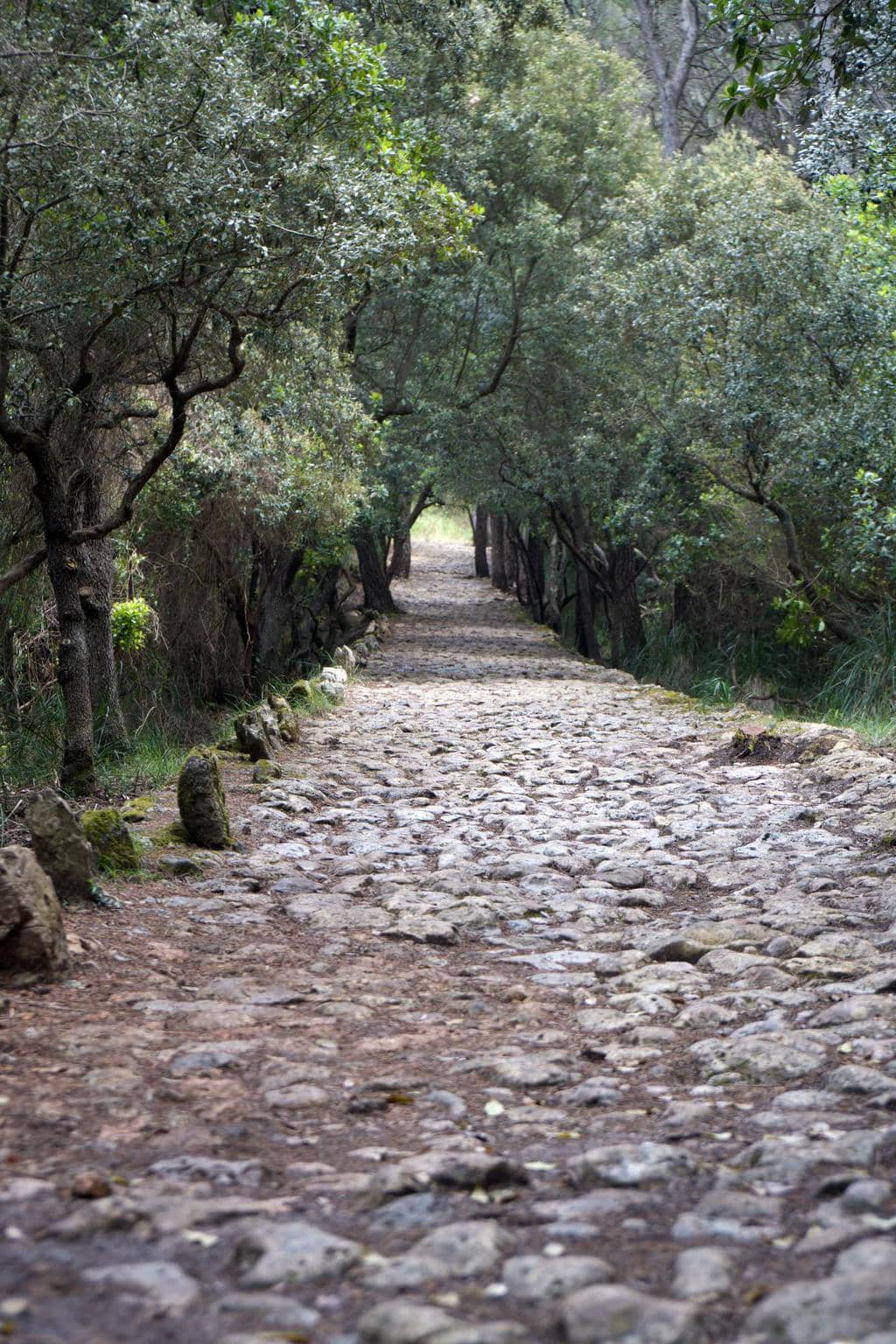 Vreni and I slept well. At 8:45 a.m. we start our hike. At the small mini market down the road I get a banana and a warm bread. It is very delicious.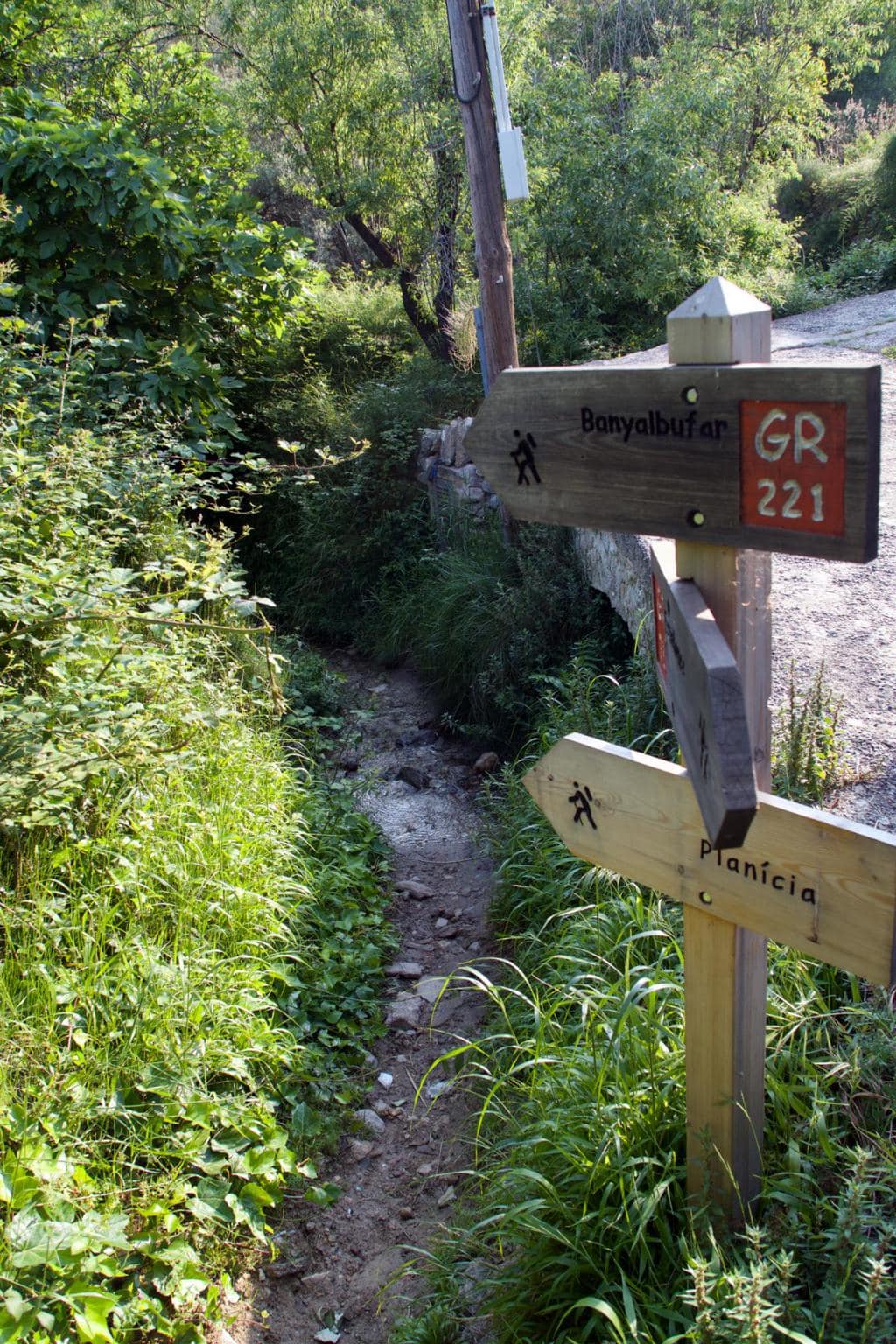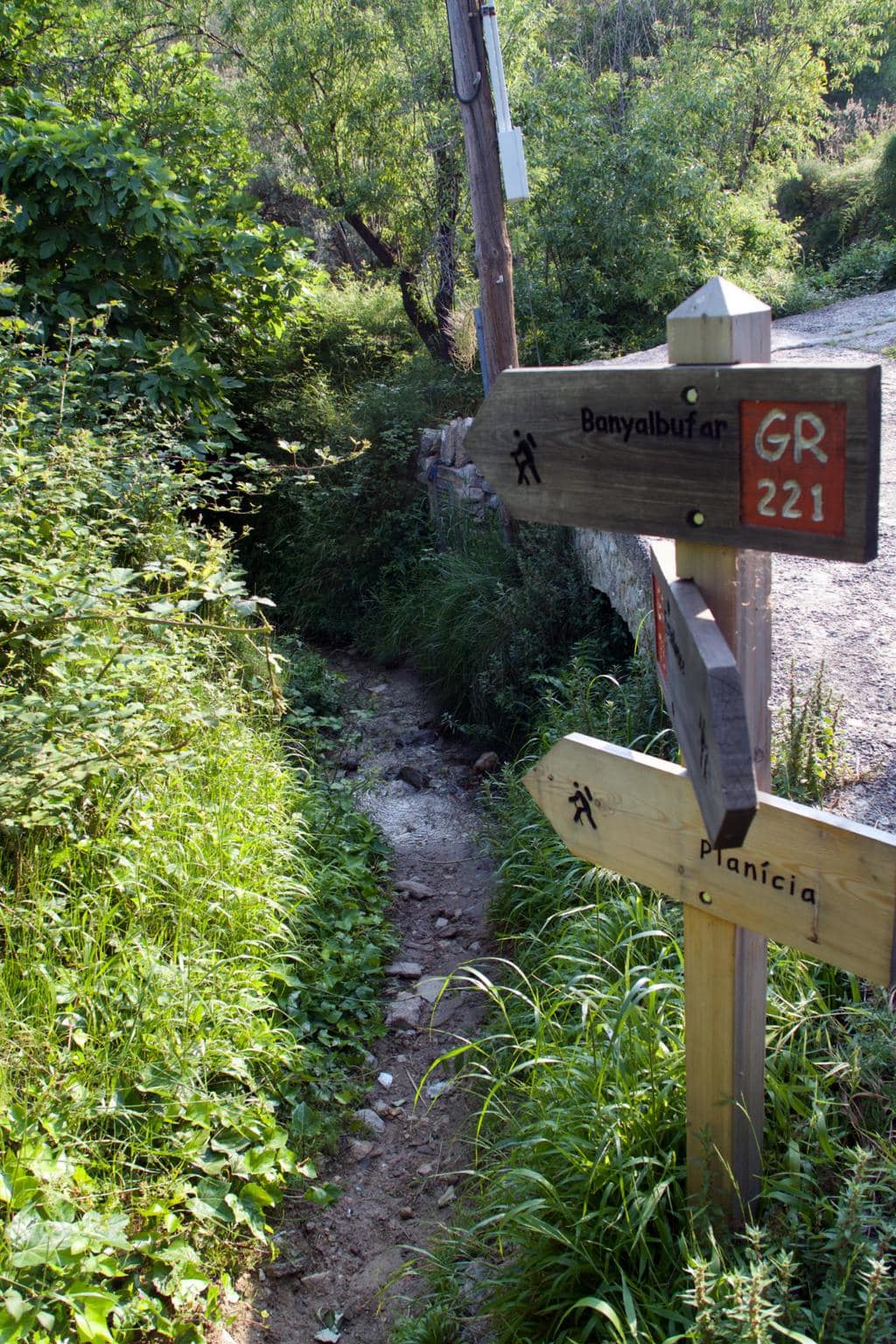 We follow the signs to Banyalbufar and the way suddenly goes through a stream. Good, that I packed my waterproof boots, but it is also easy to balance on the rocks and prevent the boots from getting wet. Along the way my phone makes that sound again, that indicates, that we are on the wrong way. Vreni and I compare our maps and we see, that there is a shortcut to Banyalbufar, that we take. This way we wouldn't have to go a part of the trail two times to go to Banyalbufar, as my track indicates.
Today we have to go a lot steep paths again. I have to stop from time to time to get some air. Vreni is going in front of me and suddenly disappears. She is neither in front of me nor behind me. I wait for a while, but she isn't coming. Then she must be before me, I think and go ahead. I am slow on the way up, but this slow that she is completely out of the way? I start to worry that something happened and stop for a while, as I see here coming in the far. She made a right at the crossing after the hill to look for a lookout. Now we are walking together again. And this is going very well. We have a similar speed of hiking.
The way is now with signs. Every couple of meters little wooden poles are marking the way. After about two hours we arrive in Banyalbufar and stop for a coffee break (and again I am proud of my idea to bring Tom Soya to my vacation). It is 11 a.m. and we aren't hungry, yet. I could get some more cookies, though, but there is no supermarket. But in Esporles are two supermarkets. With the rest of my provisions we will make it there.
While we are sitting in the café the British guys are passing by. We saw them walking down the street and both had to think of the movie The Way, as they walked behind each other. They are grabbing a bite here and then go to Esporles, too. I will meet them again tonight, since we are in the same hostel. We haven't seen mother and daughter today, but maybe they just slept in.
As we take our butts up the next hill, it starts to rain. So I haven't brought my rain cape to no purpose. After ten minutes I take it off again. The way is steep and I have to give it all my energy. I have to take a break, eat a banana to refuel. And I have to drink more!!! This steep way up is by the way the one my track wanted me to go into town. I am so glad we took the shortcut earlier, because if I would be going up this hill, that I would have went down before, I would be pissed. My mind would go like: "Whaaat? I just walked down here and now I have to get up again?? Are you kidding me?
And then we enter a fairytale wood. Some might call it a laurel forest, but this little, curvy trees and the little light that they are letting through are just fairytale.
The rest of the stage we follow a rocky path down, that provides many trip hazards and I take some of them. About 400 meters before we are at our goal I say to Vreni:"And now, there please be Esporles, I am done for today!" My wish is heard and we go into town. We take a lunch break there and go to an ATM before we go to our hostels. I have reservation at Sa fita backpackers. Vreni is going to sleep in her tent at Refugi Son Trias. We appoint for half past five to go to the sports shop next to my hostel. Vreni wants to get a fleece jacket for the night.
I just love the hostel and the way they greet me. They thought of everything. It is only half past three and check-in is not until four o'clock, but the guy checks me in with a smile and asks me, if I came from Estellencs. I did it in great time, he says and he offers me some earplugs and shows me where to put my boots. They have crocs for everybody here. The rooms are clean and the bathroom a dream. I decide to skip doing laundry and retract myself into the garden to edit my photos and write these lines. I could stay a while here!!
I am looking forward to go to the supermarket and hope for hummus and salad with bread and olives. But before going to the supermarket, Vreni and I walk around town to see the sights. It is beautiful here. Both supermarkets don't offer hummus or guacamole. The only thing I can get there is a can of baked beans. At least a protein-rich meal!
We eat at Refugi Son Trias, where Vreni pitched her tent. I hope she won't be cold tonight. I tell her to text me, if she needs anything and I will let her in the hostel. She could pay for it in the morning.
Around half past nine I go to the room and finish the report. Tomorrow we are going to Valldemossa, where I got a room via AirBnB. They have a pool there and the room is for two people. I told Vreni, that she can stay with me, if she likes. I doubt that she finds a bed in Valldemossa, that isn't too pricey.
See you tomorrow, good night!
Love,
Rina