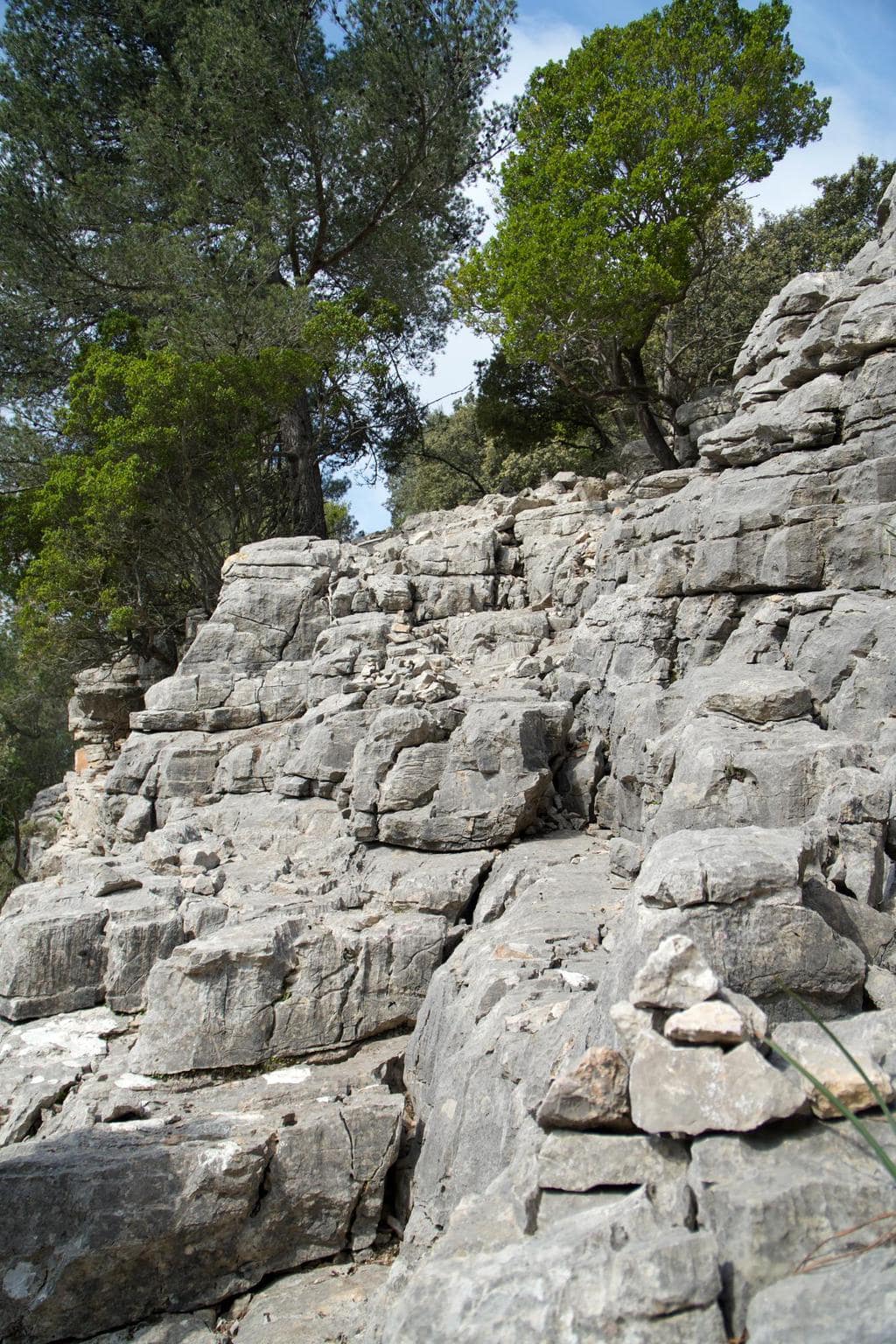 As I wake up at 7 a.m. it is dark, because someone closed the shutters, which makes is hard to pack my things. I turn on the red light on my head lamp and light my bed to just throw everything into my backpack and get everything ready outside. My glasses fell behind the bed yesterday and I try to grab them. Moving the bed makes a terrible sound and so I crawl under the bed to get them and I luckily can reach them. I take off the sheets and grab everything to leave the room quietly.
Vreni and I appointed for 8:30 and before we start our hike we sit down in a café and have a coffee. We meet mother and daughter from Austria in the café and talk a little.
Today's stage has a lot of meters in elevation that we have to do today. It is muddy-warm and I have difficulty to get it going today. The path is very rocky. The weather forecast predicted rain for Valldemossa. I hope it changes. It would be too bad, since I have an accommodation with pool in Valldemossa.
The blister on my left heel, that I got yesterday hurts and I try to get off some of the weight of it by using my sticks. On my left ankle something bit me two days ago. The place is hot, hard and swollen. The boot rubs the place and I could think of more pleasant feelings. Maybe it is this, what makes the hike today so difficult.
It goes up and down and both very steep. Then we walk on a rocky path through a forest. I don't want to walk today…
It is around three kilometers and about 100 meters in elevation to Valldemossa. I can do it! I think about the pool at the house and this thought lightens my mood.
As we arrive on the top, my mood is better. It is cooler up here and not as exhausting to walk. It takes quite a while before we arrive in Valldemossa. We first stop at a café to have a coffee and an orange lemonade, before we go to the house. It is right before the town sign of Valldemossa and has a great view to the old town. From the garden we can go directly to the old town, so we don't have to go back on the main road.
Alessandro shows us his beautiful house and I am taking a hot shower at first. It is the best thing after a hike! After that Vreni and I throw our clothes together and in the washing machine. There is an outdoor kitchen here, so we will definitely have something great to eat tonight. No matter if I find hummus or not.
I rest on the couch in the garden and work with what I photographed and noted today. It is very cold. I find a blanket in the washing room, and I wrap it around me. The view is too beautiful to sit in the room.
In the late afternoon Vreni comes out in the garden and asks me, if I needed something from the city, she is going to get cigarettes. Since we are both freezing, we decide, that a glass of red wine could help. Although it is cloudy and cool our clothes are almost dry. Thanks to the tumbling function of a washing machine. I threw everything in except for my shorts, my blouse and a pullover. Now everything smells fresh again. So great! I eat some cookies, to calm my hunger. At some point I am simply too cold and I get inside and into bed to warm up.
Vreni returns with wine and gets me out of the room again into the garden. There we sit until the evening and talk until we are hungry and go into town. It is not easy to find a place that serves vegan options. In the only supermarket there are only baked beans again and I grab one can for lunch tomorrow.
In a Turkish restaurant they have vegan starters and they sound great. I have hummus, grilled veggies, bread and garlic-mushrooms that are really good. I find the portions for each six euros quite small, but I get full. I wouldn't have thought, that it is so hard on this island to eat vegan. I haven't found hummus or an avocado so far for my bread. I hope in Sóller it is getting better.
I am tired and thus I go straight to bed as we are back at the house and fall asleep earlier und hopefully have a good sleep tonight, to make it easier tomorrow to go ahead.
See you tomorrow!
Love,
Rina