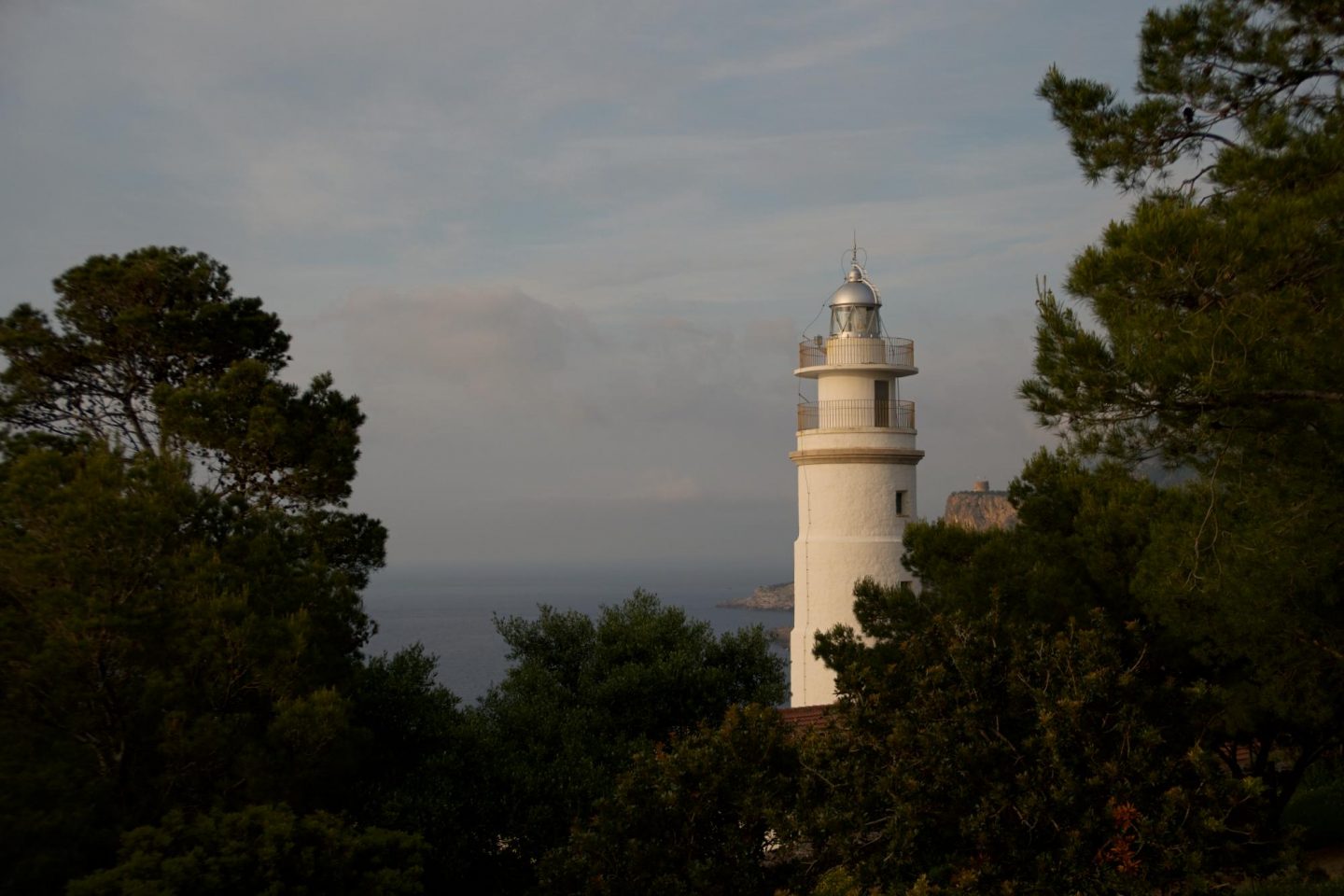 Today my backpack not only feels much heavier, it really is. It is because I got a lot of delicious things yesterday at the supermarket in Deià. At nine we start our hike after having a breakfast at Refugi Can Boi, which was three slices of unsalted white bread with tomatoes and jam. We walk up the hill trough Deià and then not down the road in serpentines, but straight down a rocky path. We climb a fence and then it goes up. Really up. The way is so steep, I have trouble putting one foot in front of the other. Luckily the way continues in a kind of rocky staircase, which is easier to go.
After 1 1/2 hours Vreni and I sit down on a wall to have a breakfast break. We eat some of the things we bought yesterday and I decide to go to Port de Sóller first and then to refugi Muleta which is next to the lighthouse. One reason is that I would arrive at noon and had to wait for my bed and the other reason is that I don't have time to see Port de Sóller tomorrow with this horrible stage.
The stage tomorrow is in my head for couple of days now and actually since February, when I planned this trip. I am not a good walker up the hill. Tomorrow it is going 5 km straight up the hill. My mental state towards this stage is so bad, that I already know, that this will be hell.
While we are sitting on the wall I decide to shorten the stage. I will walk to Sóller and then take the bus or a taxi for a couple of kilometers and then walk the rest. I don't have to prove anything, especially not to myself. I am on vacation and I don't want to torture myself. As soon as I made this decision my mood is changing and I am looking forward to tomorrow.
The way is going around the mountain in direction to Port de Sóller. We pass a lot of old olive trees and then go down a rocky path down to the port. The way is obviously walked a thousand times. That's why the rocks are even and shiny and slighty slippery.
We have to walk along the road for a bit to get to the harbor. There are a lot of big hotels edging a long beach. I don't like this town because of the big hotels. Vreni and I take a lunch break and order our usual orange lemonade and coffee, before we sit on a park bench and eat some of our provisions.
In the early afternoon Vreni takes off to Sóller and I walk up to the lighthouse where the refugi is. I check in and have a shower first. Today I will sleep in a hall with 30 beds. Two children will also sleep in here. I am curious how much sleep I will get. I planned on washing my clothes today, but there is no plug for the sink and so I don't. I go and sit in the backyard to edit my photos and write about today.
At eight dinner is served. When I checked in we had a bit of a discussion about it. Unfortunately my wish for a vegan meal wasn't transmitted from the internet form. The young man asks the kitchen help, if they could make something vegan. Cannelloni with veggies is their proposal and I am looking forward to it. But half an hour later he came and had to report there would be milk in it. The others will have chicken, salad and potatoes. That sounds great, just potatoes and salad for me. He asks if he should tell the next refugi about my eating habits. I am thankful and ask him to do so. When dinner is served, I am very disappointed. The potatoes are baked ON the chicken. Nobody seems to understand why I don't want to eat those potatoes. After another discussion I get two tomatoes and two bell peppers as a salad and some bread. I am full afterwards, but for 9.50 EUR it is not fair compared to the other's dinner.
I hope it is better tomorrow!
The evening is great. I talk to Dave, Ruth, Susan and Andy (those are the names of the Englishmen) about anything and everything. With a lot of red wine of course. At 11 o'clock we have to end our evening, it is bedtime.
Well, good night then!
Rina