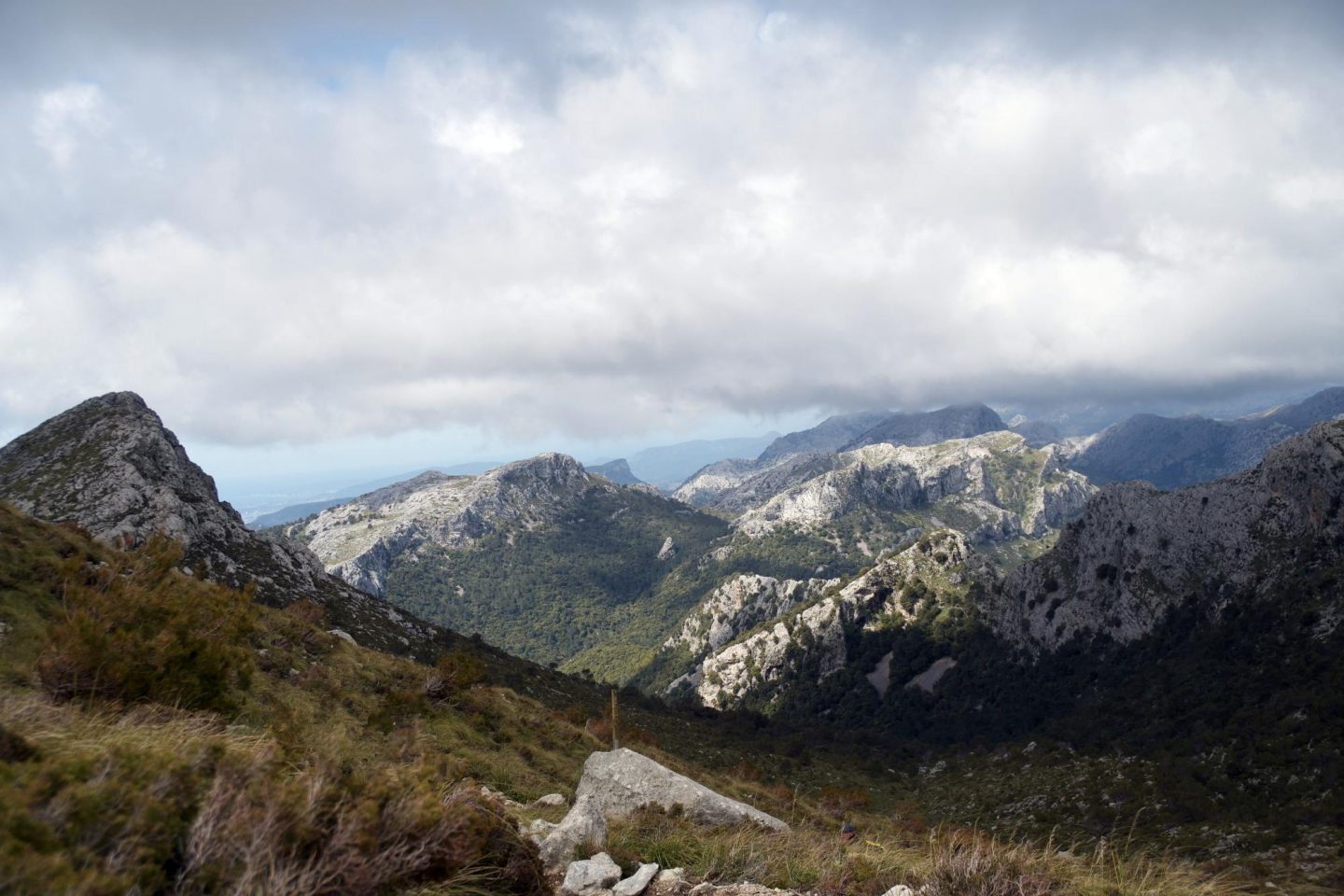 As we start our hike today it is spitting a bit. And although the clouds don't fade, it won't rain today. But it will be cold.
Going up the hill is much easier today than it has ever been before. Vreni confirms my feeling and says, that I am much faster today. Is it the cooler weather? Or did I gain condition? Or is it because I ate all the things I had in my backpack and it is much lighter? I don't know. Probably a combination of it all. It is much cooler today. Only 11° C (52° F) as we start and on top of the mountain there is an icy wind. Since I ate almost all of my provisions, I only have a banana, an apple, a liter of water and a few cookies left taking with me.
The higher we go, the colder it gets. We see bits of snow in between the rocks. My left foot still hurts today. The recovery from yesterday wasn't too good. My feet don't like this rocky underground.
There is a lot of water on this stage. We walk on muddy paths, but also through streams, as they are the path and crossing them. One crossing is with a bridge and one with stones that kind of supposed to be a bridge. We go through the forest up the mountain and it keeps getting colder. I wish I had some gloves.
We stop for a while to add another layer of clothes. Vreni's and my face are reddish from the cold air.
Behind a big rock we hide from the wind and take a short break to eat something. We have been hiking for three hours and made it halfway through the stage. I put my fleece jacket over my pullover and get my sticks out. As we leave the slipstream we see how good it was behind the rock. We almost run down the hill, because the icy wind is hard to bear. In the sky it is amazing to see how he pushes the clouds forward very quickly.
On the other side of the mountain it goes up again and I can see my breath again. As we reach the top we walk on a muddy path on the summit until we reach the rocky path down to monastery Lluc. At one point we go too long straight ahead and miss the point to turn. But since this way is only slightly longer than the trail, we go ahead. "I am in a good mood today, so I don't mind a few hundred extra meters!", I say.
After climbing a fence, we come to a street after passing a private property. The road is steep and we follow it down a bit to get to the GR 221 again.
Out of nowhere I trip, roll my ankle and land first on my knees, then my hands and last on my nose and my forehead. I grab my nose. The pain lets me tear up and blood runs out of my nose. I think this is the first time in my life that my nose is bleeding. It takes me two or three minutes, to get myself together and look at the damage. My forehead has a red spot and my nose some minor abrasions. My hands are a bit skinned, too, but not bloody. My knees got the most damage. They are skinned and there is already a bump showing. My pants are okay, there is no hole in them, so I don't disinfect the wounds. The nose bleeding stops after only a minute or two and I get up and go on hiking again. Vreni is with me and gives me comfort and tissues.
During the next couple of hours I have much pain. The burning knees drive me crazy. Vreni gives me a cream, which she got for her wound on her foot. It burns even more for 20 minutes and then it calms down and I just feel my knees, when I put weight onto them. My nose hurts for the rest of the evening and it seems as if it is turning slightly blue.
We walk around at monastery Lluc before we go to the refugi. I am not impressed, but take some photos. After checking in to the refugi, I take a shower. The water is not even lukewarm and so it is a quick wash and I skip washing my hair.
It is only 5 p.m., but after this day my mind is craving wine. Vreni feels the same and we start early today. While we look at our photos and wait for dinner we finish a bottle of wine and feel accordingly tipsy. When dinner is served I am very disappointed. The vegetarian option is spinach lasagna. Vegetarian, yes, but not vegan. And he should know one person is vegan. Since I had no proper lunch and I feel like starving, I eat a spoon full lasagna which tastes like not spiced at all and then fill up with bread, that I dip in olive oil with salt.
At 9:30 I am so tired, that I say goodbye to everyone and got to bed. I edit the photos of today, write these words and fall asleep soon.
This time tomorrow my adventure is already over. I am looking forward to the last 17.7 kilometers of hiking. I hope my knees are up for it.
See you tomorrow!
Love,
Rina