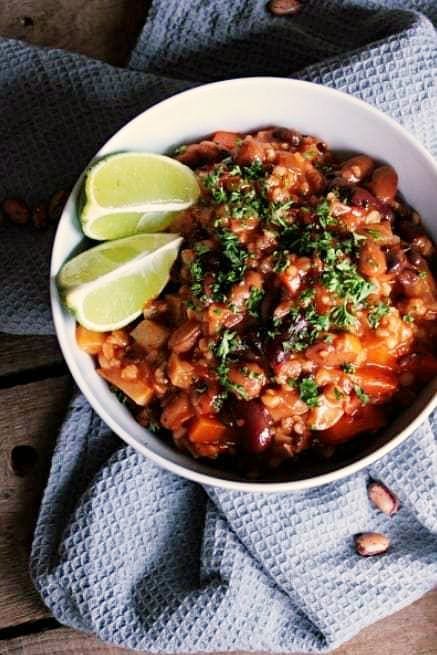 The last couple of days have been so ugly. I don't like sleet and those low temperatures, that's a fact. But there's also a good side of this kind of weather: You can stay on your couch without feeling guilty and watch your favorite tv show. And what would be better than to have a bowl of hot, steaming chili with that? I love chili in all the different variations: Chili con soy, bean chili, chili with and without corn… I usually make it with soy shred, because I like the bite it gives.
Since I didn't have any soy shreds left at home, but had a craving for my chili, I just threw some pearl barley in the pot. Also I had some kidney, black and cranberry beans in my panty, that I wanted to use in the chili.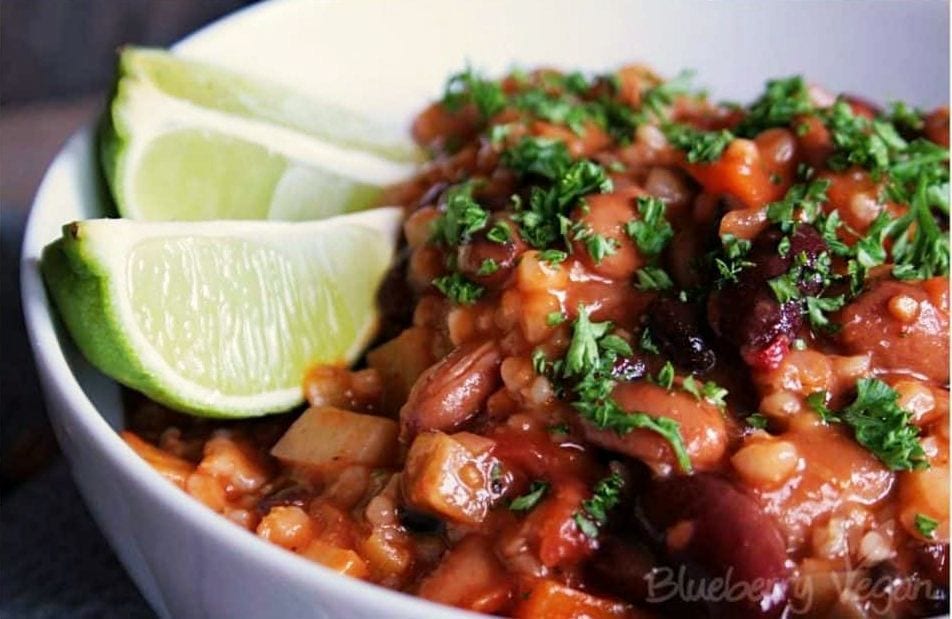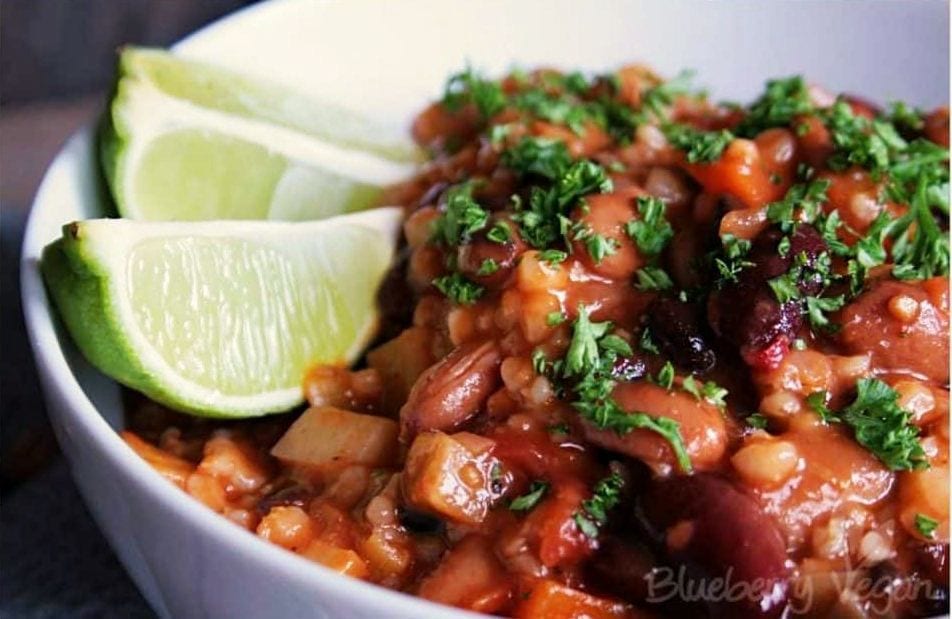 If you want to use dry beans, make sure, to soak them overnight and cook them for about 40 minutes, before using them. The rest of the cooking time is done while cooking the chili. To spice the chili, I used sambal oelek, that I love to use for spiciness. This chili sauce isn't just hot, but also lemony, which gives your dish a great taste. If you want to use simple chili powder, I recommend you add some dashes of lemon juice to your chili to round off the taste.You can refine your chili to taste with a dab of lemony yoghurt, a tablespoon of vegan cheese shreds or a few Avocado cubes and cilantro. I love a few dashes lime juice and parsley. The chili tastes best, after you let it cool and reheat it on the next day ?. It also freezes well.
Enjoy!
Love,
Rina
Three-Bean Chili with Pearl Barley
Ergibt/Yield:
4 - 6 Portions
Zutaten/Ingredients
1 big onion
2 cloves garlic
1 tbsp oil
3 tbsp tomato paste
1 bunch soup vegetables (leek, celery and carrots)
each 1 small can cranberry, black and kidney beans - or any other bean of choice
1 small can chopped tomatoes
125 ml (1/2 cup) pearl barley
1 Liter (4 cups) vegetable broth
1 heaped tsp sambal oelek
2 bay leaves
1 tsp thyme, dried
salt
pepper


To dress - to taste:
lemon juice
parsley, chopped
cilantro, chopped
avocado, cubed
vegan cheese, grated
yoghurt with lemon juice
Zubereitung/Instructions
Finely chop the onion and press the garlic. Finely cube the soup vegetables and set aside. Drain and rinse the beans.


Heat the oil in a big pot and sautée the onions until translucent. Add the garlic and sautée. Stir in the tomato paste and also sautée. Before it browns add the vegetables and the broth.


Add the beans, tomatoes, pearl barley and spices. Cook for 30 minutes and stir eventually. Stir more often at the end, to prevent the barley from sticking.


Season the chili to taste with salt and pepper and arrange in bowls. Drizzle with lemon juice and sprinkle with parsley or dress to taste with yoghurt, cilantro or avocado.