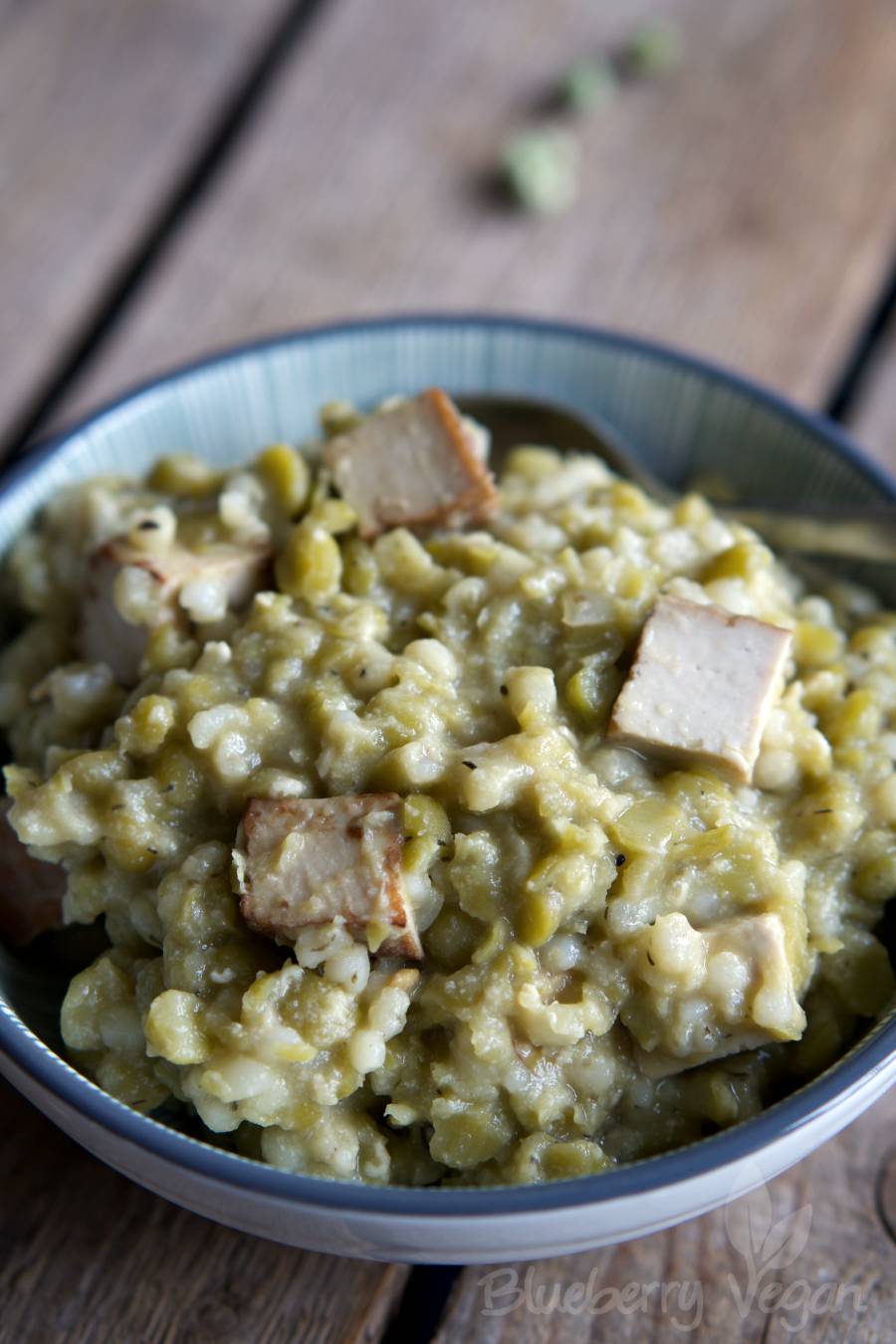 [Advertising: Affiliate Links]
When it is cold outside, I need something warm to eat. And the best is a hot stew that satisfies and is well-seasoned. Have you tried my cheesy leek soup, my mushroom potato stew with dark beer or my colorful chili with sweet potatoes yet? Warming and delicious and thus perfect for cold days. Just like this pea stew.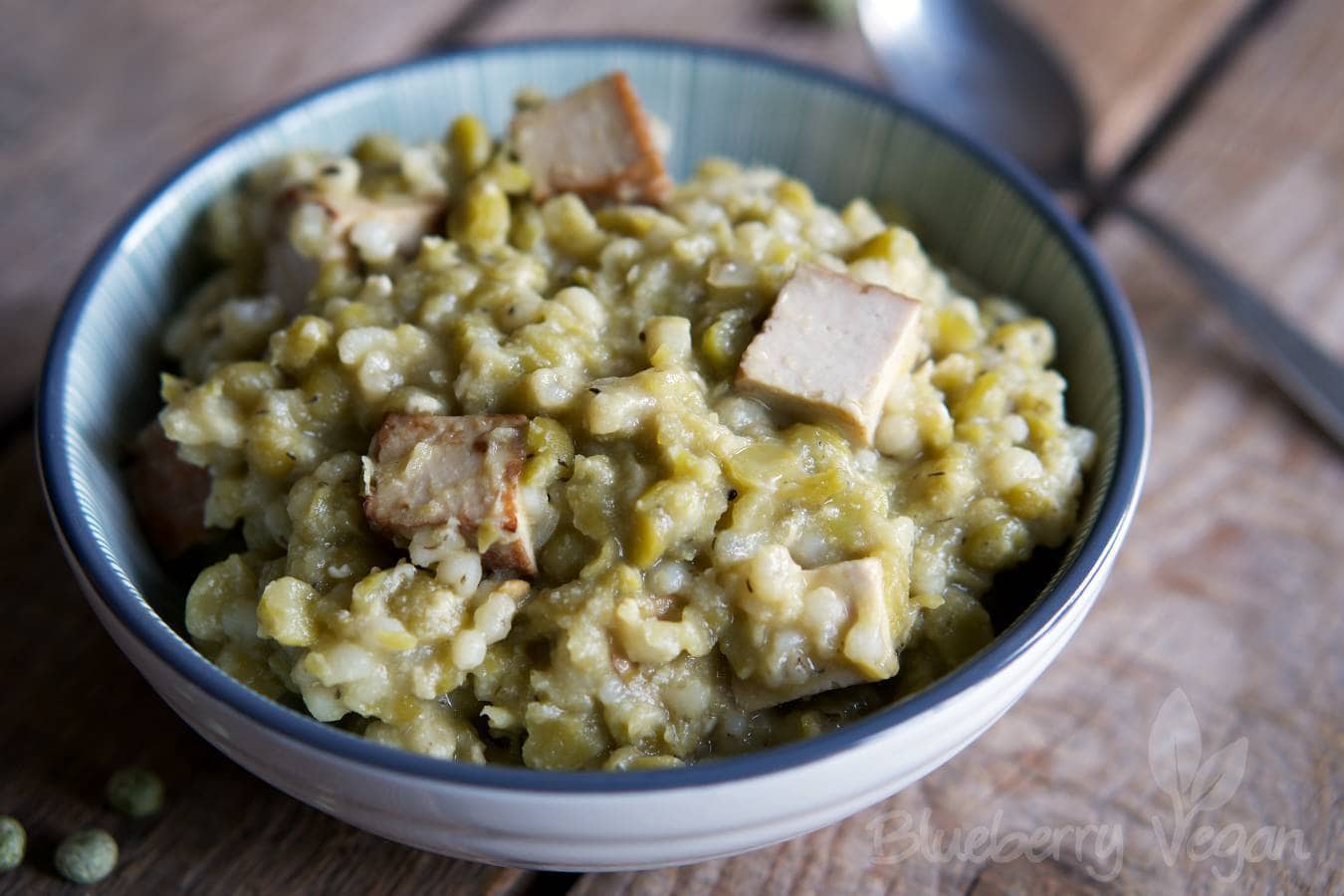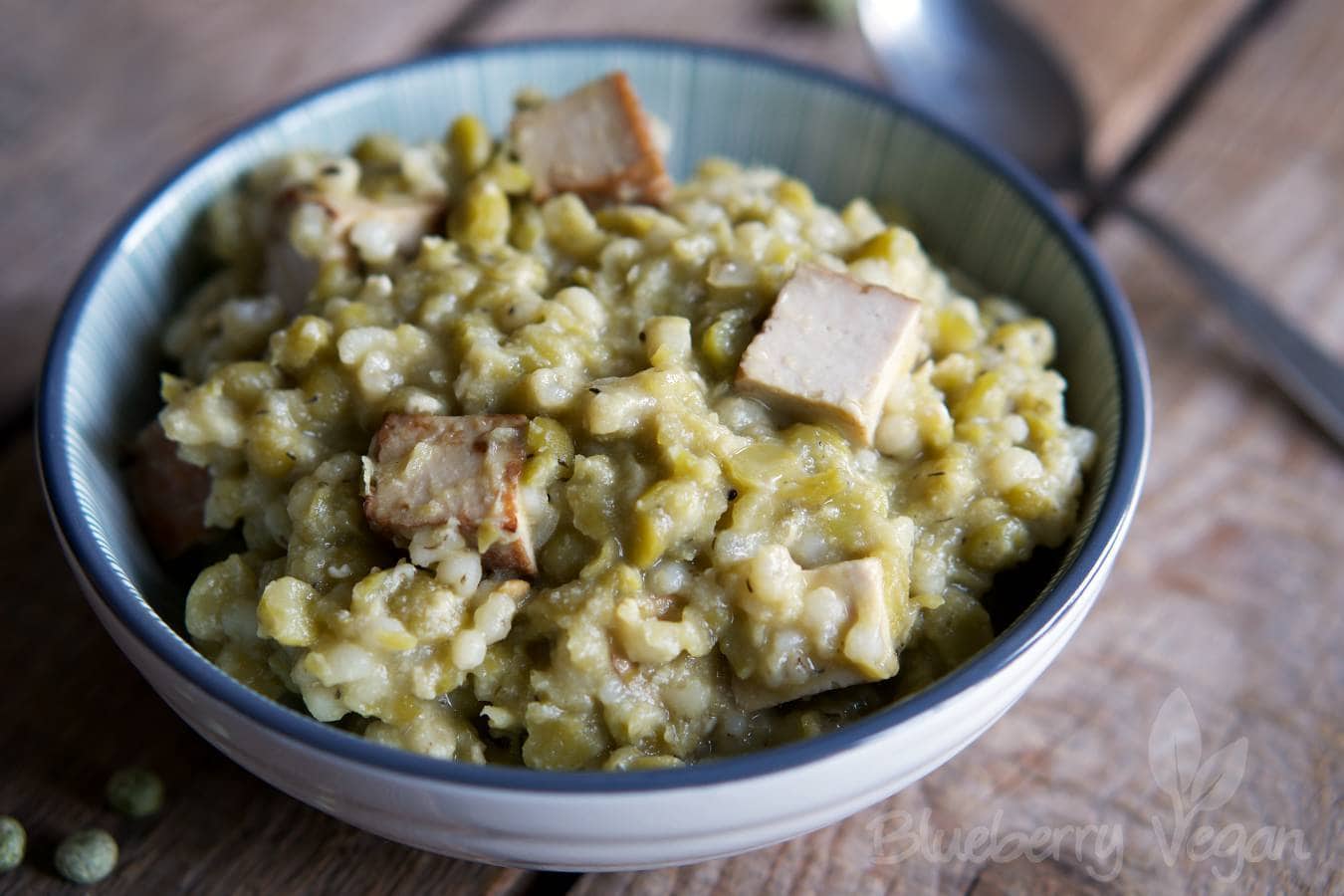 You have to soak the peas for a day, before you can cook them. The preparation then is easy and relatively fast. If you like nutritional yeast flakes, try to mix in a spoon full in your serving, thus it gets super yummy.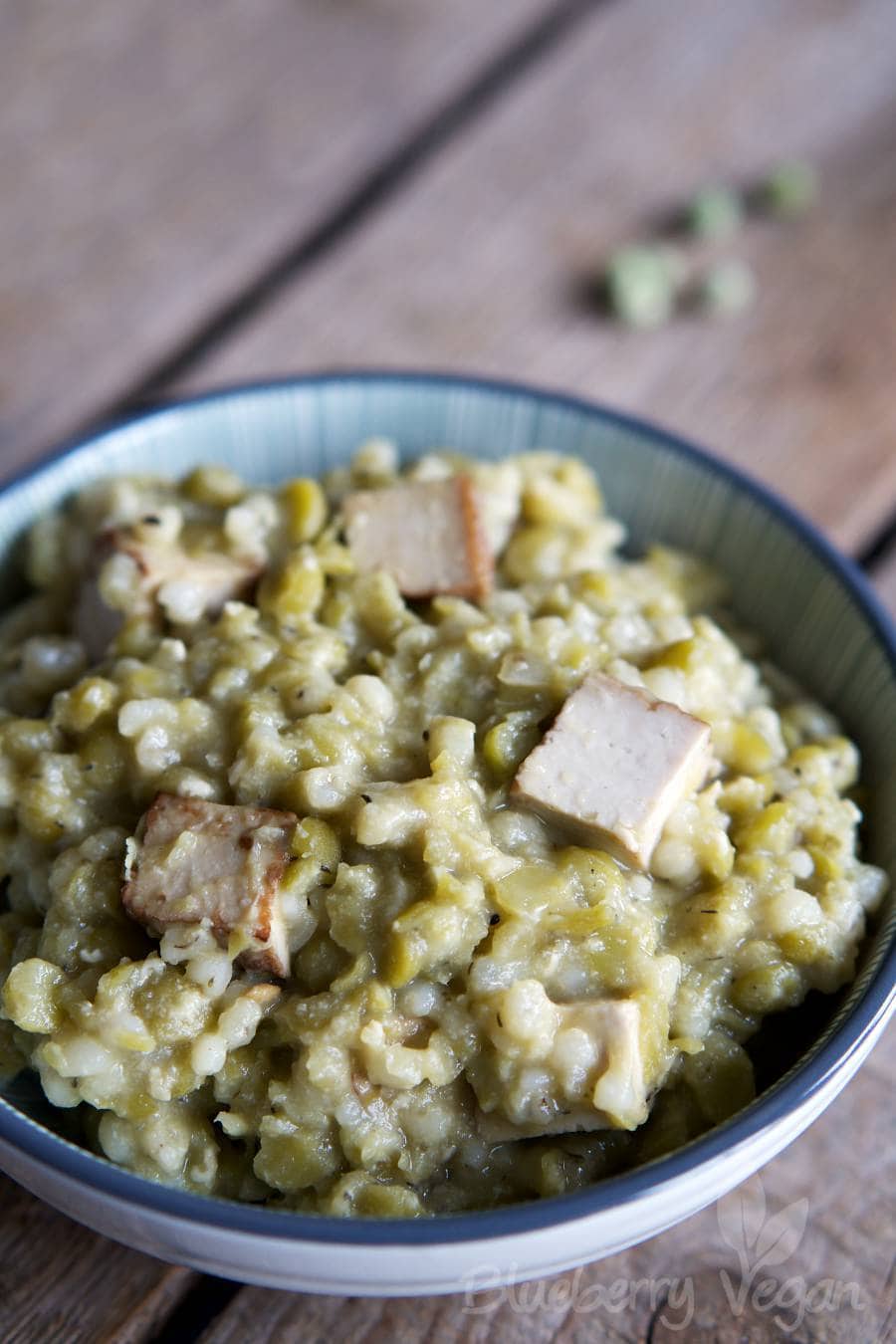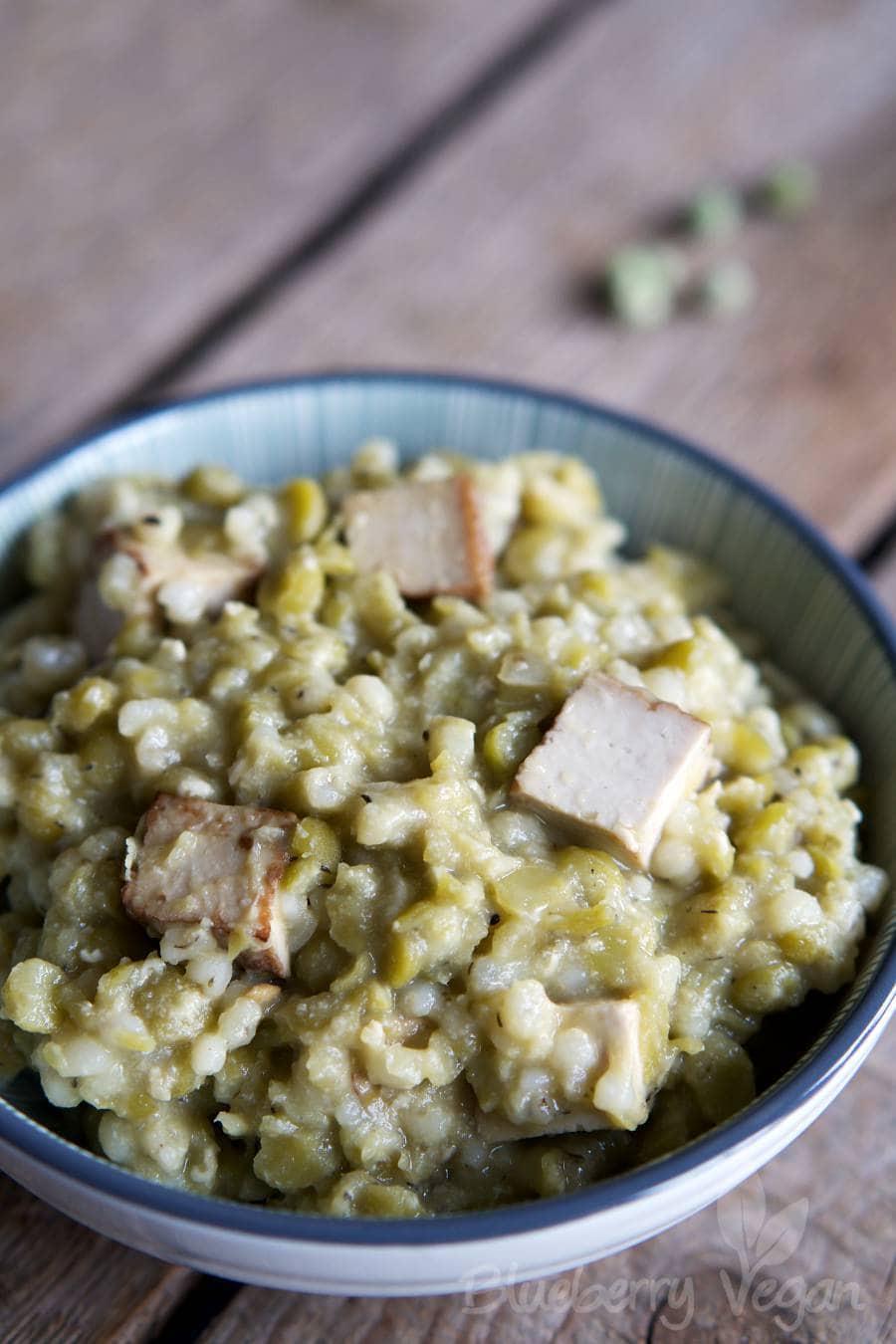 I used Bragg's Liquid Aminos to season the stew, which tastes somewhat like soy sauce and Maggi seasoning. If you don't have it use Maggi seasoning or soy sauce instead.
Have fun cooking and enjoy!
Love,
Rina
Pea Stew with Pearl Barley and Smoked Tofu
Zutaten/Ingredients
400 g (2 cups) dried green peas
100 g (1/2 cup) pearl barley
1500 ml (6 cups) veggie broth
1 block smoked tofu
1 onion
2 cloves garlic
1 tsp oil
1 tsp savory
pepper
Bragg's Liquid Aminos - or Maggi seasoning


To taste:
Zubereitung/Instructions
Soak the peas in cold water for 24 hours, then drain, rinse and bring to boil with pearl barley in veggie broth.


Cube the smoked tofu and the onion, press the garlic. Heat the oil in a pan and fry the tofu until brown. Then add the onion and also fry until browned. At least add the garlic and sautè briefly. Pour into to soup pot and cook with.


Season the soup with savory, pepper and liquid aminos or Maggi seasoning. Let cook for 25 minutes at all and then turn off the stove and let steep for another 10 minutes.


Arrange the stew in four bowls and serve hot. If you like it, stir in some nutritional yeast flakes for the final kick.
Tipps/Notes
Like every good stew this one tastes best the next day.