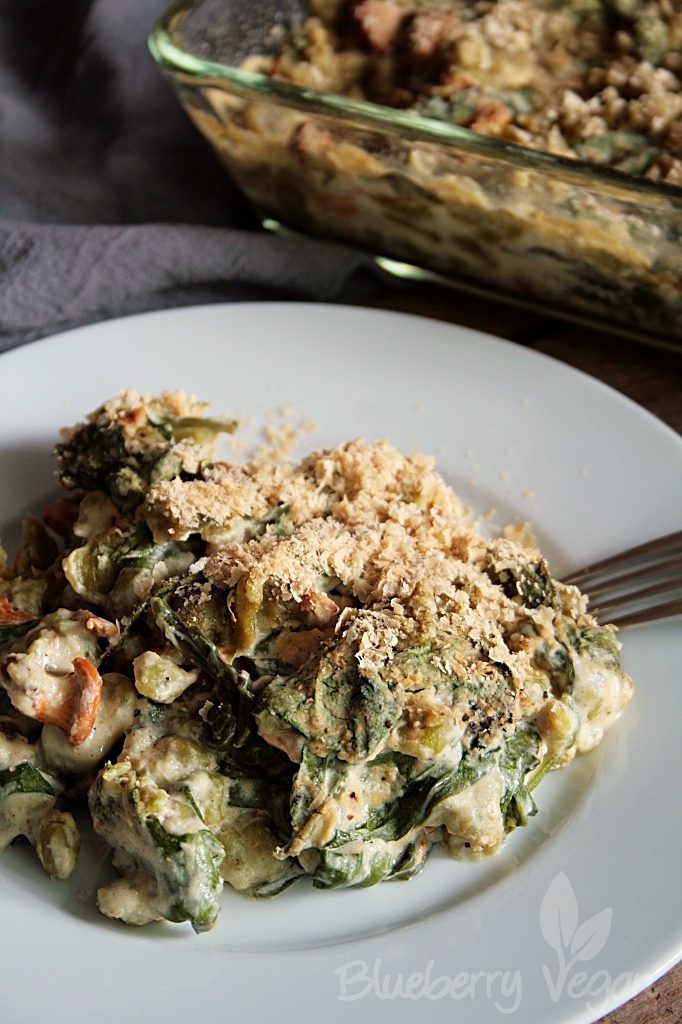 [Advertising: Affiliate Links]
I made vegan spätzle now several times. Cheesy spätzle and spätzle with wild garlic pesto for example. In both recipes I used soya flour to thicken the batter, which worked great.
In cakes and muffins I like to add flaxseed instead of egg to thicken the batter. Those have valuable omega 3 fatty acids and other vitamins and minerals, which a powdered egg-replacer doesn't provide. Also the soya flour doesn't give me those omega 3s.
For these soy-free spätzle I used ground flaxseed for the first time. I worked great. If your spätzle are supposed to be light, I recommend you use golden flaxseed, because it looks tastier. If they are colored with spinach or beetroot, the brown flaxseed is fine, too.
Along with the spinach spätzle there are delicious chanterelles, spinach and a sauce with cream cheese and almond cream in the casserole. I gratinated it with simple nutritional yeast flakes, salt and pepper, that I sprinkled over. But feel free to add the cheese you like to gratinate it with.
Enjoy!
Love,
Rina
Creamy Spinach Spätzle Casserole with Chanterelles
Zutaten/Ingredients
For the spätzle:
320 g (11.3 oz) flour - spelt or wheat
4 tbsp (golden) flaxseed, ground
1 tsp salt
100 g (3.5 oz) baby spinach
300 ml (1 1/4 cups) water


For the casserole also:
1 tbsp butter flavored oil - alternative vegan butter or oil
1 onion
1 clove garlic
400 g (14.1 oz) chanterelles
150 g (5.3 oz) baby spinach
1 pk. vegan cream cheese
50 g (1.8 oz) white almonds - alternative 3 tbsp almond butter, heaped
200 ml (3/4 cup, plus 2 tbsp) water
1/2 tsp paprika powder
1 - 2 tsp lemon juice
plenty of salt
pepper


To gratinate:
nutritional yeast flakes, salt and pepper - alternative vegan cheese of choice
Zubereitung/Instructions
For the spätzle combine flour, flaxseed and salt with a wooden spoon. Puree the spinach with the water, add to the dry ingredients and mix with the spoon. Then beat the batter with the spoon for a couple of minutes (you'll need muscles!) until it is chewy, but runny. If it is too thick, add some water. Set aside and let rest. In the meantime pull the chanterelles into bite-sized pieces, sort the spinach, chop the onion and press the garlic. Grind the almonds and mix with the water until creamy.


In a big pot bring lots of water to boil, salt it. Add a bowl of very cold water next to the stove. With a spätzle board or a spätzle press add the batter to the boiling water. When the spätzle are swimming on top, remove them with a skimmer and pour into the cold water. Proceed until all batter is used. Then drain the spätzle.


Preheat the oven to 200° C (360° F) and set aside a baking dish.
Heat the oil in a large pan and sauté the onion until translucent. Add the chanterelles and the garlic and fry for 1 - 2 minutes. Then add spätzle, cream cheese and almond cream and carefully, but thoroughly stir to make the cream cheese melt. Season well with salt, pepper and paprika and refine with lemon juice. Add the spinach, stir in and let wilt briefly.


Pour the content of the pan into the baking dish, sprinkle over yeast flakes, salt and pepper and bake in the oven for about 25 minutes until it is heavily boiling.