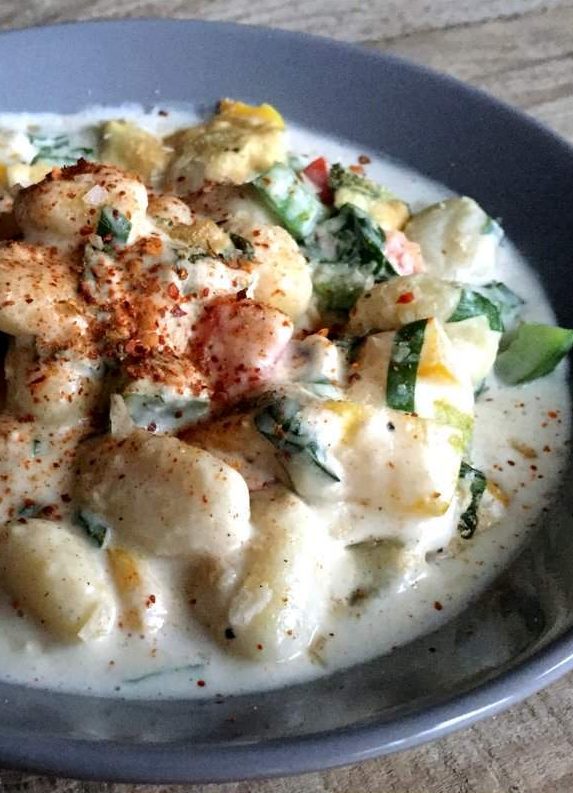 [Advertising: Affiliate Links]
I love that I have a place in the woods near my home where wild garlic grows. I found that place when I was hiking with Marten the other day. This is why I am having wild garlic a lot lately. This stuff is so great!
I made this dish from scratch on a weeknight and it was so delicious, that I have to share the recipe with you.
I used cashew cream and almond milk to make the sauce. Either use a highspeed blender to make the cashew cream or you soak the cashews in water for a couple of hours and use a normal blender. You can also use cashew butter and mix it with water.
If you prefer homemade almond milk, soak 200 g (7 oz) amlonds in water overnight and blend it with 850 ml (3 1/2 cups) fresh water, 1 – 2 dates and a pinch of salt. Then you filter the milk with a cheese cloth or nylon sock. Voilá. Use the left-over almond flour for baking or stir it in your porridge. I used store-bought almond milk this time, because I already had it in my pantry.
Love,
Rina
Gnocchi Casserole with Peppers and Wild Garlic
Zutaten/Ingredients
For the casserole:
600 g (21 oz) gnocchi
1 red bell pepper
1 yellow bell pepper
1 green bell pepper
25 g (1 oz) wild garlic


For the sauce:
125 g (4.5 oz) cashews
150 ml (1/2 cup) water
350 ml (1 1/2 cups) almond milk
100 ml (1/2 cup) vegetable broth
1 tbsp nutritional yeast flakes
1 tsp lemon juice
salt
pepper
chili flakes


Also:
2 - 3 tbsp nutritional yeast flakes
Zubereitung/Instructions
Preheat the oven to 200° C (390° F).


Dice the bell peppers, and cut the wild garlic into strips. Combine with the gnocchi in a casserole and season with salt and pepper.


Make the cashew cream by mixing cashews and water in a highspeed blender until smooth. Add the rest of the ingredients for the sauce and mix again. Pour the sauce over the veggies and gnocchi and make sure every gnocchi is covered.


Sprinkle the nutritional yeast flakes over the casserole and bake in the oven for about 30 minutes.
Tipps/Notes
The sauce is a little bit runny at first, but it thickens, when it cools down a bit.