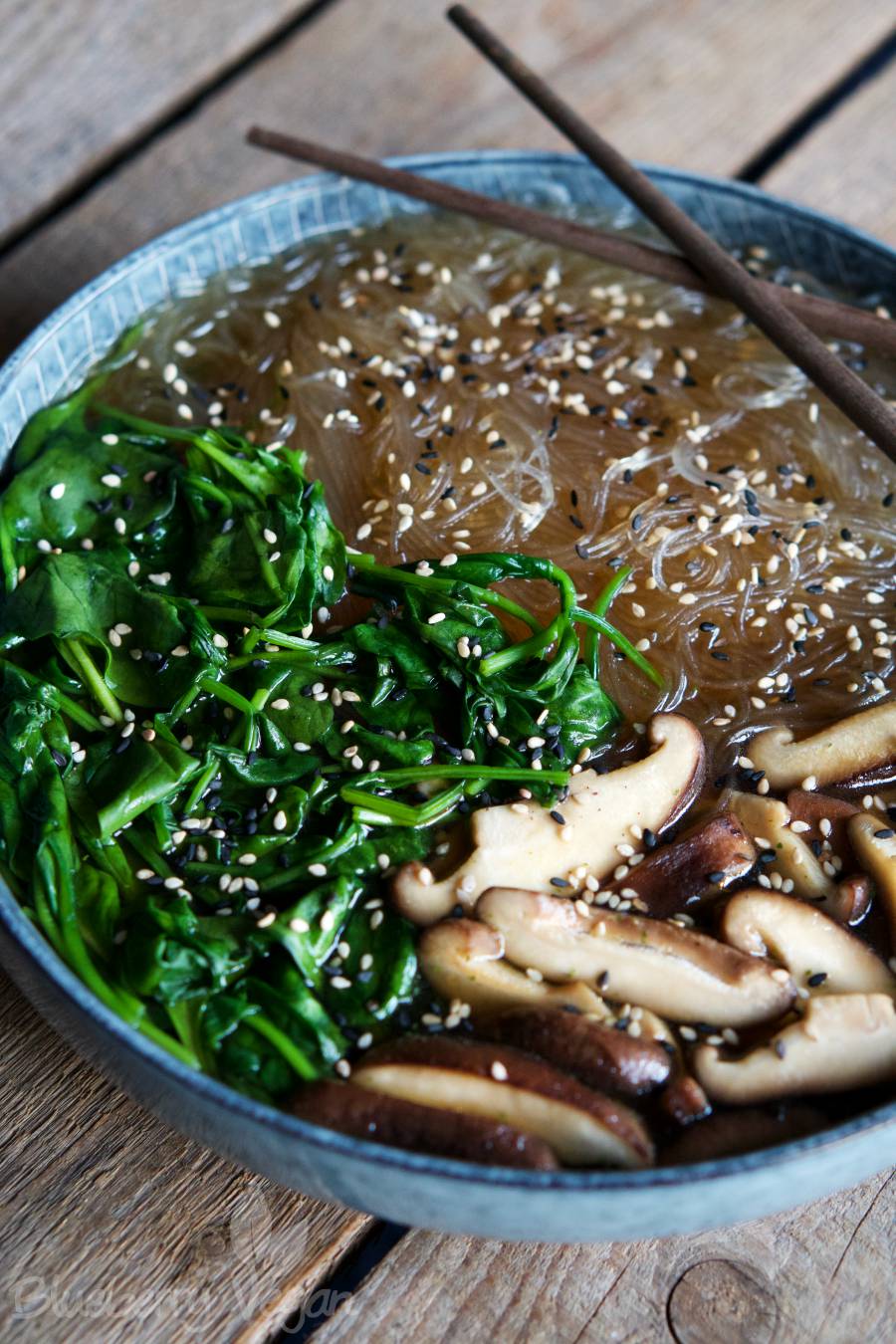 [Advertising: Affiliate Links]
When it's cold outside, there's nothing better than a bowl of hot, steaming soup. I can't wait for the first strawberries and asparagus to appear on the farmer's markets. Until then, we warm up with this delicious soup.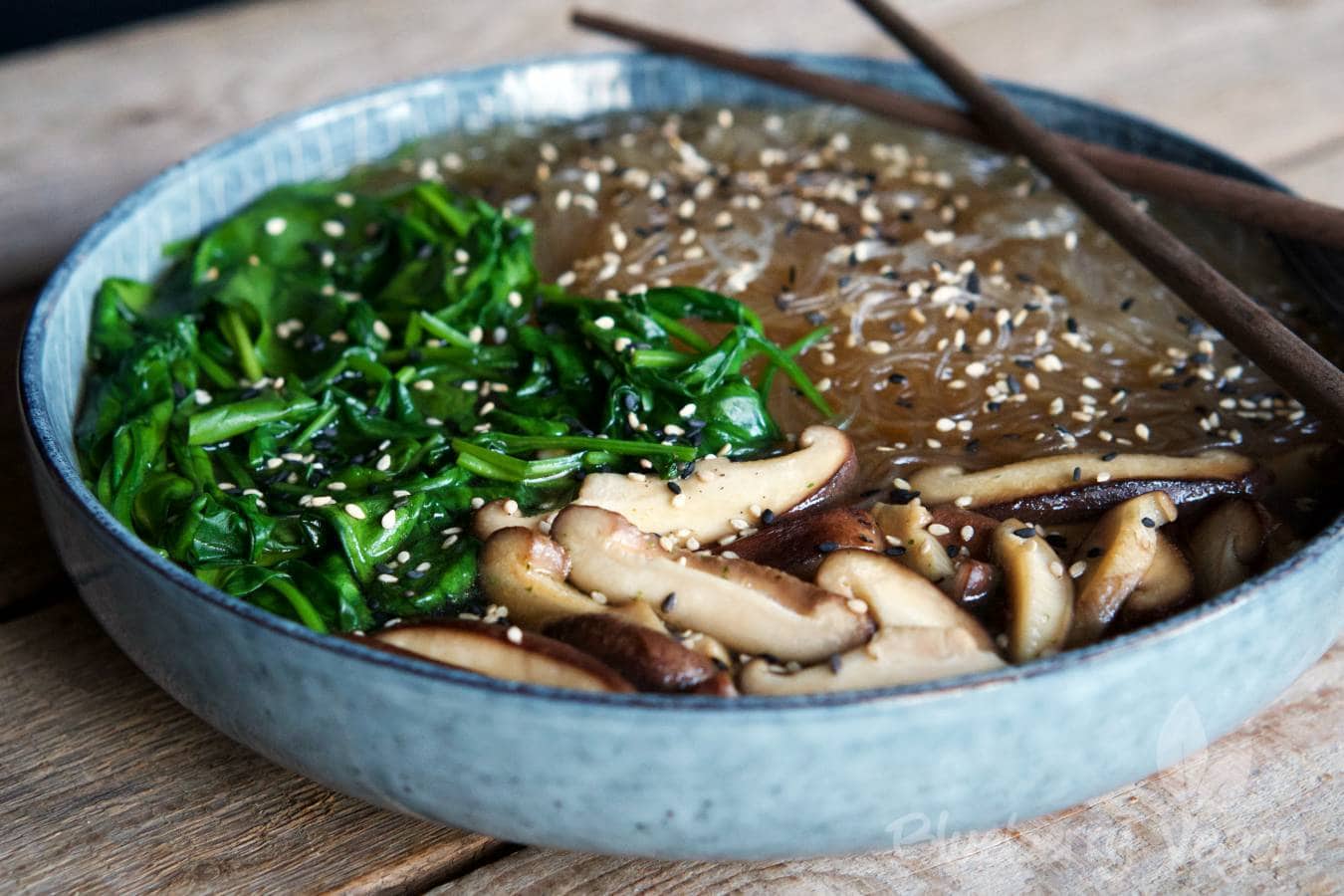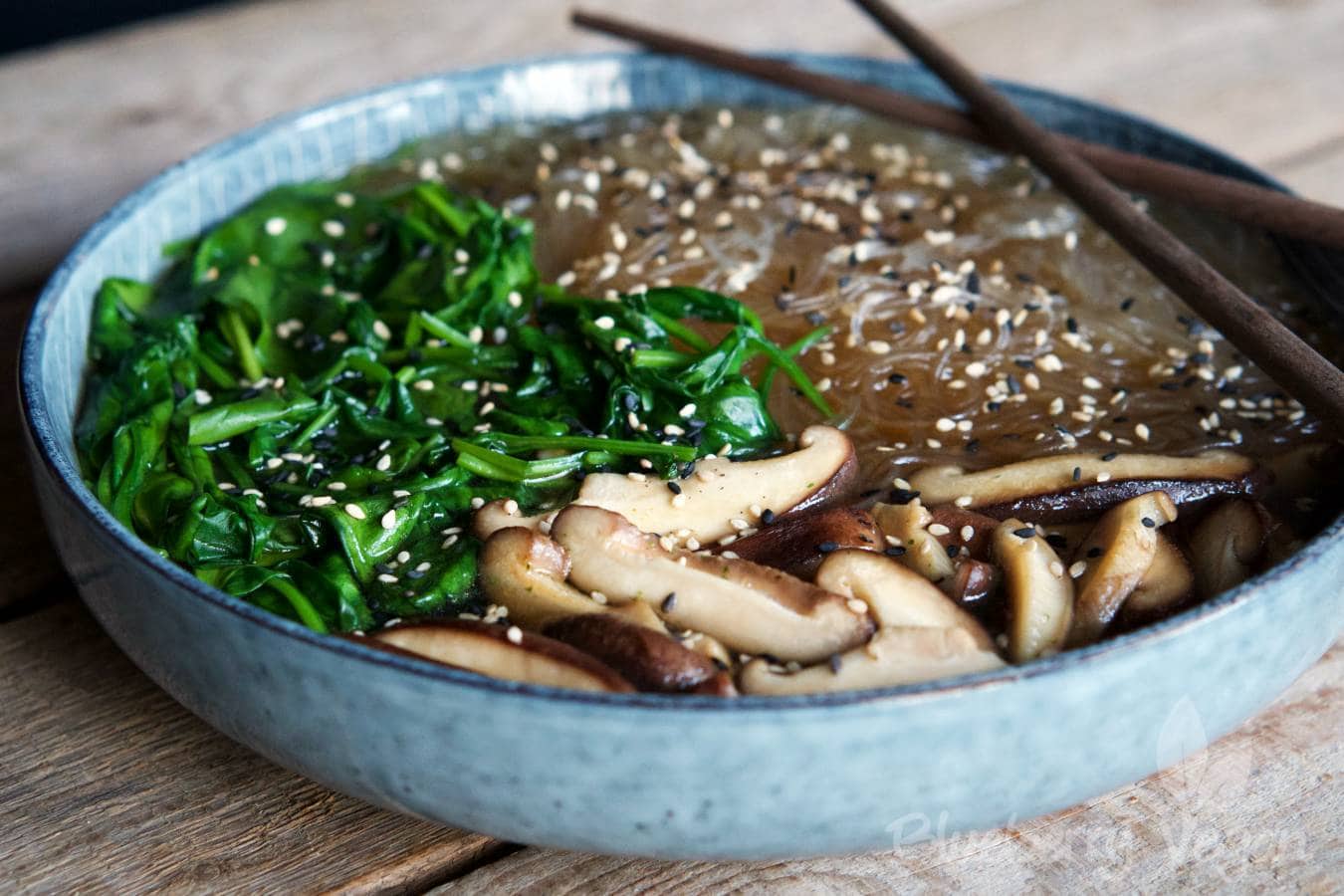 To be honest, I'm not a big fan of soups. With the most recipes I miss it to chew something. That's why I get full eating soup, but not satisfied. At least not for a couple of hours.
It's different with this soup. Because of the noodles and big chunks in this soup you have something to bite and with thus a completely different eating experience than with a pureed soup. I eat this soup with chopsticks and sip the broth.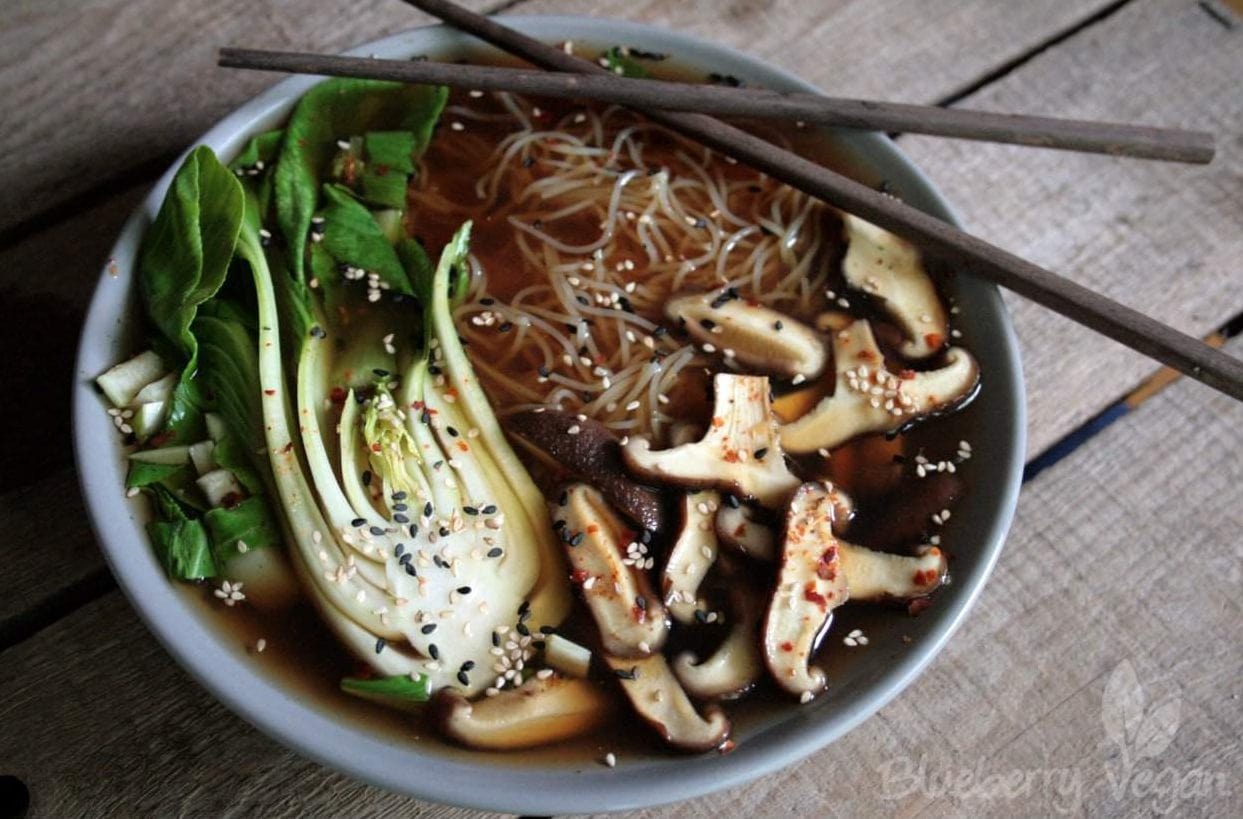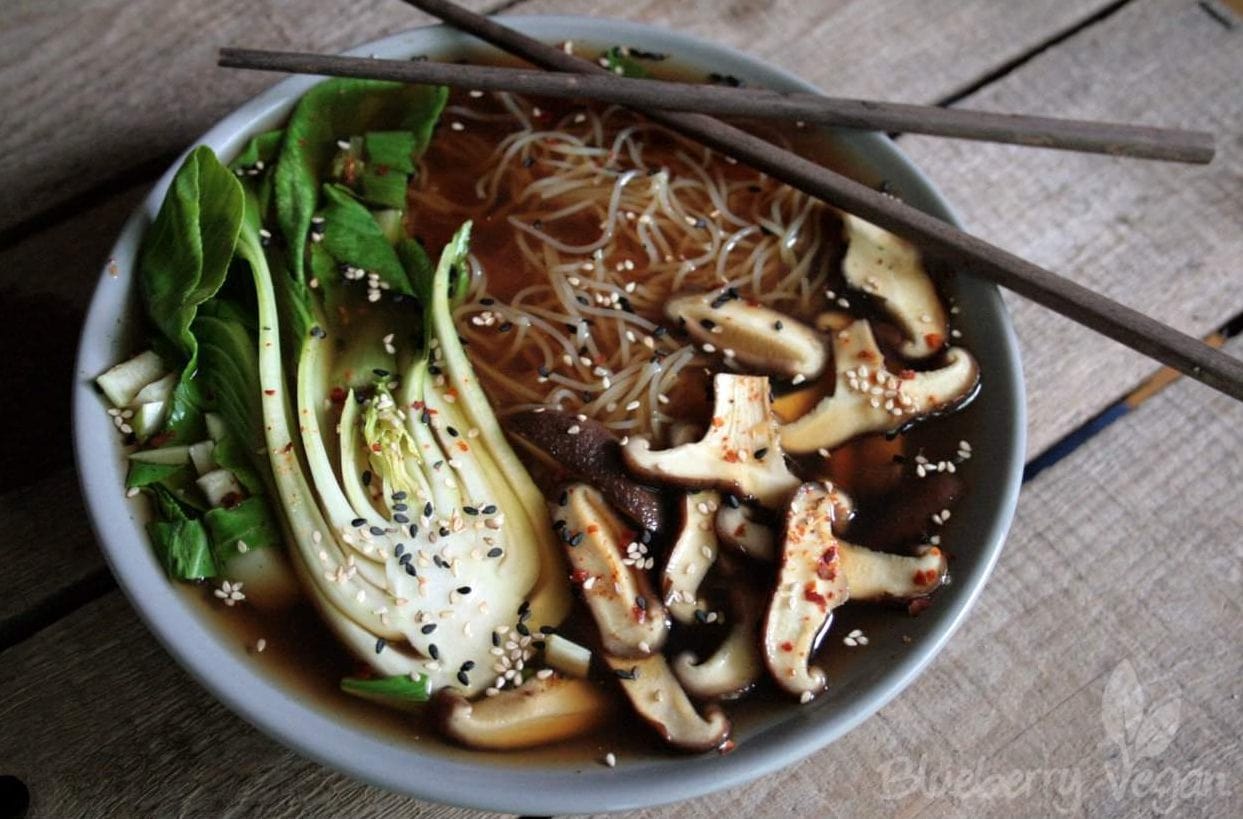 I often prepare this soup with bok choy and shiitake. But since there was so beautiful and fresh spinach to buy everywhere, I used spinach today. You can also use chard and mix the shiitake with different types of mushrooms.
This soup takes only a few minutes to be on the table. Just cook some rice noodles firm to the bite and meanwhile sautée the mushrooms and spinach in a big pan. Arrange the noodles, mushrooms and spinach in a bowl and pour over hot broth.
You can buy rice noodles for a reasonable price in asian supermarkets. I love to shop there. Besides rice noodles my standards are bok choy, enokitake, wheat noodles, jackfruit, sriracha, soy sauce in pint-size bottles, tofu and silken tofu and much more…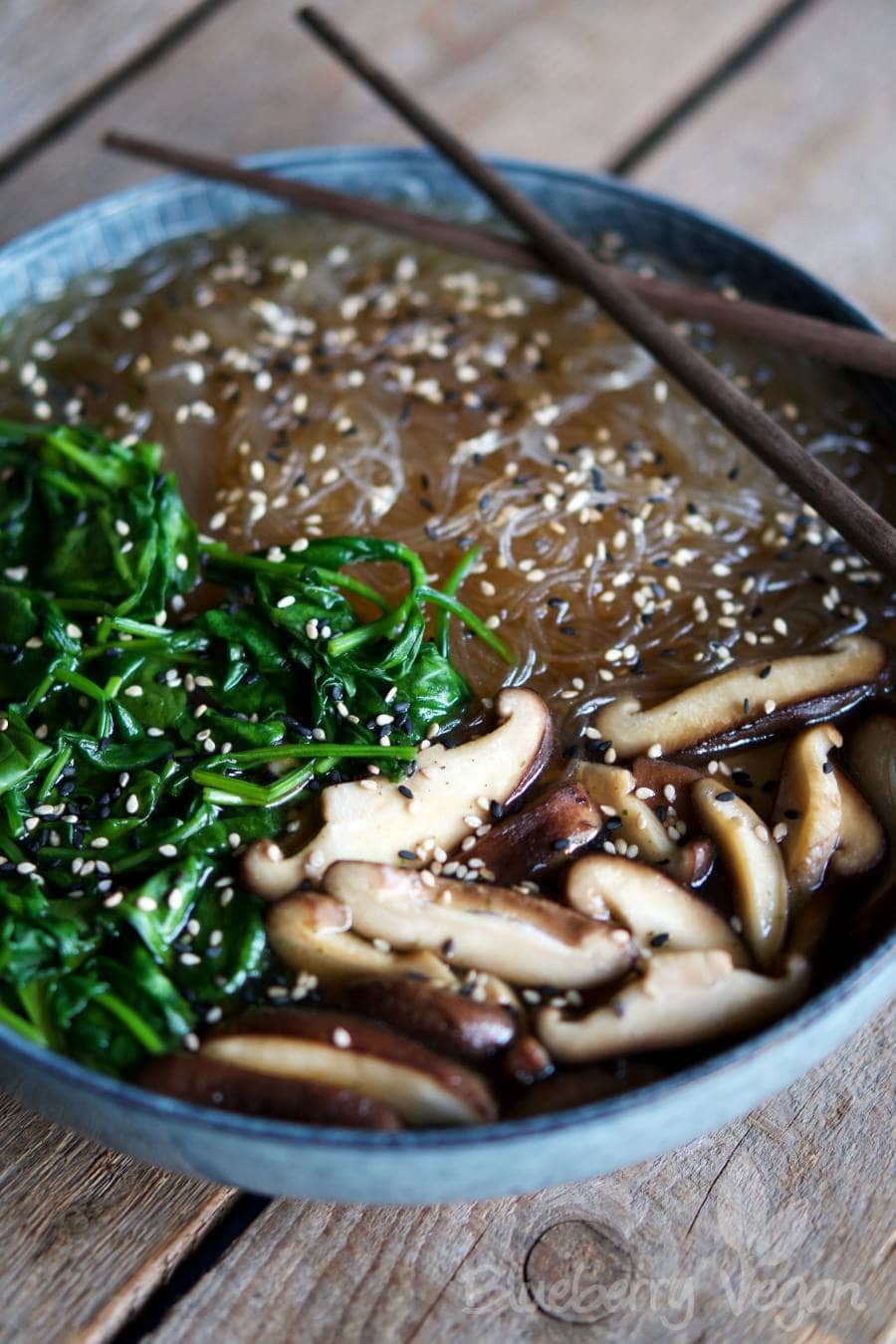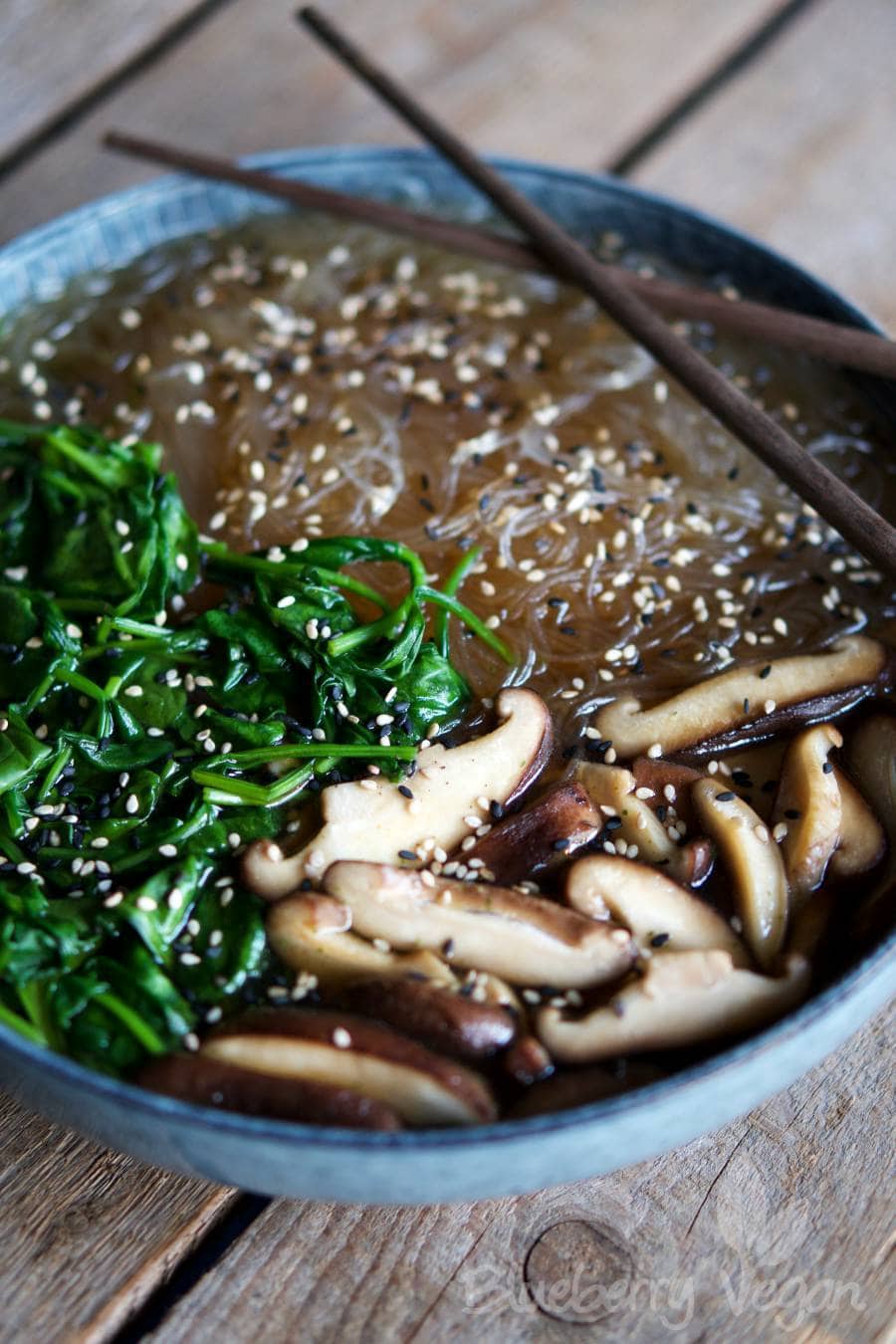 You can also make this recipe an instant soup to take to work. I would recommend baby spinach, mushrooms and thin glass noodles for that. Put the ingredients, a heaped teaspoon of vegetable broth and some pepper in a jar or container. When it's time for lunch just pour over boiling water and let it sit for 5 minutes and enjoy.
Enjoy your soup!
Love,
Rina
Here are more Asian soups: hot and sour soup and Thai-Curry noodle soup with spicy tofu.

Chinese Noodle Soup
Zutaten/Ingredients
100 g (3.5 oz) rice noodles
2 tsp sesame seeds
1 tsp sesame oil
200 g (7 oz) shiitake
200 g (7 oz) spinach
2 tsp instant vegetable broth
750 ml (3 cups) water
soy sauce - or tamari
black pepper
Zubereitung/Instructions
Cook the rice noodles according to the instructions on the box, then drain and rinse with cold water.


Roast the sesame seeds in a pan without oil and set aside.


Clean and wash the spinach and let it drain. Slice the mushrooms.
In a big pan heat the oil and sautée the mushrooms. Then add the wet spinach and let it collapse while stirring.


Arrange noodles, spinach and mushrooms in two bowls, season with pepper and sprinkle over the sesame.


Bring the water to boil, mix with the vegetable broth and soy sauce to taste and pour in the bowls. Serve immediately.
Tipps/Notes
It is best, if you eat the noodles, spinach and mushrooms with chopsticks and sip the broth.