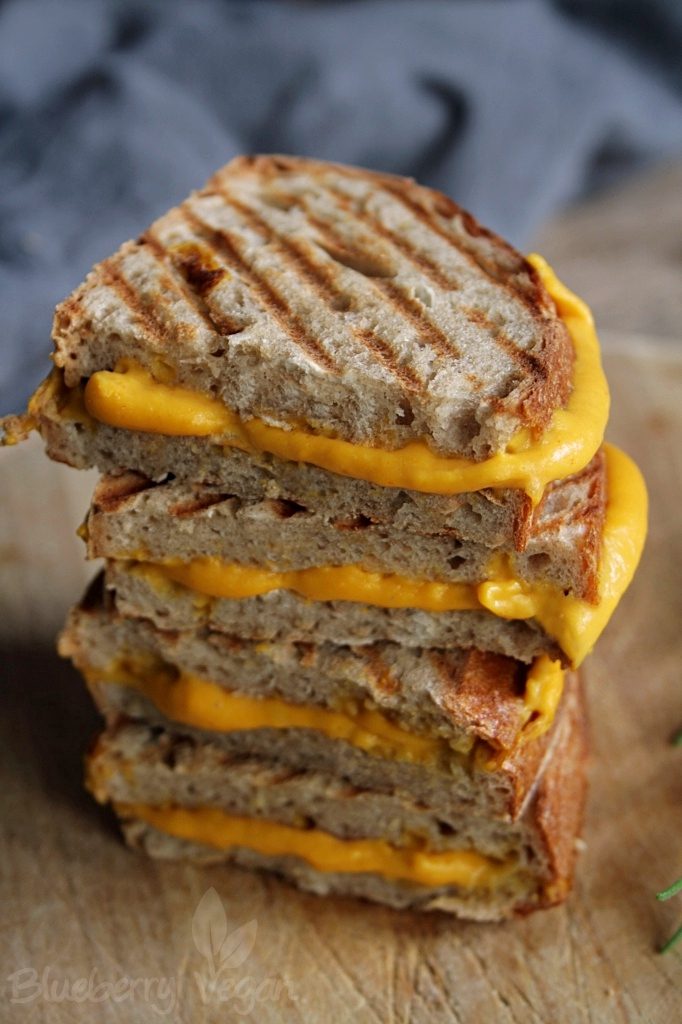 [Advertising: Affiliate Links]
I am starting to think you can make anything from pumpkin. Would you have guessed by looking at these pictures that the cheese is a) vegan and b) made from butternut squash? Doesn't it look to die for?
And this vegan cheese spread is super-easy to make. The bread is homemade, too. It is made with almost no effort, but takes some time until the dough has risen properly. Find the recipe here: Wholemeal bread from the pot.
Enjoy!
Love,
Rina
Looking for more spreads? Also try tofu cream cheese, tofu spread with dried tomatoes, goat tofu, vegan liver wurst and avocado mustard dip.

Butternut Cheese Sandwiches
Zutaten/Ingredients
For the butternut cheese spread:
350 g (12.3 oz) butternut squash
1 onion
1 clove garlic
80 g (2.8 oz) cashews - alternative 4 tbsp cashew butter
1 tbsp lemon juice
1/2 tbsp mustard
1 tsp (smoked) paprika powder
1 tsp salt
3 tbsp nutritional yeast flakes
120 ml (1/2 cup) water
1 tbsp tapioca starch


Also:
Zubereitung/Instructions
Cut butternut squash, onion and garlic in big pieces and cook until the pumpkin is soft. Either cook for about 15 - 20 minutes in water on the stove or slightly wet in 4 minutes in a microwave safe dish in the microwave oven. Blend with the other ingredients in a high speed blender for about 2 minutes until smooth. Season to taste with salt, pepper and lemon juice, then pour into a pot and bring to boil while stirring until the mixture stretches.


Spread some butternut cheese on a slice of bread and cover with another slice. Either use a contact grill or roast the sandwiches in the pan until the bread turned brown.
Tipps/Notes
If you don't have a high-speed blender the cheese won't be as smooth. Try to soak the cashews for 2 hours before blending or use cashew butter instead to make it smoother. I made the sandwiches in my contact grill, which is also my waffle iron. Isn't this handy? This is it: 
Combi-Grill