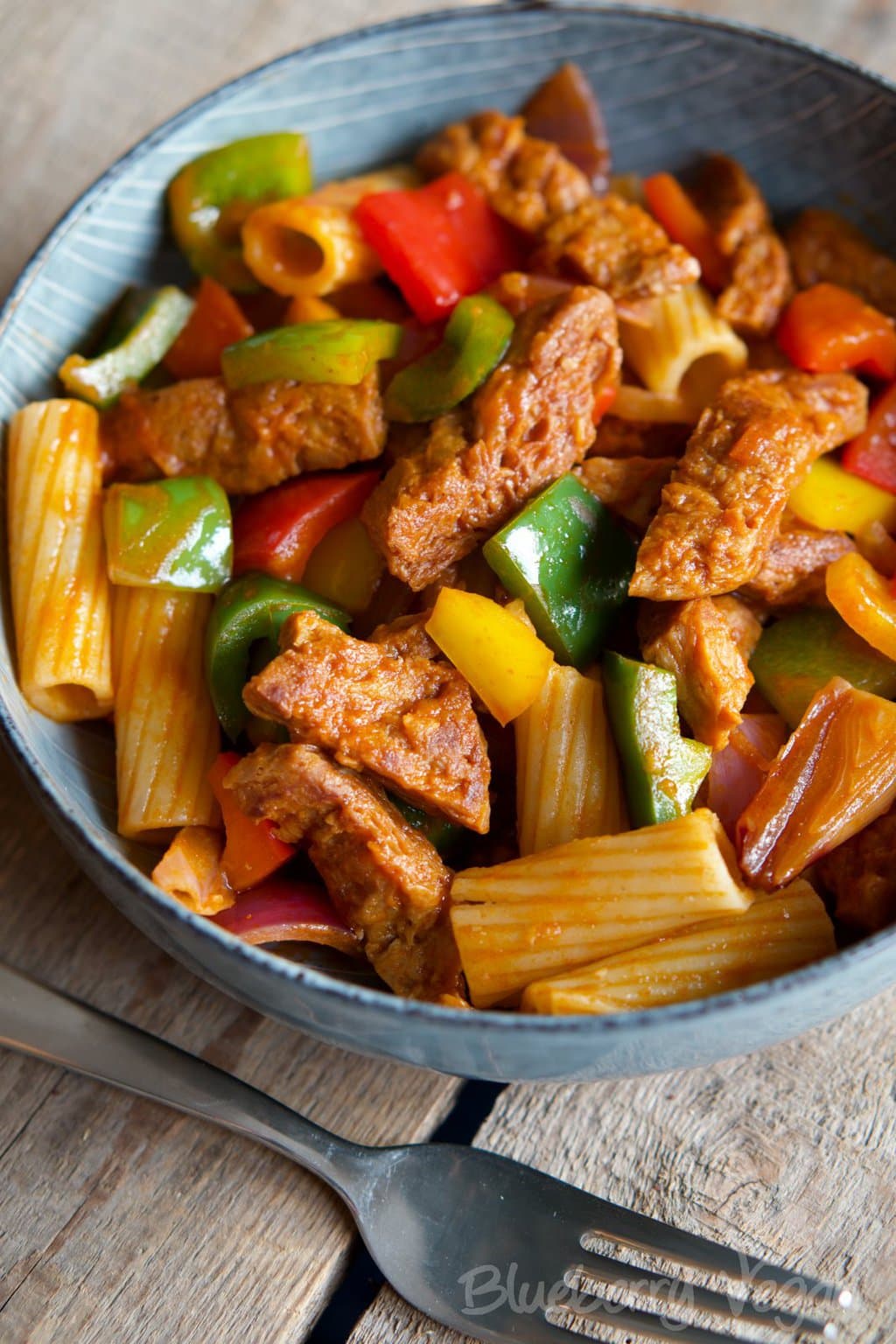 It finally got colder and it occasionally rained. This is much more likely November weather and nature had suffered from draught long enough. Who did not needed some rain? Me! I loved to skip the fall on wet roads I had with my bike on the way to work the other morning. No, I didn't break anything, but my knee got hurt quite a bit and my doctor is worried about my shoulder. Hopefully it will get better soon…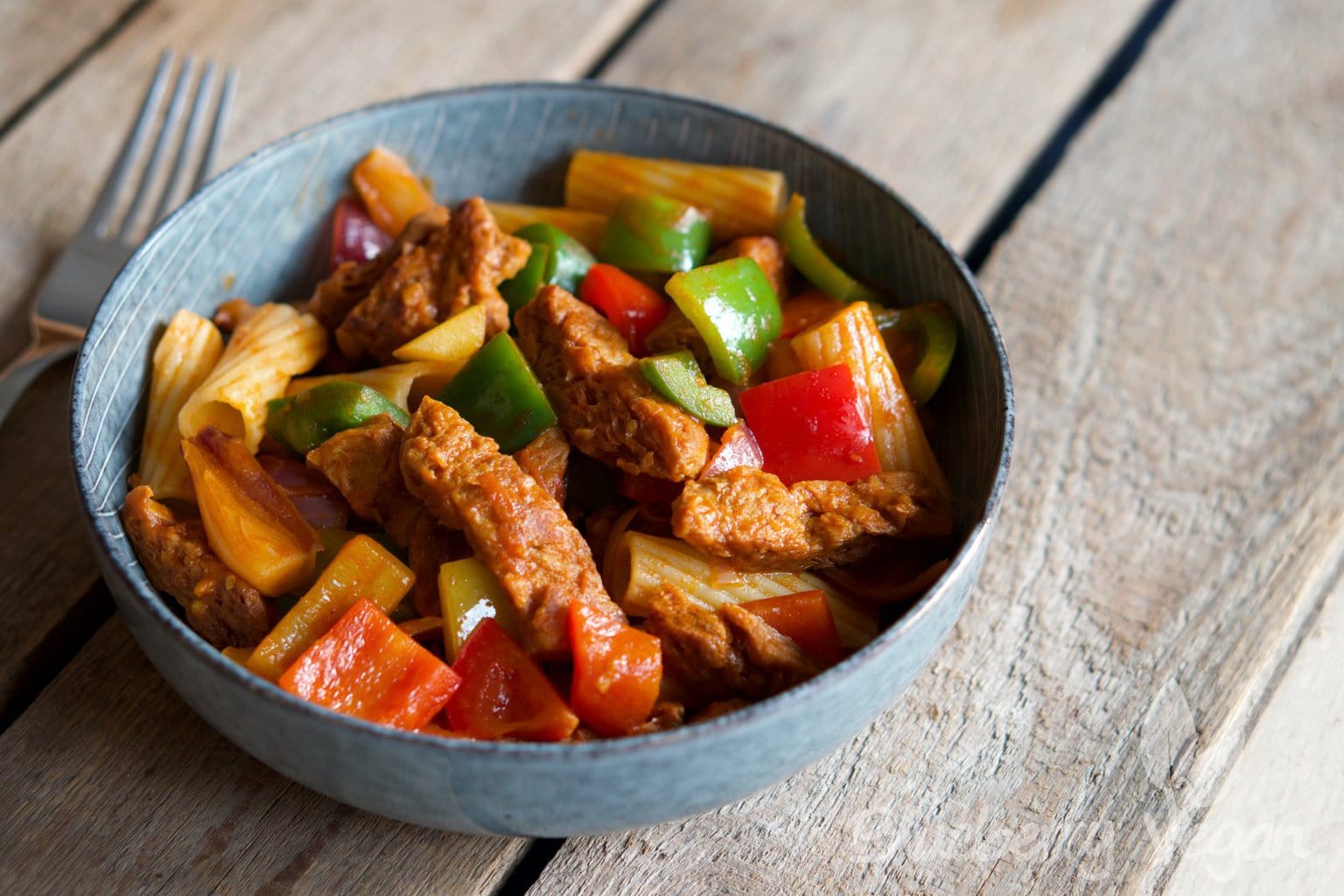 So I am couching for 1 1/2 weeks now and my knee swell down enough to stand in the kitchen for a while and cook again. I can't move my left arm properly though. However, it is strong enough to hold the things I am cutting.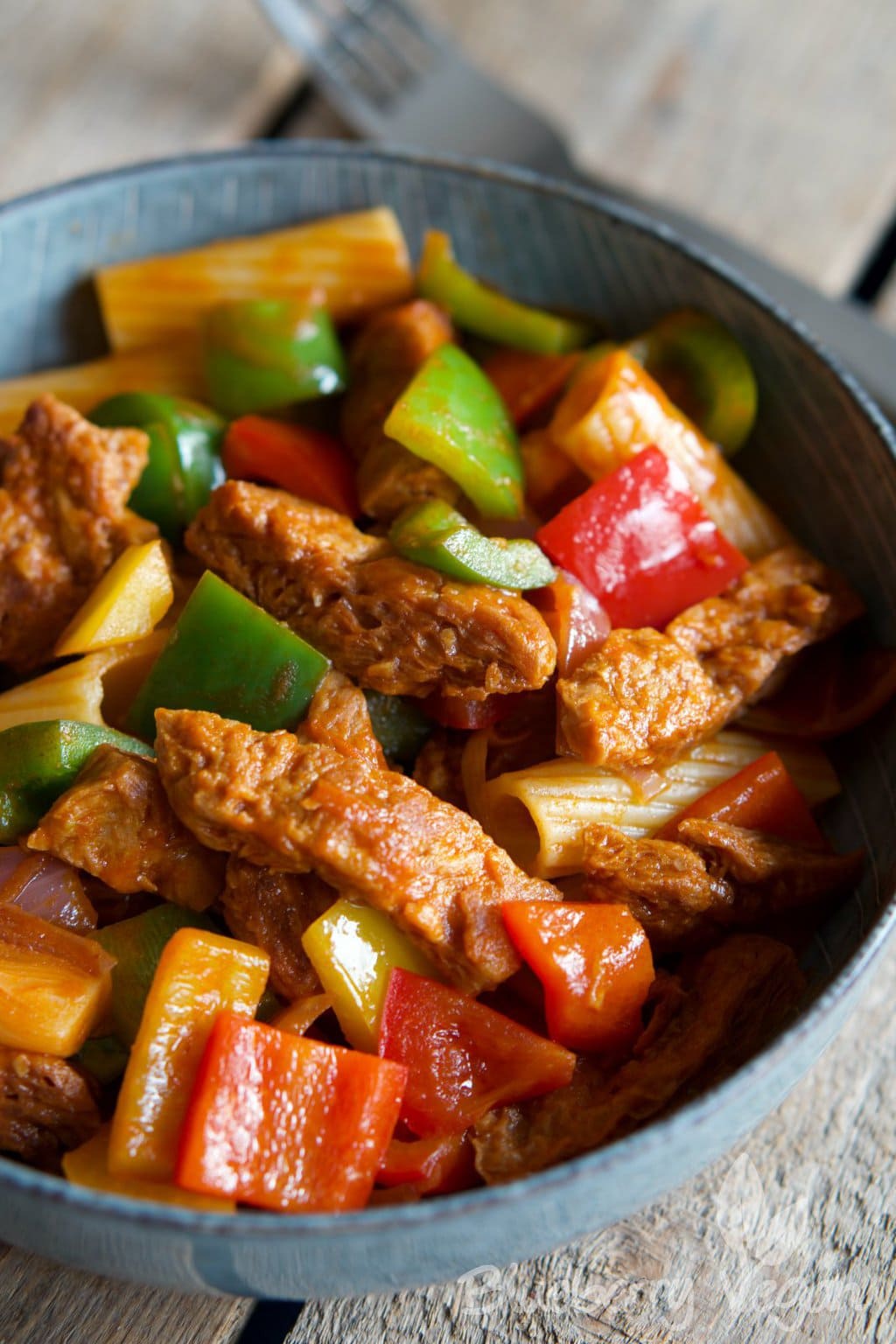 The "meat" in this pot are soya medallions (TVP) which I had in the pantry. If you have TVP in other shapes, use this. If you like it less hot, try sweet smoked paprika powder instead of the hot one.
I hope you have fun cooking and you enjoy this meal!
Love,
Rina
Colorful Shashlik Pot
Ergibt/Yield:
2 - 3 Servings
Zutaten/Ingredients
For the soya strips:
1 Liter (4 cups) broth
1 tbsp soy sauce


For the shashlik pot:
2 - 3 hands full noodles
2 tbsp oil
soya strips (as mentioned above)
1 tbsp soy sauce
1 big red onion
2 cloves garlic
3 tbsp tomato paste
1 - 2 tbsp hot smoked paprika powder
1 - 2 cups cooking water from the noodles
3 bell peppers, red, yellow and green
1 tsp maple syrup
salt
pepper
Zubereitung/Instructions
Cook the soya medallions in broth and soy sauce for about 10 Minutes, drain and rinse cold. Press out excess water (at last between a kitchen towel) and cut into strips. While the medallions are cooking, cut the onion into strips and cube the bell peppers.


Cook the noodles in salty water until firm to the bite. Meanwhile fry the medallions in hot oil until brown. Give them some time to get rid of excess water. Deglaze with soy sauce and add onion, garlic, tomato paste and paprika powder. Sauté for 1 - 2 minutes then add 1 - 2 cups of cooking water from the noodles. Add the bell pepper cubes and let simmer for 10 minutes. Season to taste with maple syrup, salt and pepper and fold in the noodles.
Tipps/Notes
Instead of noodles also try potatoes or serve the shashlik with rice.