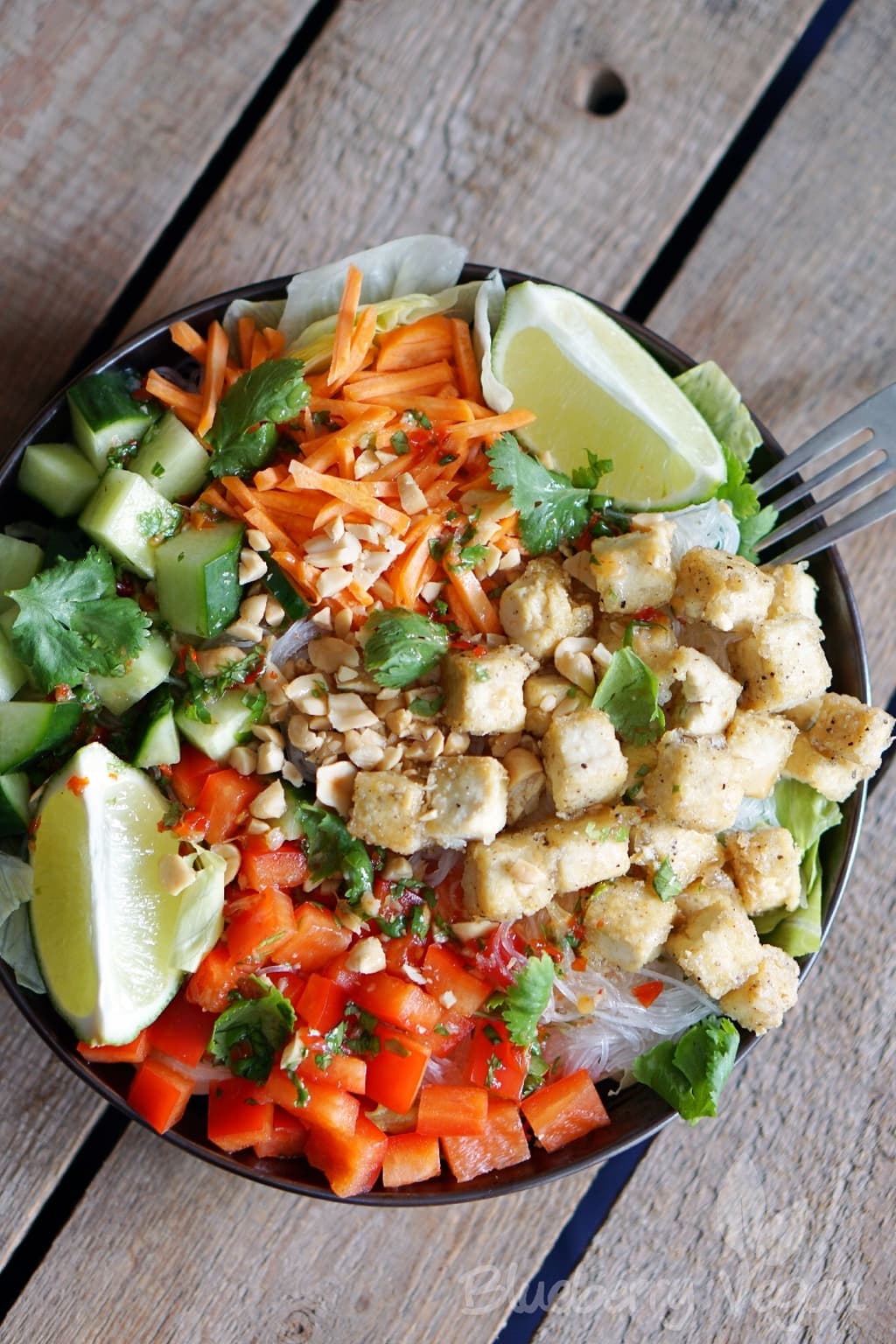 When the covid lockdown was in full swing at the beginning of the year and a visit to a restaurant seemed soooo far away, I had cravings for the things that I normally like to order in my favorite restaurants.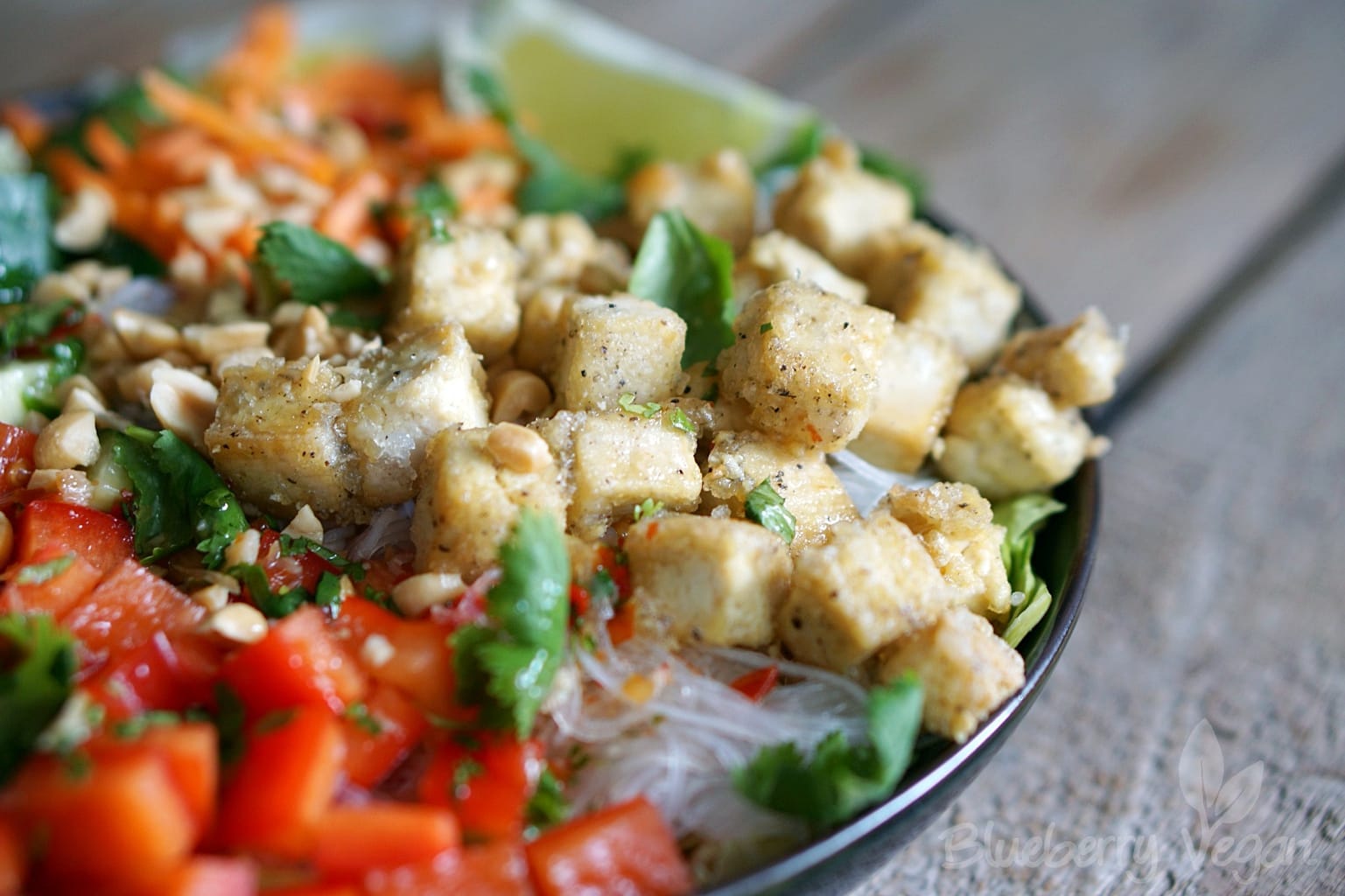 This also includes the glass noodle salad with tofu, which is available at Kitti Chai. So I sat down and rummaged through my memory of everything that goes into the salad. The trickiest part was the dressing. But at some point I had put together a mixture that came very close to the original.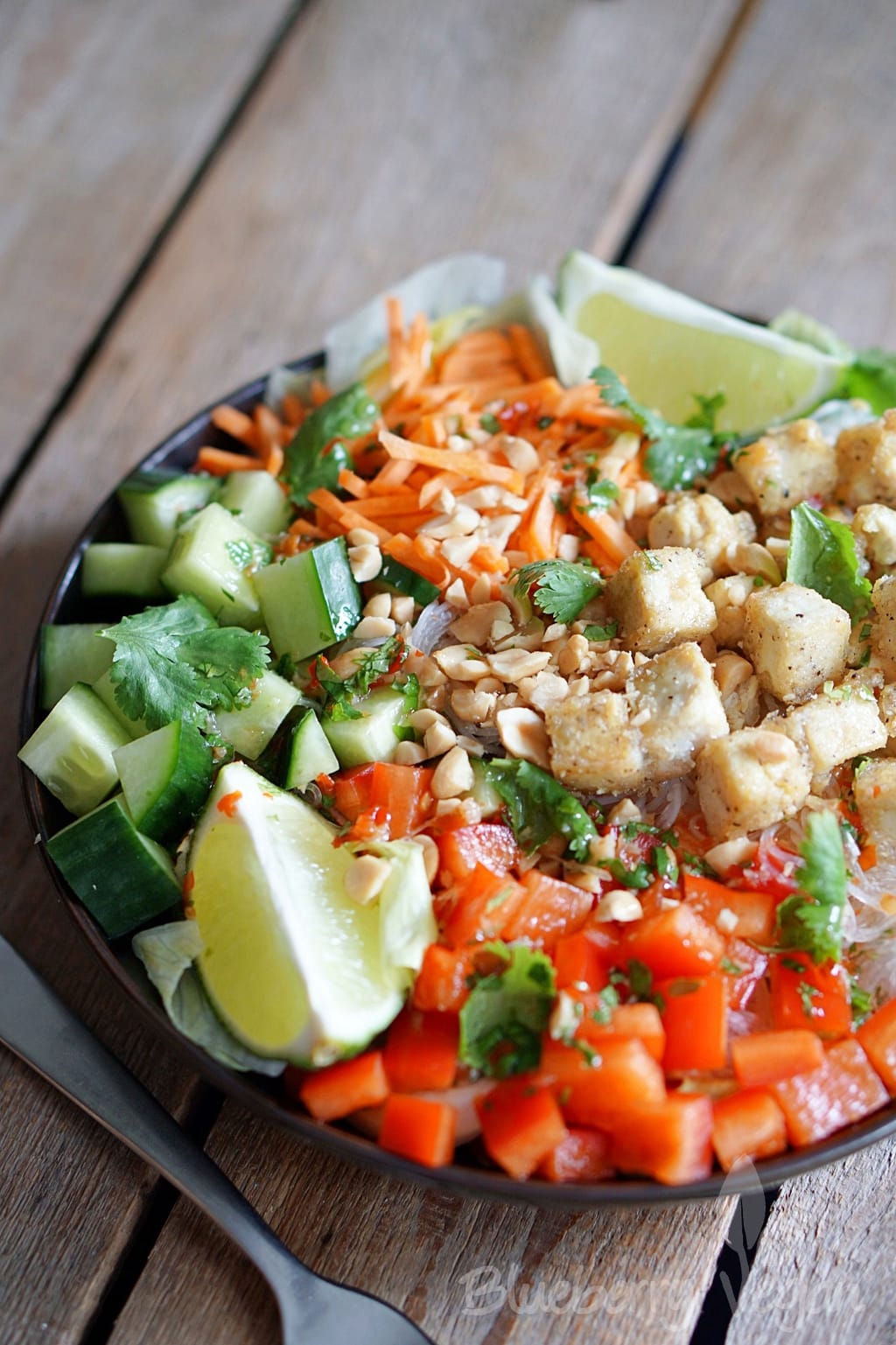 And now the recipe before you start drooling. 😉
Enojy your meal!
Love,
Rina
Colorful Glass Noodle Salad with Crispy Tofu and Chili Lime Dressing
Zutaten/Ingredients
For the salad:
1/2 head of iceberg lettuce
100 g (3.5 oz) glass noodles
1/4 cucumber
1 carrot
1/2 red bell pepper
1 spring onion
2 tbsp peanuts, toasted
1/4 bunch of cilantro
1 lime for serving - optional


For the tofu:
200 g (7 oz) plain tofu
2 tbsp corn starch
salt
pepper
Oil for frying


For the dressing:
6 tbsp sweet chili sauce
4 tbsp lime juice
4 tbsp water
1 tbsp cilantro, chopped
Zubereitung/Instructions
Pour boiling water over the glass noodles and let them steep for 5 minutes. Drain, rinse with cold water and drain.


Dice the paprika and cucumber. Julienne the carrot, cut the spring onion into rings and cut the lettuce into bite-sized pieces. Roughly chop the peanuts.


Dice the tofu, season with salt and pepper and mix with the starch. Heat the oil in a pan and fry the tofu until crispy. Drain on kitchen paper.


Mix all ingredients together for the dressing.


Spread the iceberg lettuce on two deep plates and pour the noodles over them. Arrange the remaining vegetables and tofu on top of the noodles. Top with a few cilantro leaves, the spring onion and the peanuts as a topping. Drizzle with the dressing and serve with lime wedges if you like.