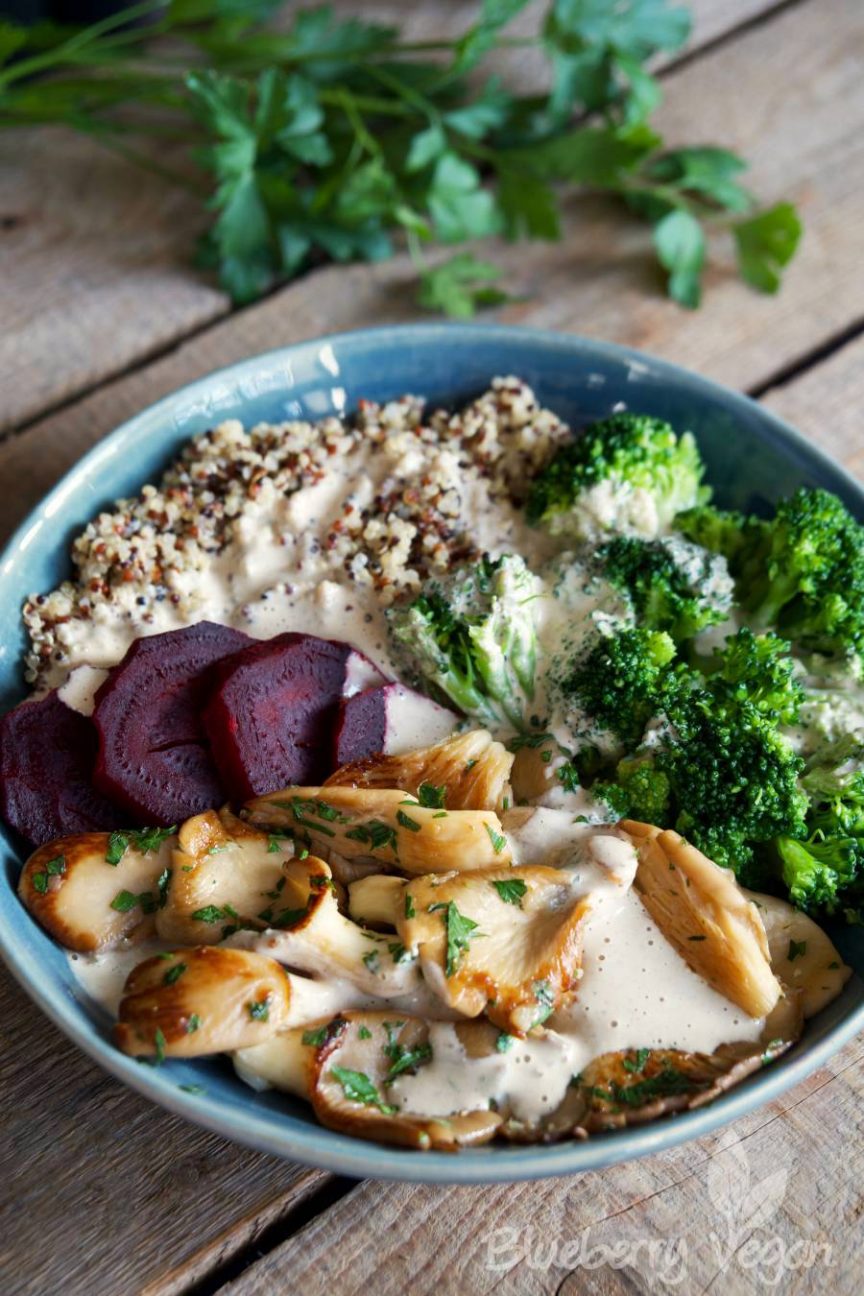 [Advertising: Affiliate Links]
I had a craving for a bowl. What a bowl is? Basically it is a big bowl with different kind of ingredients prepared in different ways and placed next to each other. Often with a dressing drizzled over. You can make a bowl by the scheme "a grain, a green and a bean" – a grain of choice, (green) vegetables and legumes or like I did just with the ingredients you like or have leftover in the fridge. Also noodles and potatoes are great in a bowl. Your imagination knows no limits.
When you never made a bowl it might seem, as if there is a lot of time and effort needed. Because you prepare the ingredients in different ways. But it is not that complex. For example, I cooked the quinoa and added the broccoli on top in my bamboo steamer so two at one sweep. I had the beetroot leftover in the fridge. I had baked it in the oven a couple of days ago. Also packed, cooked beetroot from the store is great for this dish.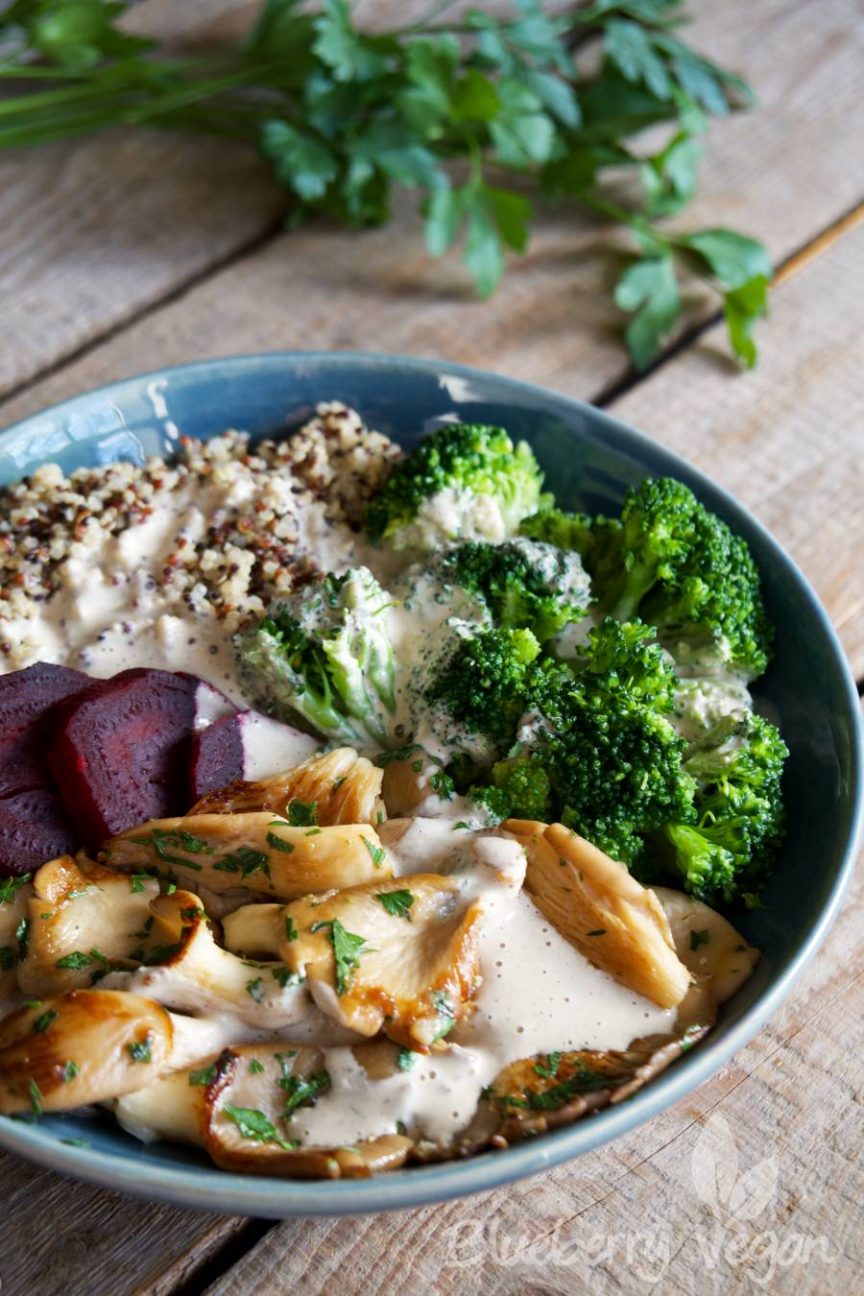 I made the dressing from tahini, lemon juice and nutritional yeast flakes. It is my favorite dressing for salads, because it is tangy and delicious. I made it in my little blender. But with some muscle action you can shake it in a top-screw jar.
I hope you like this bowl as much as I do. Have fun making it!
Love,
Rina
You want more bowl inspiration? Also try my spring bowl, autumn bowl, winter bowl, sushi bowl, bowl with peanut tofu and bowl with "fried chicken" cauliflower and Caesar dressing.

Bowl with Fried Oyster Mushrooms and Tahini Dressing
Zutaten/Ingredients
For the dressing:
4 tbsp water
2 tbsp tahini
2 tbsp lemon juice
2 tbsp nutritional yeast flakes
1/4 tsp salt
pepper


For the bowl:
80 g (1/2 cup) quinoa
1 head broccoli
250 g (3 hands full) oyster mushrooms
2 bulbs beetroot, cooked
2 tsp oil
2 cloves garlic
1 lemon
2 tbsp parsley
salt
Zubereitung/Instructions
Mix all ingredients for the dressing in a blender or shake in a top-screw jar.


Slice the beetroot, cut the broccoli into florets and clean the oyster mushrooms. Juice the lemon, chop the parsley and press the garlic.


Cook the quinoa with double the amount of water and some salt for 10 minutes, then turn off the stove and let well for another 5 minutes.
While the quinoa is cooking place the broccoli in a steamer above the quinoa pot and steam it.


In a pan heat the oil and sauté the garlic in it. Then add the mushrooms, pour over the lemon juice and season with salt. Fry for a few minutes until the mushrooms browned. Stir in the parsley.


Arrange the quinoa and broccoli in two bowls. Add the beetroot slices and oyster mushrooms and drizzle the tahini dressing over.