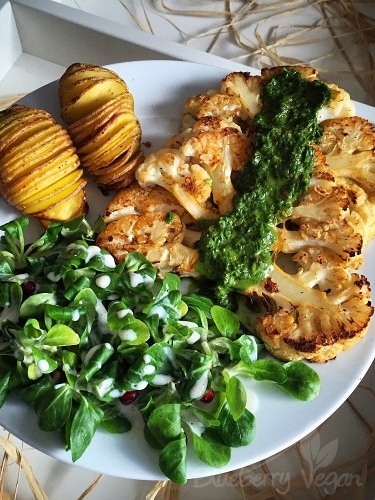 [Advertising: Affiliate Links]
For a long time I have eaten cauliflower only cooked or steamed. But today I am going to bake it. With a tangy marinade the sweet cauliflower turns into a delicious dish.
As a sauce for the cauliflower steaks, I decided to make chimichurri with parsley and cilantro. You are going to love that taste! As a side you will have corn salad with vegan buttermilk dressing and hasselback potatoes.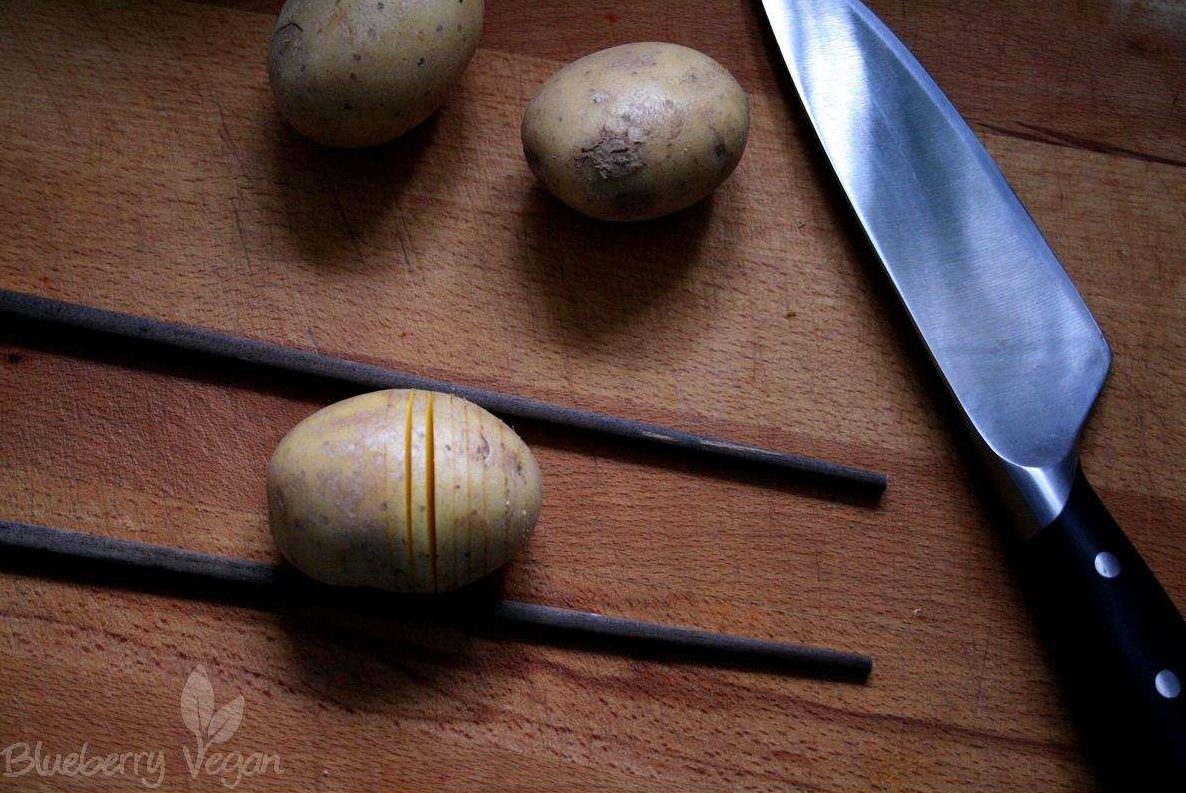 When you make the hasselback potatoes, make sure you don't cut the potato through, but only 7/8 of it. I lay two chopsticks around the potato and thus the knife stops, before it cuts through the potato.
Put the potatoes some time earlier in the oven, so that the cauliflower steaks and the hasselback potatoes are finished at the same time. While they are baking, prepare the buttermilk dressing and the chimichurri.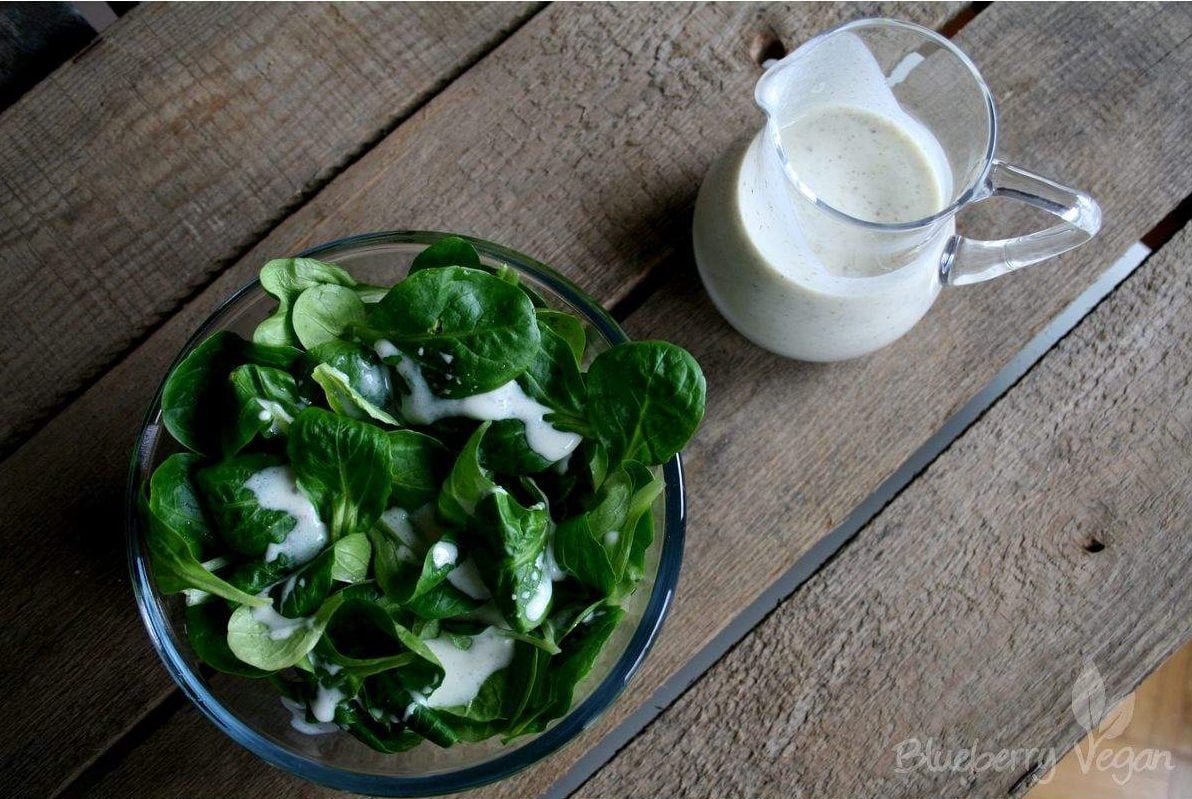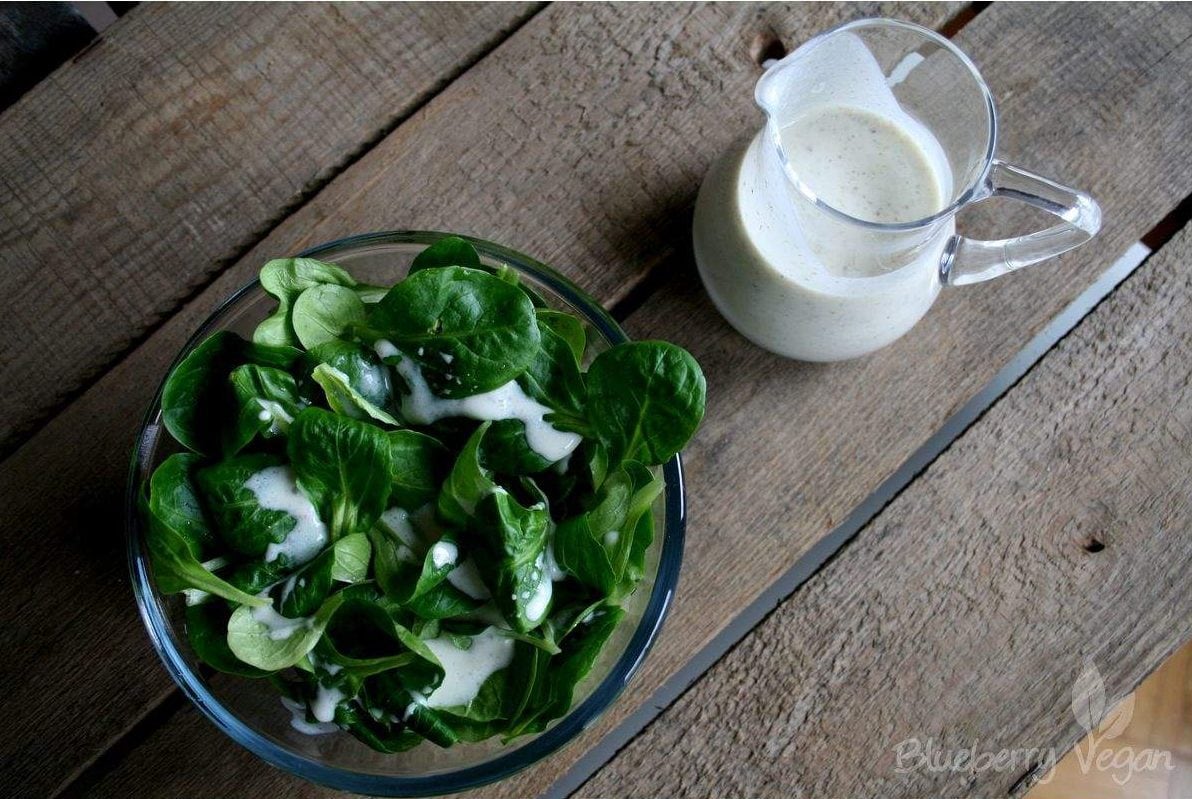 Enjoy this fabulous dish!
Love,
Rina
Cauliflower Steaks with Chimichurri and Hasselback Potatoes
Zutaten/Ingredients
For the steaks:
2 slices cauliflower
2 tsp olive oil
1/4 tsp salt
1/4 tsp smoked paprika
1/4 tsp cumin


For the hasselback potatoes:
4 medium-sized potatoes
1 1/2 tbsp soy cuisine
salt
pepper


For the chimichurri:
1/2 bunch parsley
1/4 bunch cilantro
1 tbsp olive oil
1 tbsp lemon juice
1 tbsp water
1/2 clove garlic
1/4 tsp salt
1/2 tsp sambal oelek


For the buttermilk dressing:
1/2 tsp chia seeds, ground
2 tbsp unsweetened soy yoghurt
4 tbsp soy milk
1 tbsp herb vinegar
1 tsp capers
1/4 tsp salt
1/4 tsp garlic powder


Also:
2 handful corn salad
2 tbsp pomegranate seeds (optional)
Zubereitung/Instructions
Preheat the oven to 180° C (360° F).


Wash the potatoes and cut them just as shown on the picture. Don't cut the slices through. Combine soy cuisine, salt and pepper and brush it on the potatoes and between the slices. Bake on a lined baking tray for 40 minutes.


Cut two thumb-thick steaks out of the middle of a head of cauliflowers. Combine oil, salt, paprika and cumin and brush the steaks with the marinade.
When the potatoes have baked for 10 minutes, add the cauliflower steaks to the tray and bake for 30 minutes. Carefully turn once after 15 minutes.


For the buttermilk dressing blend all ingredients until smooth. Refrigerate to thicken.


For the chimichurri pulse all ingredients in a blender into a chunky sauce.


Wash drain and clean the corn salad, arrange on two plates. Pour over the buttermilk dressing.


Remove the golden steaks and potatoes from the oven and arrange on the plates. Drizzle over the chimichurri and serve immediately.
Tipps/Notes
I make the dressing and chimichurri in my
Personal Blender
. You can grind the chia seeds first with the grinder and then switch to the mixing tool to blend it. It's so easy! You can buy
smoked paprika
online.