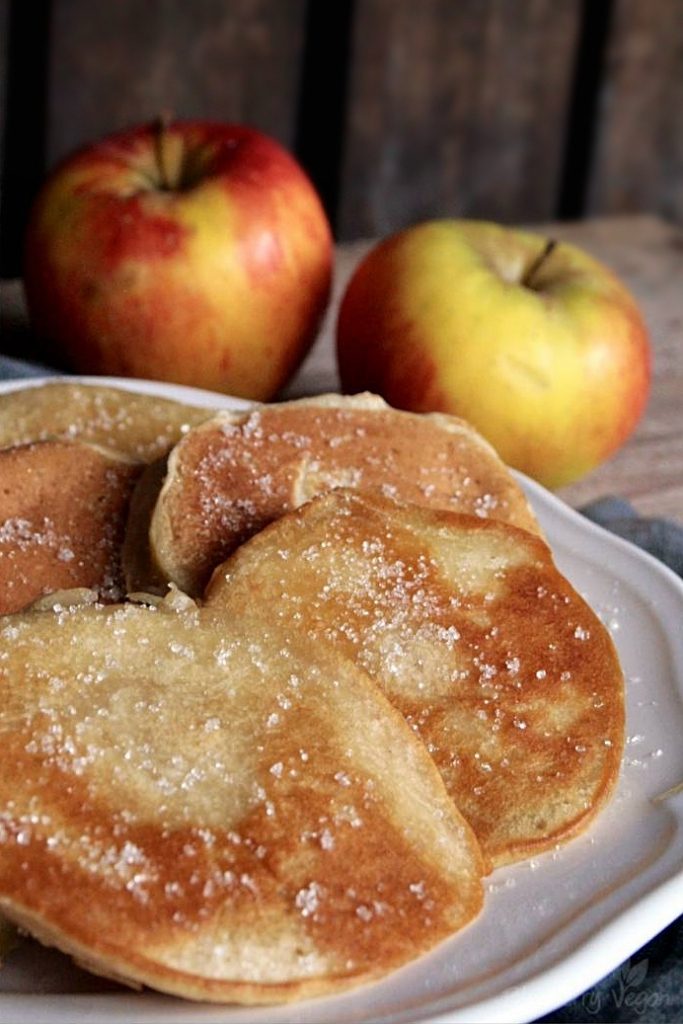 [Advertising: Affiliate Links]
That's the way it is: When you buy a 2 kilo bag of apples for a one-person household there's not only "one apple a day keeps the doctor away" – better safe than sorry, but also this delicious little fritters. Fruity and juicy apple slices in a smooth, sweet batter – sooo yummy!
Usually apple fritters are deep fried, but I don't like them that fat, so I fried them in some oil in a pan. It's kind of like a pancake with apple filling.
Don't omit the sugar on top, it's what makes these fritters perfect. If you don't like sugar use some agave nectar or maple syrup instead to sprinkle it over the apple fritters.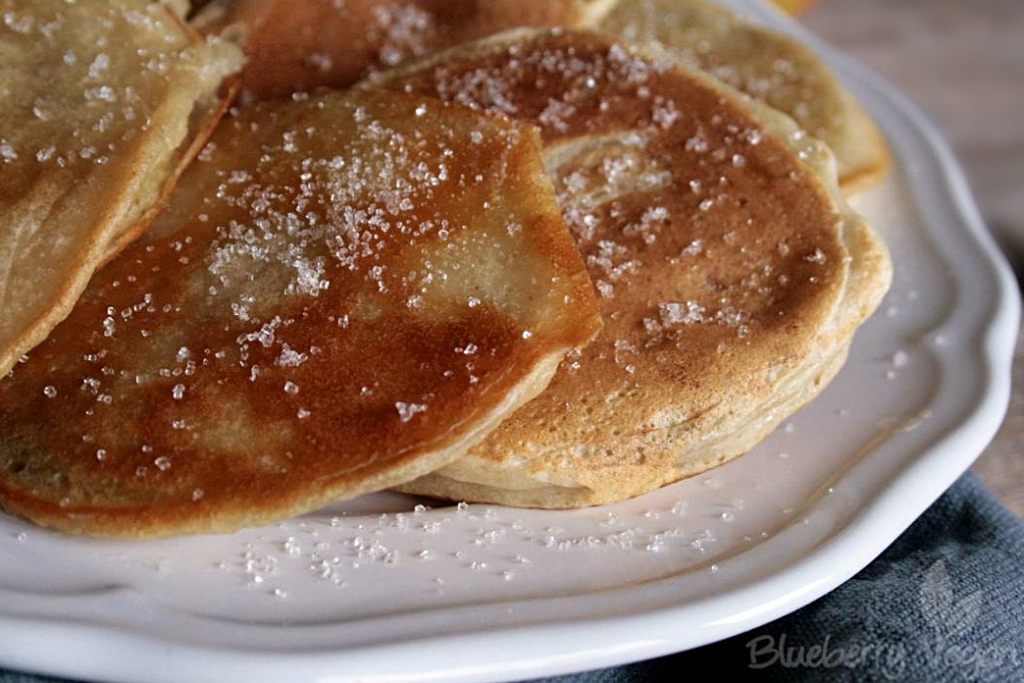 By the way: I don't need cutlery with this meal and eat the fritters with my hands.
I wish you happy feasting!
Love,
Rina
Apple Fritters
Zutaten/Ingredients
For the apple sauce:
2 apples
1/2 tbs lemon juice
1/2 tbs agave nectar
50 ml (3 tbs) water


For the batter:
100 ml (2/3 cups and 1 tbs) soy milk
1/2 tsp apple cider vinegar
1/2 tsp vanilla extract - alternative some ground vanilla
2 tbs apple sauce
75 g white flour - spelt or wheat
1/2 tsp baking soda


Also:
1 big apple - I love braeburn
some lemon juice
1 - 2 tbs neutral tasting oil
1 - 2 tsp sugar
Zubereitung/Instructions
Peel the apples for the apple sauce and cut in small pieces, cover with lemon juice. Pour all ingredients for the apple sauce in a pot and bring to boil. Let simmer for about 10 minutes. And purèe with a (hand) blender.


For the batter combine soy milk and vinegar and let it curdle for 2 minutes. Add the rest of the ingredients and combine until smooth. Let rest for 10 minutes.


While the dough is resting, cut the apple horizontal in thin ( slices, remove the core and sprinkle with lemon juice. Toss the apple slices in the dough and cover on all sides. Heat a little bit of oil in a big pan on medium heat.


Bake three (or four) apple slices at a time (depending on your pan size) on each side for 2 - 3 minutes until golden. Repeat until every apple slice (and the rest of the dough) is baked.


Sprinkle with sugar and serve with apple sauce.
Tipps/Notes
You can also use store-bought apple sauce when you are short on time.
Be carfeful when you blend the hot apple sauce. Don't burn yourself with hot splashes.