Blueberry Vanilla Rolls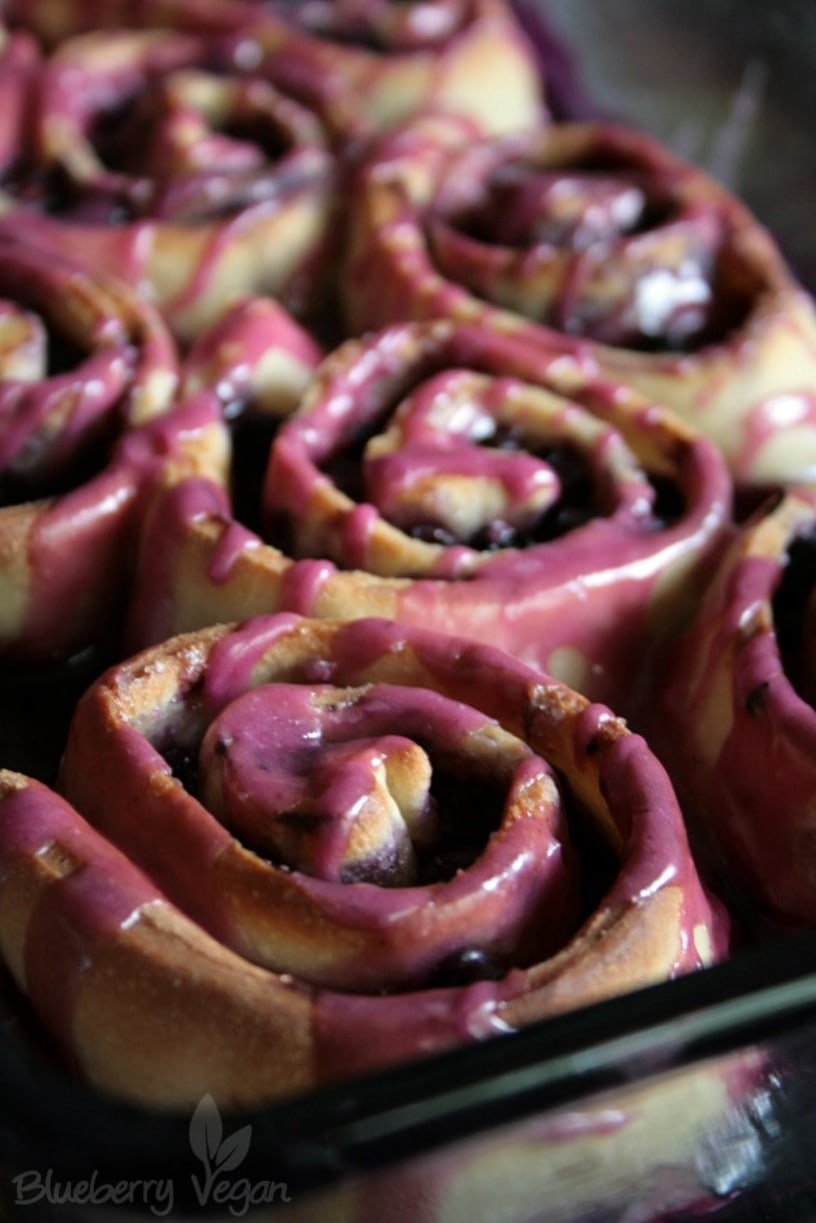 Ergibt:
12 Rolls - Serves 4
250 g (8.8 oz) white flour - spelt or wheat
140 ml (1/2 cup plus 1 tbs) warm soy milk
40 g (1.4 oz) sugar
40 g (1.4 oz) melted, vegan butter
1/2 package dry yeast
1 pinch salt
300 g (10.5 oz) frozen wild blueberries
40 g (1.4 oz) sugar
1/4 tsp ground vanilla
2 tbs frozen wild blueberries (taken from the filling)
1 tsp vanilla extract - or 1 tsp water and some ground vanilla
100 g (3.5 oz) icing sugar
1 dash lemon juice
In a bowl mix the ingredients for the dough and knead thoroughly about 5 minutes. Set aside and let rest for about 45 minutes, until it doubled it's size.
When the dough has risen, roll it with a rolling pin and some flour on the counter in a rectangle shape (ca. 30 x 40 cm - 12 x 16 inches).
Preheat the oven to 50° C (120° F) and turn it off. Grease a baking dish.
For the frosting measure 2 tbs frozen blueberries and set aside.
For the fillig mix the frozen blueberries with sugar and vanilla and spread it on the rolled dough.
Leave 3 cm of the edges without filling.
Roll up the dough from the long side and cut off slices about 3 cm thick. Place the slices, cutting side up, in the baking dish, put it in the warm oven and let them rest for about 30 minutes.
Keep the dish in the oven and heat it up to 200° C (390° F). After baking 20 - 25 minutes the rolls should be golden and done. Let them cool a bit while preparing the frosting.
For the frosting pour the vanilla extract and the blueberries in bowl and smash it up, strain through a sieve. Into the juice stir in the powdered sugar and a dash of lemon juice.
Sprinkle over the hot rolls and let them cool down a bit. Serve warm.