Greek Noodle Casserole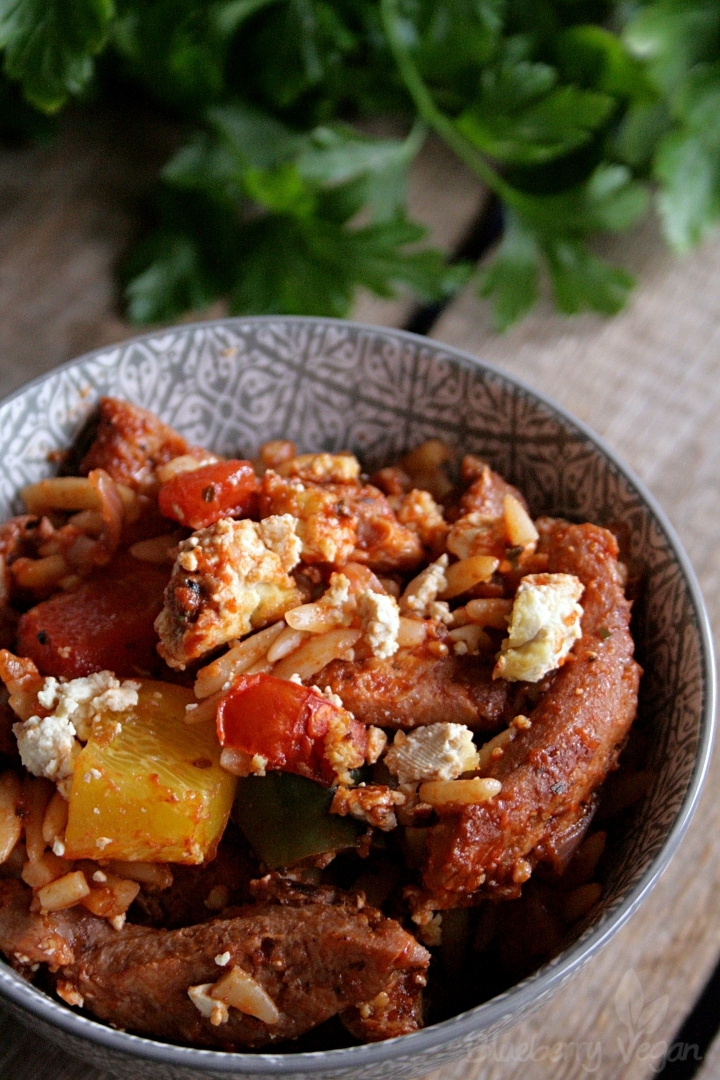 150 g (5.3 oz) soya chunks - TVP
1 1/2 (6 cups) vegetable broth
3 tbsp soy sauce
1 - 2 tbsp oil
1 onion
1 clove garlic
1 tbsp gyros spice mix
1 tsp oregano
salt
pepper
1 red bell pepper
1 yellow bell pepper
1 green bell pepper
4 tbsp olives
500 ml (2 cups) tomato juice
250 g (8.8 oz) orzo or other small noodles
salt
pepper
200 g (7 oz) plain tofu
2 tbsp lemon juice
3/4 - 1 tsp salt
Crumble the tofu into a bowl and mix with lemon juice and salt, set aside.
Cook the noodles in salty water until firm to the bite, drain and rinse. Cook the soya chunks in vegetable broth and soy sauce for about 10 minutes until soft. Drain, rinse cold and press out any excess liquid. While the soya chunks are cooking cube the bell peppers, cut the onion into slivers and press the garlic.
In a deep non-stick pan fry the soya shreds until all liquid vaporized and they start to brown. Then add oil, onions and garlic and sauté. Season well with gyros spice mix, oregano, salt and pepper.
Preheat the oven to 200° C (390° F).
Combine noodles, veggies, soya shreds and tomato juice in a big baking dish and season with salt and pepper. Sprinkle over the tofu and bake in the oven for about 20 minutes.