Thai Curry Noodle Soup with Spicy Tofu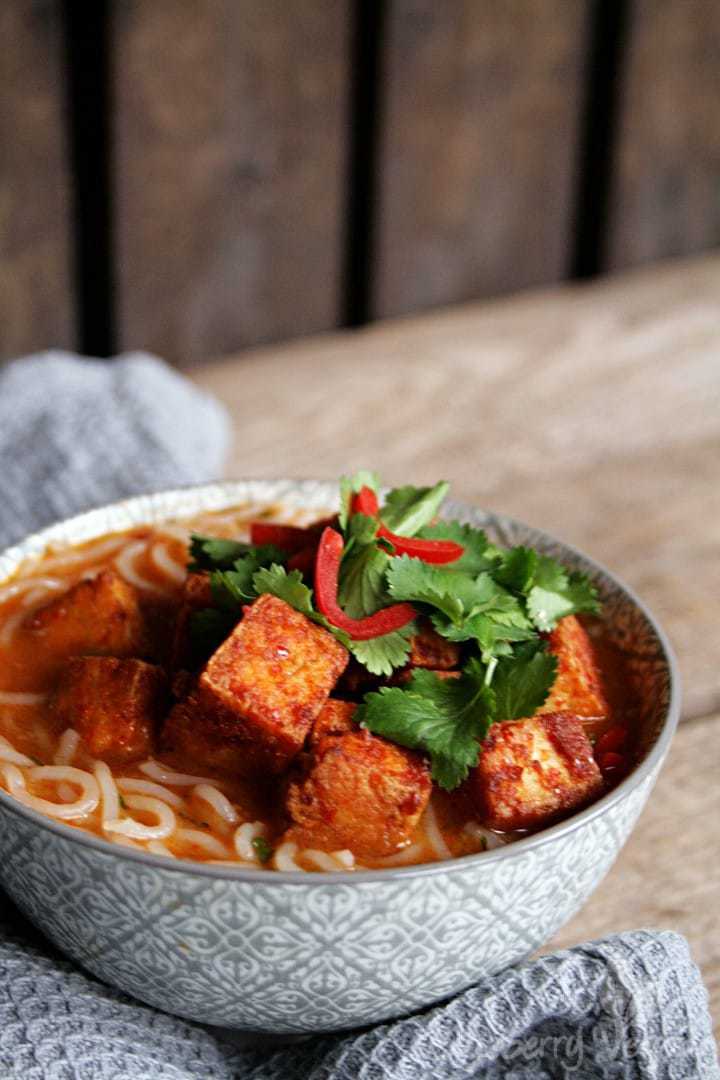 200 g (7 oz) firm tofu
1 tbsp oil
1 tsp red curry paste
2 tsp coconut milk
1 tsp soy sauce
1 tbsp water
3 green onions
1 piece ginger - about 1/2 a thumb-sized
2 cloves garlic
1 tbsp coconut oil
3 tsp red curry paste
600 ml (2 1/2 cups) broth
400 ml (1 14-oz can) coconut milk - low-fat or regular
100 g (3.5 oz) thin rice noodles
2 tsp lemon juice
1 tsp soy sauce
1/2 bunch cilantro
1/4 chili pod
salt
Peel the ginger and garlic and finely chop it. If you like it hot, slice the chili pod in rings. If you don't like it that hot, halve the chili and remove seeds and ribs first. Chop the cilantro, but keep some leaves for decoration and cut the green onions into rings.
For the tofu condiment paste pour curry paste, coconut milk, soy sauce and water in a jar and jiggle until smooth. Dab the tofu with a paper towel and cut into cubes. Heat the oil in a non-stick pan and fry the tofu for about 3 - 4 minutes until crispy. Add the condiment paste and stir in until the water vaporized. Remove from the stove and set aside.
While you fry the tofu, heat the oil for the soup in a pot and sautée the onion. Add the garlic, ginger and curry paste and roast a little. Pour in the broth and add the coconut milk, lemon juice, soy sauce, cilantro and chili, bring to boil. Then add the noodles and reduce the heat. Let simmer until the noodles are done, stir to separate the noodles. Season the soup to taste with salt and lemon juice.
Arrange the soup in two bowls, add the tofu and dress with cilantro.
Instead of the noodles or in additon you can add veggies to your soup. Mushrooms, carrots and bamboo shoots are great.
Recipe by
Blueberry Vegan
at https://www.blueberryvegan.com/de/thai-curry-nudelsuppe-mit-wuerzigem-tofu/