Simple Lasagna with No Frills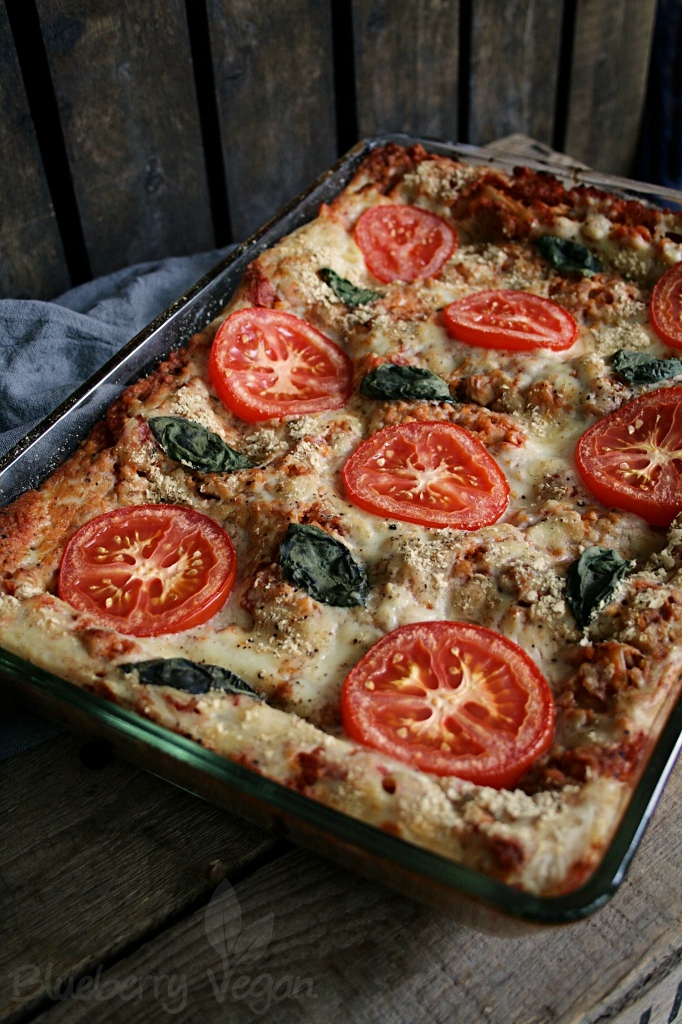 1 tbsp olive oil
1 onion
1 clove garlic
1 bunch soup vegetables (leek, celery, carrot)
4 tbsp tomato paste
150 ml (1/2 cup) red wine
400 ml (1 3/4 cup) vegetable broth
1 small can tomato chunks
2 bay leaves
1 tsp Italian herbs, dried
salt
pepper
1 tbsp vegan butter
1 tbsp flour
250 ml (1 cup) non-dairy milk
1/2 tsp nutmeg, ground
1/2 tsp salt
about 18 sheets lasagna noodles (300 g - 10.6 oz)
1 tomato
5 leaves fresh basil
nutritional yeast flakes - optional
Finely chop the onion and press the garlic. Clean the vegetables and shred in a food processor into fine chunks.
Heat the oil in a pot and sautée the onions until translucent. Add the garlic and also sautée. Pour in the vegetables and tomato paste, stir until combined and fry for 2 - 3 minutes. Deglaze with red wine and broth, add the tomatoes and spices. Cook for 15 minutes, stir occasionally.
While the sauce is cooking, make the béchamel. Melt the butter in a pot and stir in the flour with a whisk. Let cook for 1 - 2 minutes, until the flour changes color, then pour in the milk while stirring. Season with salt and nutmeg and let simmer for 10 minutes, stir from time to time, to prevent sticking.
Shorten the lasagna noodles, if needed, and keep handy.
Slice the tomato and preheat the oven to 180° C (360° F).
Pour a soup ladle of vegetable sauce in a big baking dish, cover with one layer of lasagna noodles and pour over a ladle of vegetable sauce. Proceed until the noodles are used up and end with a sauce layer on top.
Pour the béchamel evenly over the vegetable sauce, sprinkle with nutritional yeast, if you like and garnish with tomato slices and basil leaves. Bake in the oven on a low rack for about 35 minutes until golden. Let cool a little, then serve.
Recipe by
Blueberry Vegan
at https://www.blueberryvegan.com/de/einfache-lasagne-ohne-schnickschnack/