Chocolate Chili with Beans and Lentils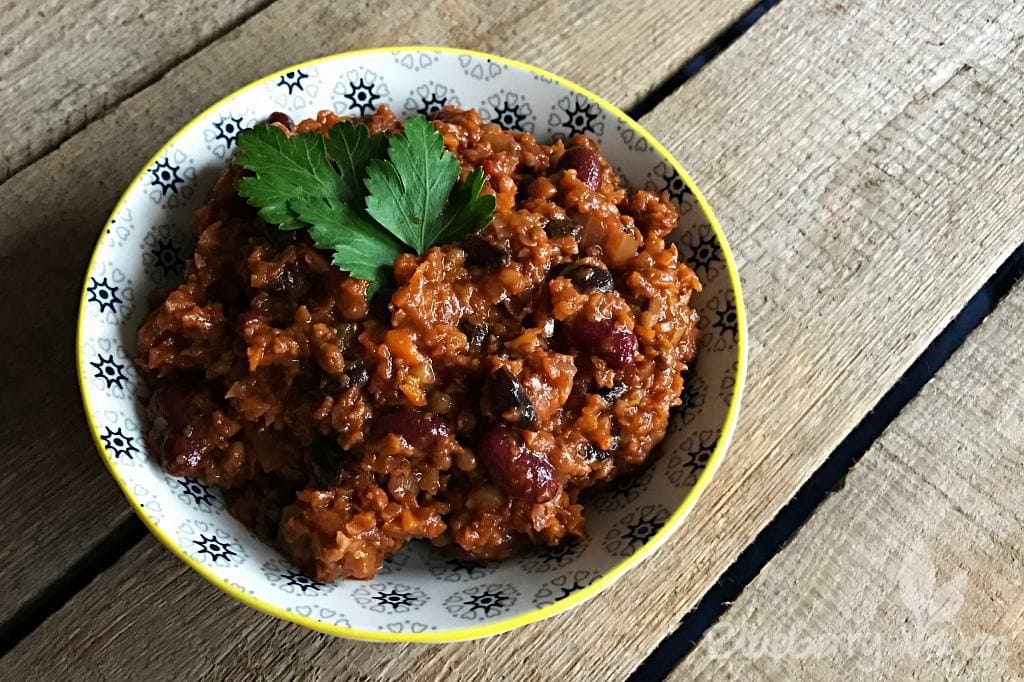 Ergibt/Yield:
4 - 6 Portions
1 tbsp olive oil
1 big onion
1 - 2 cloves garlic
1 bunch soup vegetables (leek, celery, carrot)
4 tbsp tomato paste
each 1 small can lentils, black beans, borlotti beans and kidney beans or other kinds
150 ml (1/2 cup) red wine
200 ml (1 cup) vegetable broth
1 small can chopped tomatoes
2 bay leaves
1 tbsp cocoa powder
1 tbsp soy sauce
1 tbsp lemon juice
1 tbsp smoked hot paprika powder
1 tbsp sambal ulek
1 tsp maple syrup
salt
Finely chop the onion, press the garlic. Clean the soup vegetables and finely chop in a food processor. Rinse and drain the lentils and beans.
Heat the oil in a big pot and sautée the onions in it until translucent. Add the garlic and briefly sautée. Pour in the vegetables and tomato paste and stir well. Let brown for 2 - 3 minutes. Deglaze with red wine and vegetable broth. Add the bay leaves and the chopped tomatoes and let cook for about 10 minutes.
Then add the rest of the ingredients and let cook for another 15 minutes. Season to taste with lemon juice and salt.
Recipe by
Blueberry Vegan
at https://www.blueberryvegan.com/de/schokoladen-chili-mit-linsen-und-bohnen/