Three-Bean Chili with Pearl Barley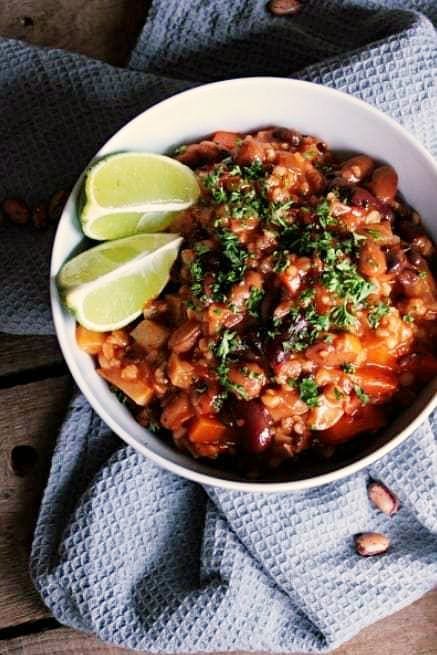 Ergibt/Yield:
4 - 6 Portions
1 big onion
2 cloves garlic
1 tbsp oil
3 tbsp tomato paste
1 bunch soup vegetables (leek, celery and carrots)
each 1 small can cranberry, black and kidney beans - or any other bean of choice
1 small can chopped tomatoes
125 ml (1/2 cup) pearl barley
1 Liter (4 cups) vegetable broth
1 heaped tsp sambal oelek
2 bay leaves
1 tsp thyme, dried
salt
pepper
lemon juice
parsley, chopped
cilantro, chopped
avocado, cubed
vegan cheese, grated
yoghurt with lemon juice
Finely chop the onion and press the garlic. Finely cube the soup vegetables and set aside. Drain and rinse the beans.
Heat the oil in a big pot and sautée the onions until translucent. Add the garlic and sautée. Stir in the tomato paste and also sautée. Before it browns add the vegetables and the broth.
Add the beans, tomatoes, pearl barley and spices. Cook for 30 minutes and stir eventually. Stir more often at the end, to prevent the barley from sticking.
Season the chili to taste with salt and pepper and arrange in bowls. Drizzle with lemon juice and sprinkle with parsley or dress to taste with yoghurt, cilantro or avocado.
Recipe by
Blueberry Vegan
at https://www.blueberryvegan.com/de/deftiges-graupen-chili-mit-dreierlei-bohnen/