Autumn Bowl with Oven Pumpkin, Mushrooms and Barbecue Tofu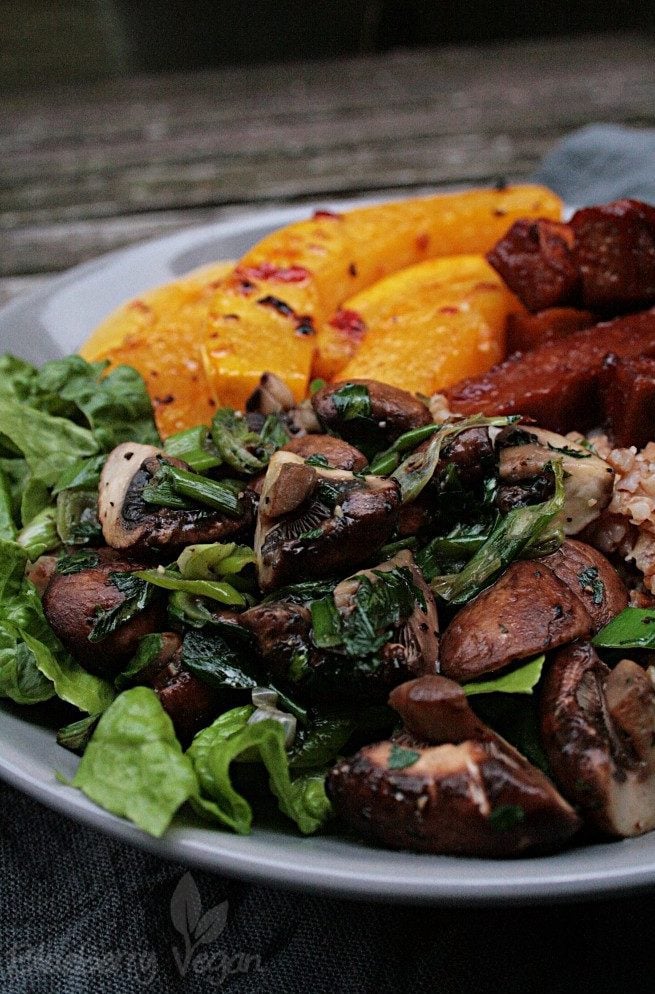 400 g (14 oz) pumpkin
2 tbsp olive oil
1 clove garlic, pressed
1 tsp lemon juice
1/2 tsp Sambal Oelek
1/4 tsp salt
1 pk. smoked tofu
2 tbsp barbecue sauce
200 g (7 oz) brown mushrooms
2 spring onions
2 tbsp parsley, chopped
1/2 tbsp oil
salt
pepper
6 tbsp soy yoghurt
1 tsp lemon juice
1/2 tsp Sambal Oelek
1/2 clove garlic, pressed
1/4 tsp salt
1/4 tsp agave nectar
1 romaine lettuce
1 cup spelt, polished - alternative rice
Preheat the oven to 200° C (400° F) and line a baking tray with parchment paper.
Wash the pumpkin, peel it, if needed and cut into wedges. Combine oil, garlic, lemon juice, Sambal Oelek and salt and mix with the pumpkin. Pour on the baking tray and bake in the oven for about 25 minutes. Turn once.
Cook the spelt in 2 cups water for about 20 minutes, until soft. Or prepare it in a rice cooker.
Cut the smoked tofu into sticks and mix with the barbecue sauce. Add to the baking tray in the last 10 minutes of baking the pumpkin. Turn once.
Pour all ingredients for the dressing in a screw top jar and jiggle until smooth. Keep refrigerated. Roughly chop the romaine lettuce and arrange on two plates.
Cut the spring onions into rings and quarter the mushrooms. When the tofu and the pumpkin are ready, heat the oil in a pan and sautée spring onions and mushrooms for 2 minutes. Season with salt and pepper and combine with the parsley.
Arrange spelt, oven pumpkin, barbecue tofu and mushrooms on the romaine lettuce and sprinkle with the dressing. Serve immediately.
I still don't have a clue what kind of pumpkin I got from my garden, by the way. If I had to buy a pumpkin for this dish, I would prefer a Hokkaido or Butternut Squash.
Recipe by
Blueberry Vegan
at https://www.blueberryvegan.com/de/herbst-bowl-mit-ofenkuerbis-champignons-und-barbecue-tofu/