Plum Cake with Quark Oil Dough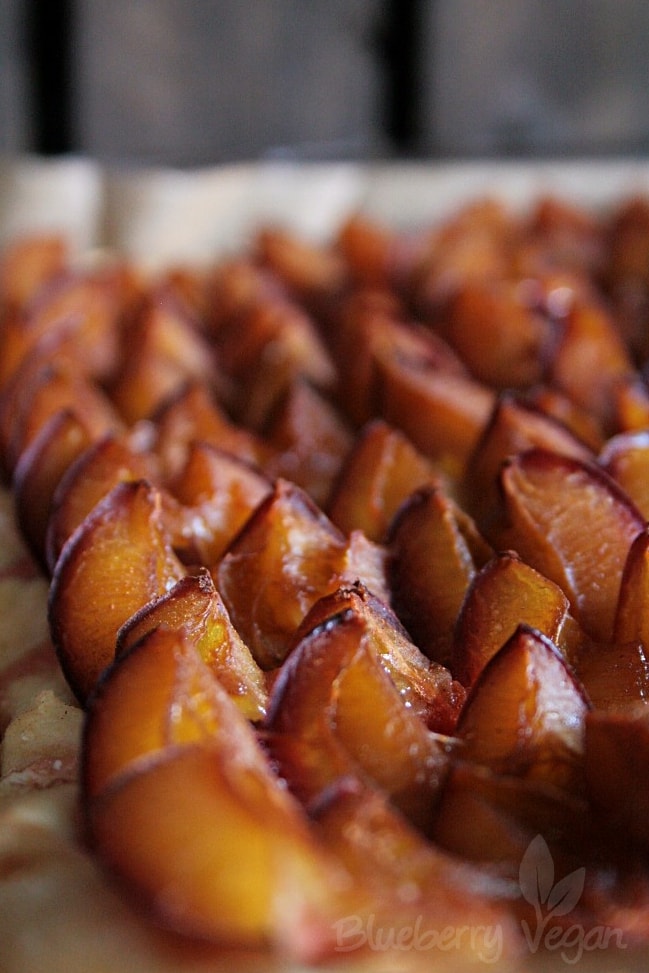 Ergibt/Yield:
1 tray - 20 pieces
325 g (11.5 oz) white flour - spelt or wheat
75 g (2.6 oz) sugar
3 tsp baking powder
1 pinch salt
125 g (4.4 oz) vegan quark - Provamel for example
100 ml (1/3 cup) non-dairy milk
100 ml (1/3 cup) neutral tasting oil
1 tsp vanilla extract - alternative 1/4 tsp ground vanilla
1500 g (53 oz) plums
2 tbsp sugar
1/2 tsp cinnamon
Pit the plums using a cross-cut: Cut cross-wise on the top and bottom of the fruit until you hit the pit, then connect the crosses with a cut along the fruit, as shown on the pictures. Open the plum and remove the pit. Preheat the oven to 180° C (360° F).
Knead all ingredients until a smooth dough forms. Pour on a sheet of parchment paper, drizzle with flour and roll out the dough to the size of a baking tray. Then place on it and garnish with the plums. Press them a little in the dough.
Combine cinnamon and sugar and sprinkle over the cake. Bake in the oven for about 40 minutes, until the edges turn brown. Let cool on the baking tray, then cut into 20 pieces.
Serve with vegan whipped cream.
If you can't get quark use drained non-dairy yoghurt instead. To drain the yoghurt place it in a coffee filter and let it drip over night.
Recipe by
Blueberry Vegan
at https://www.blueberryvegan.com/de/pflaumenkuchen-mit-veganem-quark-oel-teig/