Vanilla Rice with Nectarine and Buckwheat Brittle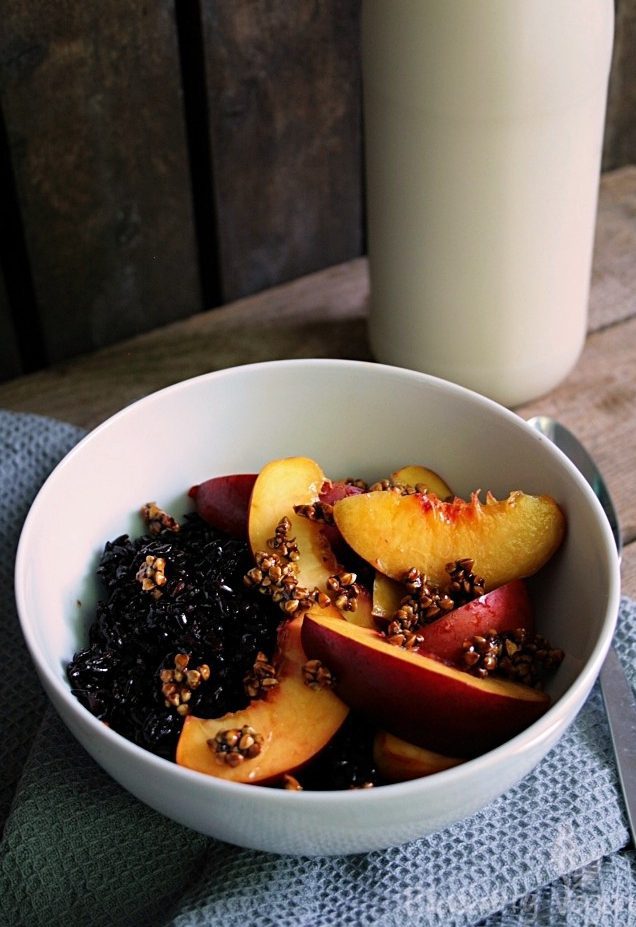 1 cup sticky rice or other short-grain rice
2 cups water
1 tbsp maple syrup
1/4 tsp vanilla, ground
2 tbsp buckwheat
2 tbsp (coconut) sugar
1 tbsp water
2 nectarines
non-dairy milk of your choice
Cook the rice in the water until soft, let cool to lukewarm. Spice with maple syrup and vanilla.
While the rice is cooling, make the brittle. Toast the buckwheat in a non-stick pan over medium heat for about 5 minutes. Add sugar and water and melt the sugar. Stir well and pour on a piece of parchment paper for cooling.
Divide the rice in two bowls, cut the nectarine in wedges and pour over. Sprinkle with buckwheat brittle and enjoy with a generous dash of non-dairy milk.
Recipe by
Blueberry Vegan
at https://www.blueberryvegan.com/de/schwarzer-vanillereis-mit-nektarine-und-buchweizenkrokant/