No Bake Oatmeal Cookies with Oat Milk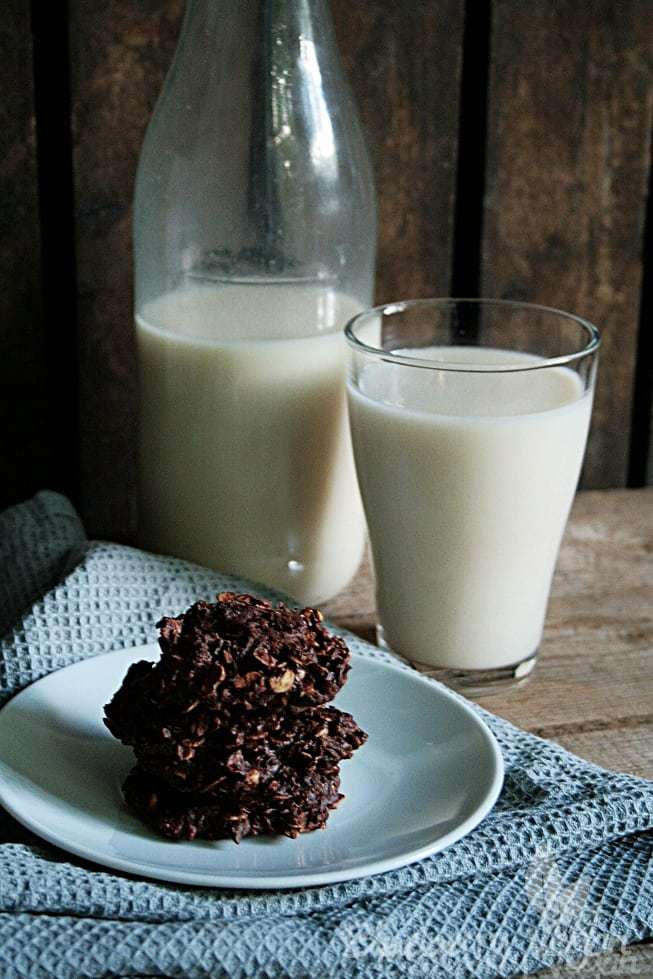 Ergibt/Yield:
6 Cookies and 1 liter (4 Cups) Oat Milk
1 medium-sized banana
50 g (1/4 cup) dark chocolate chips
100 g (1/2 cup plus 2 tbsp) rolled oats
1 tbsp chia seeds
1 tsp cocoa powder
1 pinch vanilla
1 cup ice cubes
approx. 850 ml (3 1/2 cups) cold water
100 g (1/2 cup plus 2 tbsp) rolled oats
2 dates
1 pinch salt
In a bowl mash the banana with a fork. Melt the chocolate chips and stir everything together. On a piece of parchment paper form 6 cookies and let them firm in the fridge. Store the cookies in there until you eat them.
Pour the ice cubes in a high-speed blender and fill up with cold water to 1 liter (4 cups). Then add oats, dates and salt and blend for 1 minute. Sieve through a nut milk bag or cheesecloth and pour in a bottle. Keep in the fridge and use within 3 days.
The firm parts will separate from the water in the milk. Shake it, before using, to combine them again.
Recipe by
Blueberry Vegan
at https://www.blueberryvegan.com/de/haferkekse-ohne-backen-und-hafermilch/