Pizza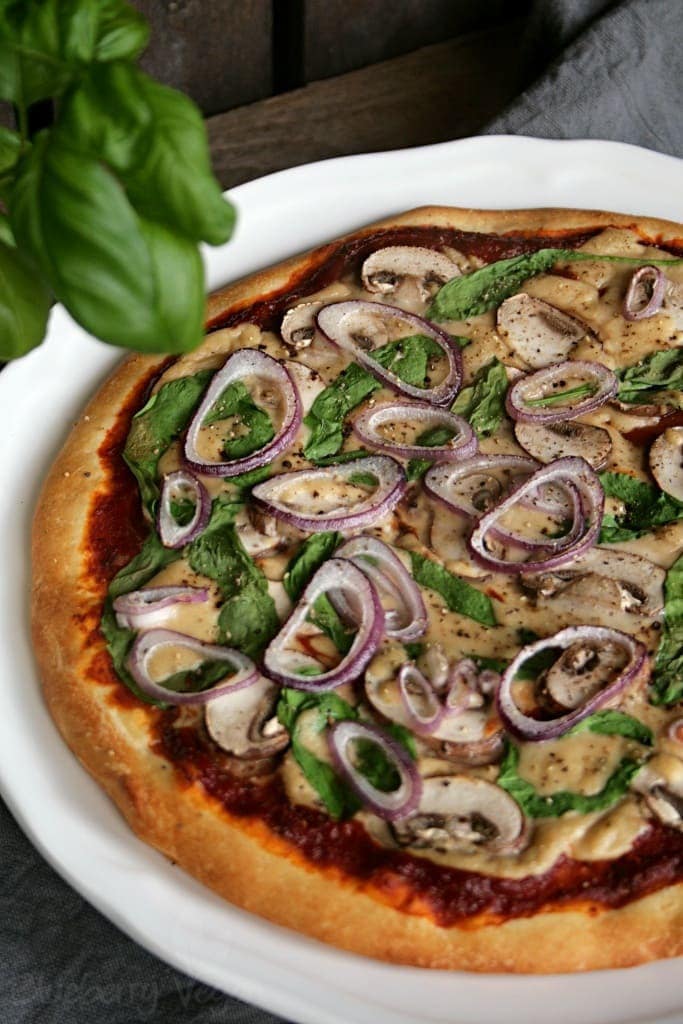 100 g (3/4 cup) spelt flour
1/2 tsp dry active yeast
1/2 tsp salt
1 pinch sugar
about 60 ml (1/4 cup) lukewarm water
1 14-oz can chopped tomatoes
1 tsp olive oil
1 onion
1 clove garlic
1 tsp oregano
1 tsp basil
1/2 tsp thyme
1/2 tsp salt
1/2 tsp agave nectar
100 g (3/4 cup) spelt flour
1/2 tsp dry active yeast
1/2 tsp salt
1 pinch sugar
about 60 ml (1/4 cup) lukewarm water
1 14-oz can chopped tomatoes
1 tsp olive oil
1 onion
1 clove garlic
1 tsp oregano
1 tsp basil
1/2 tsp thyme
1/2 tsp salt
1/2 tsp agave nectar
2 tbsp cashews - alternative 1 tbsp cashew butter
1 tbsp nutritional yeast flakes
1/4 tsp salt
1/4 tsp garlic powder
pepper
4 tbsp water
toppings of choice - today: mushrooms, spinach and onion
salt
pepper
Make the dough first. Heat the oven to 50° C (120° F) then turn it off.
Knead all ingredients to a soft, not sticky dough. Maybe add some more water or flour. Knead for at least 5 minutes in the machine or 10 minutes by hand.
Then place in a bowl, dust with flour and cover with a kitchen towel. Put in the oven and wedge the door with a wooden spoon. Let rest for 40 minutes, until the dough has risen significantly.
While the dough is resting, make the tomato sauce. Finely chop the onion and press the garlic. Heat the oil in a pot and sauté the onion and garlic. Add the chopped tomatoes and spices, let simmer for 10 minutes. Set aside.
Grind the cashews in the personal blender. If you don't have a personal blender or coffee grinder use cashew butter. Add the rest of the ingredients and blend until smooth. Pour in a pot and bring to boil while stirring. Let boil until mushy.
When the dough has risen, heat the oven to 250° C (480° F) and place a baking tray or pizza tray on the bottom rail. On a sheet of parchment paper press the dough with your fingertips into pizza shape, don't roll it with a rolling-pin, it won't raise as much then.
Pour the tomato sauce on the dough and spread. Then blob the cashew cheese on the sauce and add the toppings of choice. Season with salt and pepper and use the parchment paper to transfer the pizza on the hot pizza tray. Close the oven door immediately.
It'll take the pizza 8 - 10 minutes to be perfect. Watch it after 5 minutes to prevent burning.