Red Currant Yoghurt Rolls with Glaze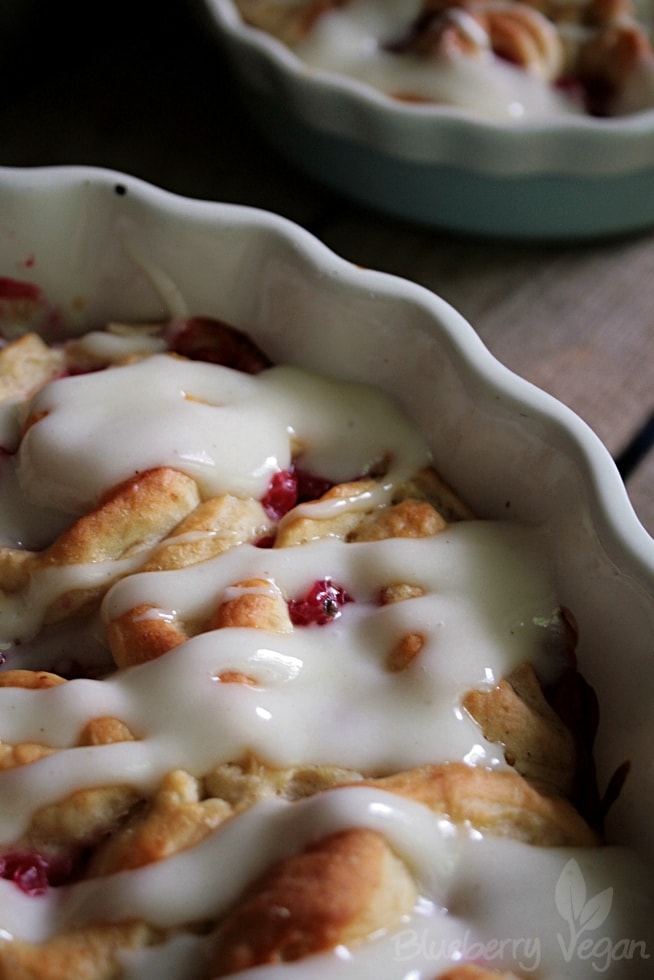 1 tbs (golden) flaxseed
3 tbs water
450 g (15.9 oz) white flour - spelt or wheat
250 g (8.8 oz) non-dairy vanilla yoghurt
50 g (1.8 oz) vegan butter, melted
1 pk. dry yeast
1 pinch salt
300 g (10.6 oz) red currants
1 tbs sugar
175 g (6.2 oz) non-dairy vanilla yoghurt
1 tbs corn starch
200 g (7 oz) powdered sugar
2 tbs non-dairy vanilla yoghurt
Finely grind the flaxseed. I do that in my personal blender. Mix with water and set aside. Preheat the oven to 50° C (120° F), turn it off.
In a large bowl combine all ingredients for the dough and knead well. It takes about 5 minutes in the machine and at least 10 minutes by hand to get the dough nice and soft.
Fill a small bowl with boiling water and place in the oven. On the second bottom track add a grid. Flour the dough in the bowl, cover with a kitchen towel and put in the oven. Let rest for 45 minutes.
In the meantime combine sugar and red currants and set aside. Also combine yoghurt and starch and mix well.
On a floured surface roll the dough into a rectangle shape. Spread the yoghurt and the red currants evenly on it, but leave an one inch edge. Preheat the oven to 50° C (120° F) again and turn it off.
Roll up the dough from the long side and cut into 1 1/2 inch thick slices. Place the buns, cut surface up, in a casserole or pie dish. Put in the oven and let rest for another 30 minutes.
Remove the water bowl from the oven and heat it up to 200° C (390° F). Keep the buns in the oven while it heats up. After 20 - 25 minutes they should be golden and done. Remove from the oven and let cool lukewarm.
Combine the powdered sugar and vanilla yoghurt until smooth and sprinkle over the lukewarm buns.
Recipe by
Blueberry Vegan
at https://www.blueberryvegan.com/de/johannisbeer-joghurt-schnecken-mit-guss/