Breakfast Muffins with Berries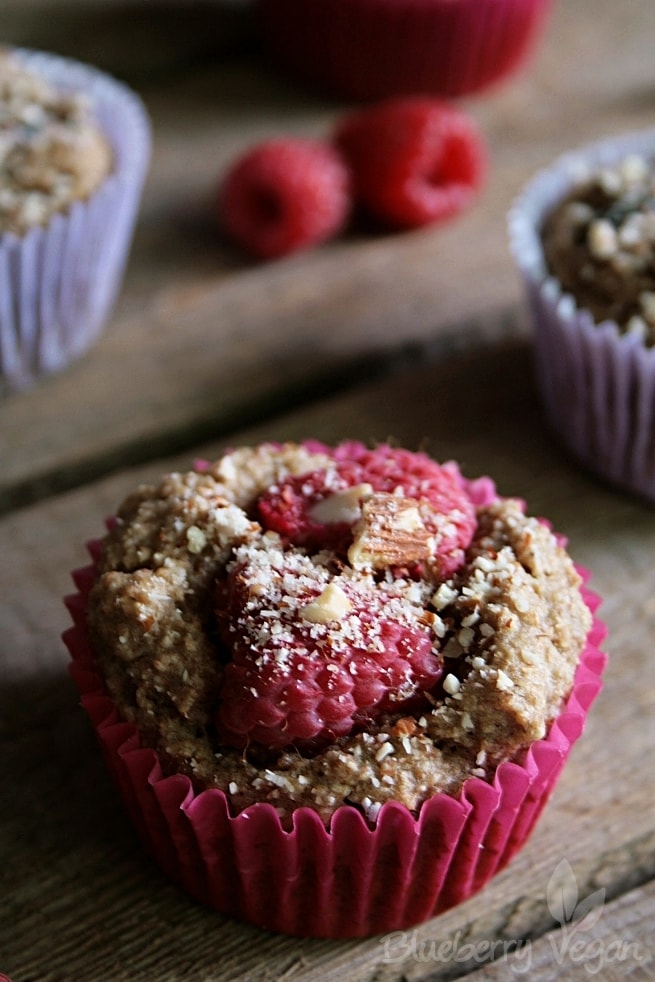 240 ml (1 cup) soy milk
1 tsp apple cider vinegar
280 g basic muesli or simple cereal flakes
2 tsp baking powder
1 ripe banana - about 130 g (4.5 oz)
80 ml (1/3 cup) neutral tasting oil
1 tsp vanilla extract
1 handful blueberries
1 handful raspberries
2 tbsp nuts, chopped
Mix the soy milk with the apple cider vinegar and let curdle. Preheat the oven to 180° C (360° F). Equip a muffin tray with paper liners.
In a blender grind the muesli into flour and combine with the baking powder in a bowl.
Blend the soy buttermilk with the banana until smooth. Add oil and vanilla extract and and pour over the flour. Whisk briefly until just combined.
Pour the batter in the paper liners and press in some berries. I uses 4 - 5 blueberries and 2 - 3 raspberries for each muffin. Sprinkle with chopped nuts and bake in the oven for about 20 minutes until a toothpick comes out clean.
Let the muffins cool down for 5 minutes in the tray, then remove and let cool completely on a cooling rack.
To get the batter INTO the paper liners, not around them, I use an ice cream scoop with ejection function.

The muffins stay fresh for two days. They also freeze well, so you can store leftovers for another morning.
Recipe by
Blueberry Vegan
at https://www.blueberryvegan.com/de/fruehstuecksmuffins-mit-frischen-beeren/