Sushi Bowl with Avocado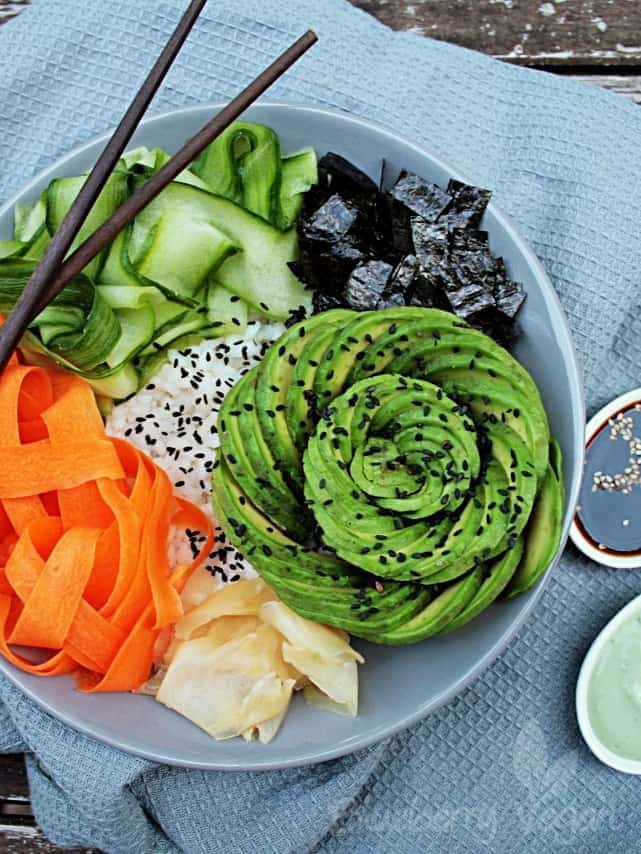 1 cup sushi rice
2 cups water
2 tbs rice vinegar
1 tsp agave nectar
1/2 tsp salt
1 carrot
1/2 cucumber
2 sheets nori
1 avocado
2 tbs pickled ginger
4 tbs soy sauce
2 tsp sesame
2 tsp mayo
1/2 tsp wasabi
1 dash lemon juice
Pour rice and water in a pot and cook it firm to the bite. Mix rice vinegar, agave nectar and salt and combine with the rice, let cool down.
Slice the carrot and cucumber with a potato peeler from four sides to create long, thin slices. Cut the nori sheets with scissors in small pieces or strips.
Cut the avocado in half, pit it and remove the skin. Cut into small slices. Push the slices apart to a long, thin string and roll it up from one side to the other. Drizzle with some lemon juice.
Combine the mayo and the wasabi until homogenous. Season to taste with lemon juice and pour in a small bowl. Also pour the soy sauce in a small bowl.
Arrange the rice in two bowls and sprinkle over some sesame. Arrange the other ingredients in a round on the rice. Pick up the avocado rose with a big knife and place it on the rice, too.
Serve with soy sauce and wasabi mayo.