Brownuts - Brownie Donuts with Cherries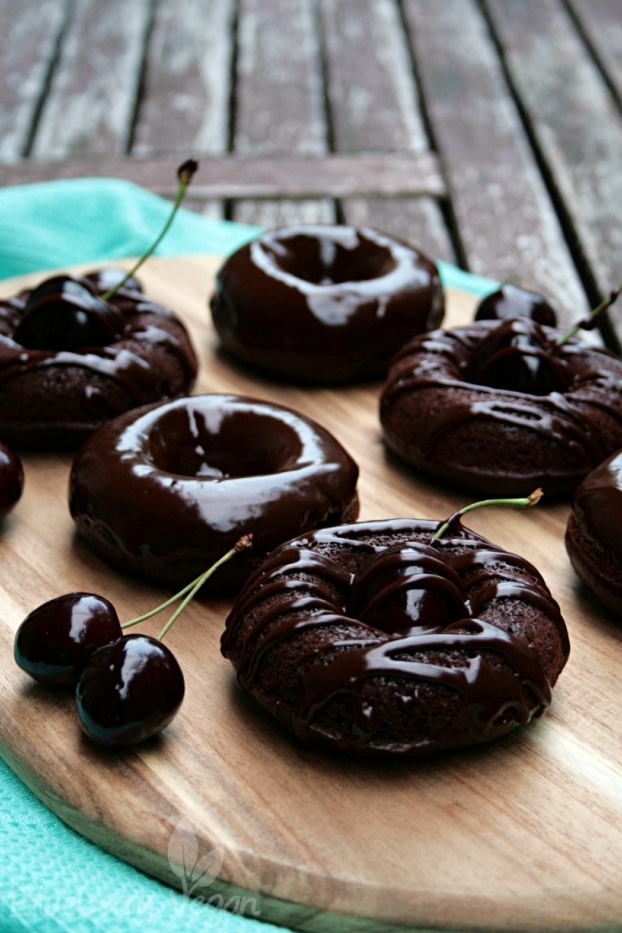 120 g (3/4 cup) white flour - spelt or wheat
30 g (1/4 cup) cocoa powder
80 g (1/2 cup) sugar
1 1/2 tsp baking powder
1/4 tsp salt
160 ml (2/3 cup) soy milk
1 tsp apple cider vinegar
3 tbsp neutral tasting oil
1 tbsp flaxseed, ground
3 tbsp water
1 tsp vanilla extract
6 cherries
100 g (3.5 oz) dark chocolate
2 tbsp coconut oil - alternative vegan butter
1 tbsp agave nectar
1 tsp vanilla extract
In a bowl mix the dry ingredients. Grease a donut mold and preheat the oven to 180° C (360° F). Combine flaxseed and water and let jelly. Mix soy milk and apple cider vinegar and let curdle. Pit the cherries and finely chop them.
In a sauce pan heat up the wet ingredients including the flaxseed a little warmer than lukewarm, but do not boil them. Pour over the dry ingredients, add the cherries and stir briefly but thoroughly.
Pour the dough in a freezer bag, cut off a corner and pipe the dough into the donut mold. Bake in the oven for about 10 - 15 minutes until a toothpick comes out clean. Make sure, you don't stick it into a cherry and thus bake the donuts too long. Remove from the mold immediately and let cool completely on a cooling rack.
Meanwhile prepare the glaze. In a bain-marie melt the chocolate, coconut oil and agave nectar. Mix well, then add the vanilla extract and combine.
Let the glaze cool down until it's lukewarm and then dunk the donuts halfway in and let them drip off on a cooling rack. Or pour the glaze in a freezer bag and sprinkle it over the donuts.
Recipe by
Blueberry Vegan
at https://www.blueberryvegan.com/de/brownuts-brownie-donuts-mit-kirschen/