Kohlrabi Fries with Fishless Cakes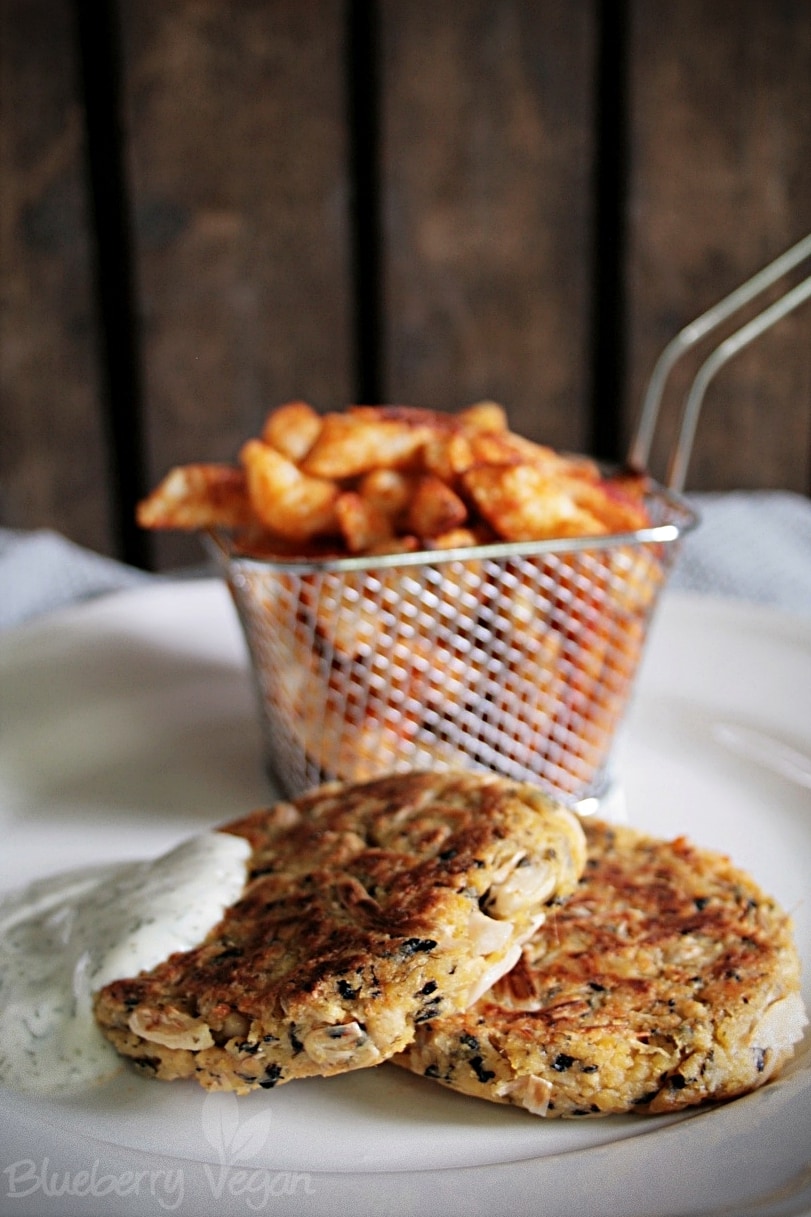 3 kohlrabi
2 tbs oil
2 tbs flour
1 tsp smoked paprika
1 tsp salt
1 tbs (golden) flaxseed
1 sheet nori
1/2 14 oz - can chickpeas
1/2 14 oz - can jackfruit in brine
1/2 onion
2 tsp herb vinegar
4 tbs chickpea flour
3/4 - 1 tsp salt
1/4 tsp sweet paprika
1/4 tsp pepper
2 tbs mayo
2 tbs non-dairy yoghurt
1/2 tsp dill, chopped
1 pinch salt
Preheat the oven to 220° C (430° F). Peel the kohlrabi and cut into sticks. Toss in a freezing bag, add the oil and juggle until wetted. Then add the flour and shake again until fully coated. Lay the sticks next to each other on a lined baking tray and bake in the oven for about 25 minutes. Turn them over after half the time. Combine paprika powder and salt and sprinkle over the kohlrabi fries.
While the kohlrabi are baking, prepare the fishless cakes. Grind the flaxseed and mix with 2 tablespoons water, let jelly. Finely chop the nori sheet or process ist in a blender by pulsing the knifes. Drain the chickpeas and jackfruit.
Finely process the onion in a food processor, add the chickpeas and process again. Pull the jackfruit in fibers and knead with the other ingredients until a sticky dough forms. Season to taste with salt, paprika and pepper. Form four cakes and fry in hot oil for about 3 - 4 minutes each side.
For the dip just combine all ingredients and season to taste with salt. On a plate arrange the fishless cakes and fries. Serve immediately.
Recipe by
Blueberry Vegan
at https://www.blueberryvegan.com/de/kohlrabi-pommes-mit-veganen-fisch-frikadellen-und-dill-joghurt-mayo/