Pasta Squares with Fennel and Chili Cashew Cream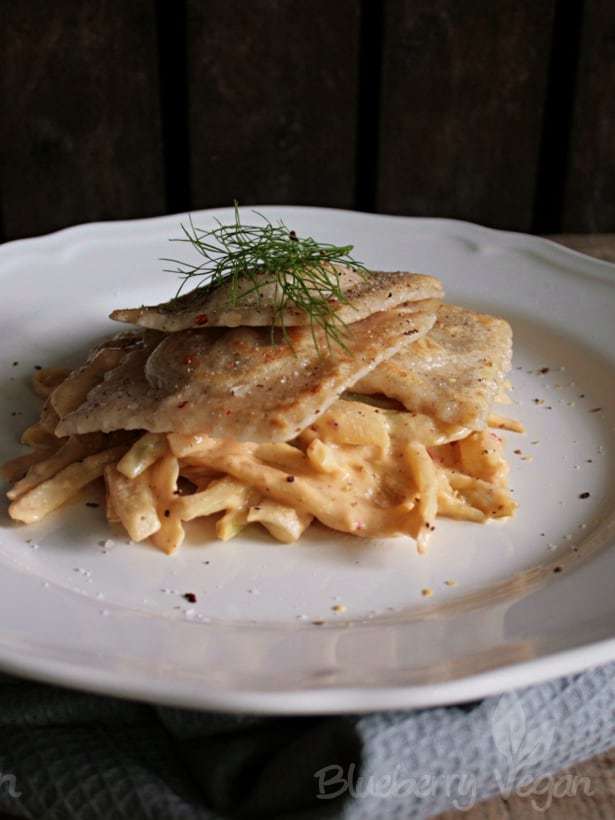 250 g (8.8 oz) flour - spelt or wheat or 2/3 flour and 1/3 semolina
1/2 tsp salt
125 ml (1/2 cup) water
1/2 bulb fennel
1/2 small onion
1 small garlic clove
1 tsp olive oil
1 tbs lemon juice
1 tbs nutritional yeast flakes
1 tsp instant vegetable stock
pepper
50 g (1/3 cup) cashews
250 ml (1 cup) water
1 tsp Sambal Oelek
2 tsp lemon juice
1/2 tsp salt
2 1/2 bulbs fennel
1 tbs olive oil
In a bowl combine flour, salt and water and knead well for about 5 minutes, if you use a machine or 10 minutes, when you knead with your hands. Wrap in clingfilm and refrigerate for 1 hour.
Finely chop the fennel in a food processor. Also finely chop onion and garlic. Heat the olive oil in a pan and sautée onions and garlic. Add the fennel and fry for about 2 - 3 minutes. Season with lemon juice, yeast flakes, pepper and instant veggie stock.
Remove the dough from the fridge, cut in half and roll on the dusted counter until it is very thin. On the first piece pour a teaspoon full of the fennel and place it on the dough, leaving some space between the fennel heaps. Cover with the second piece of dough and press it on. Either use a pastry wheel or a pasta stamp to cut the pasta squares. Let them simmer in salted water for about 15 minutes.
In the meantime cut the fennel in thin strips and fry in some oil. Grind the cashews and mix with the other ingredients until smooth. Pour over the fennel and stir while it's getting creamy. Arrange on plates.
Fry the pasta squares in some oil for 2 - 3 minutes and dress on the creamed fennel. Sprinkle with some salt and chili flakes.
I grind the cashews in my Personal Blender. If you don't have the possibility to grind them, let them soak in water for 4 hours and then blend with the other ingredients or use cashew butter.
Recipe by
Blueberry Vegan
at https://www.blueberryvegan.com/de/maultaschen-mit-fenchel-und-chili-cashew-rahm/