Asparagus Garlic White Pizza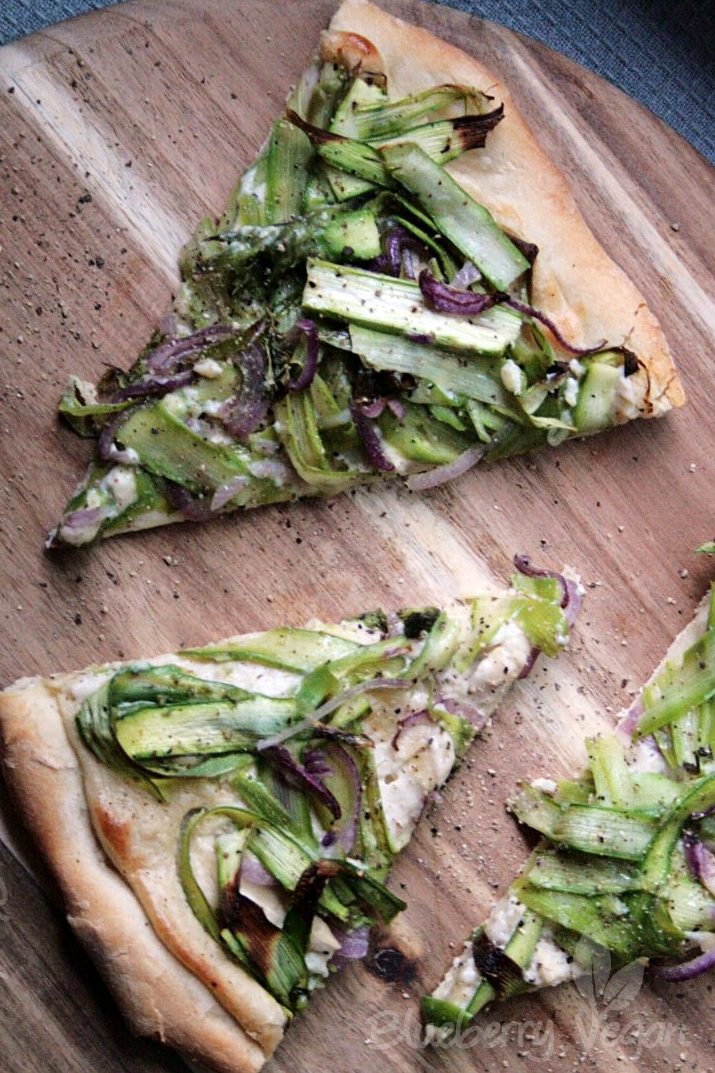 Ergibt/Yield:
1 Pizza - 1 to 2 Portions
125 g (3/4 cup) spelt flour
1 tsp dry active yeast
1/2 tsp salt
60 ml (1/4 cup) water, lukewarm
75 g (1/2 cup) cashews - alternative 4 tbs cashew butter
125 ml (1/2) water
1 tbs nutritional yeast
1 garlic clove
1/2 tsp salt
pepper
1 pinch smoked paprika
1/2 bunch green Asparagus - about 9 oz
1/2 red onion
1 tsp olive oil
salt
pepper
Preheat the oven to 50° C (120° F) and turn it off. Put the cashews in a bowl, pour over boiling water and put them in the oven to let them soak.
Mix the ingredients for the dough and knead thoroughly for at least 5 minutes. Put in a bowl, cover with a kitchen towel and put in the oven as well. Jam a wooden spoon in the door and let the dough rise for about 30 - 45 minutes.
Meanwhile cut off the wooden ends of the asparagus and finely slice it with a potato peeler. Finely slice the onion. Mix the asparagus and onion with oil and season with salt and pepper.
Once the dough has risen, on a piece of parchment paper use your hands to form a pizza. Preheat the oven to 250° C (480° F). Add a pizza or baking tray on the lowest rack and heat up as well.
Meanwhile drain the cashews and blend with the other ingredients for the sauce in a blender until creamy. Pour into a sauce pan and and let it thick on medium heat while stirring. Spread on your pizza, but leave the edges (about an inch) clean.
Pour over the asparagus and onion slices on your pizza and bake in the oven for about 10 -12 minutes. Sprinkle with black pepper before serving.
Recipe by
Blueberry Vegan
at https://www.blueberryvegan.com/de/spargelpizza-mit-knoblauchcreme/