Asparagus Tart with Yoghurt Mustard Mousse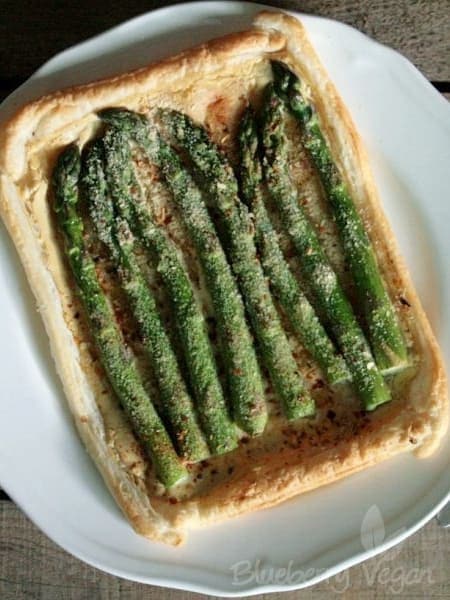 1 pk. puff pastry, vegan
1 bunch green asparagus (14 - 16 spears)
1 tsp olive oil
2 tbs nutritional yeast flakes
salt
chili flakes
4 tbs soy yogurt
2 tbs mustard
Preheat the oven to 200° C (390° F).
Unroll the puff pastry and cut in half. Tweak the corners and form an edging to build the tarts. Perforate the bottom with a fork and bake in the oven for 5 minutes.
Cut off the wooden ends of the asparagus and steam it in the microwave or blanch in boiling water for about 1 - 2 minutes.
For the mousse combine yoghurt and mustard. Push down the risen part in the middle of the tarts with a fork, but keep the edges up. Spread the mousse in the middle of the tarts and arrange the asparagus on top.
Cover the asparagus with some oil and sprinkle over salt, chili and yeast flakes. Bake for another 10 - 12 minutes.
Recipe by
Blueberry Vegan
at https://www.blueberryvegan.com/de/spargeltarte-mit-joghurt-senf-creme/