Seitan Gyros with Tzatziki, Salad and Tofu Feta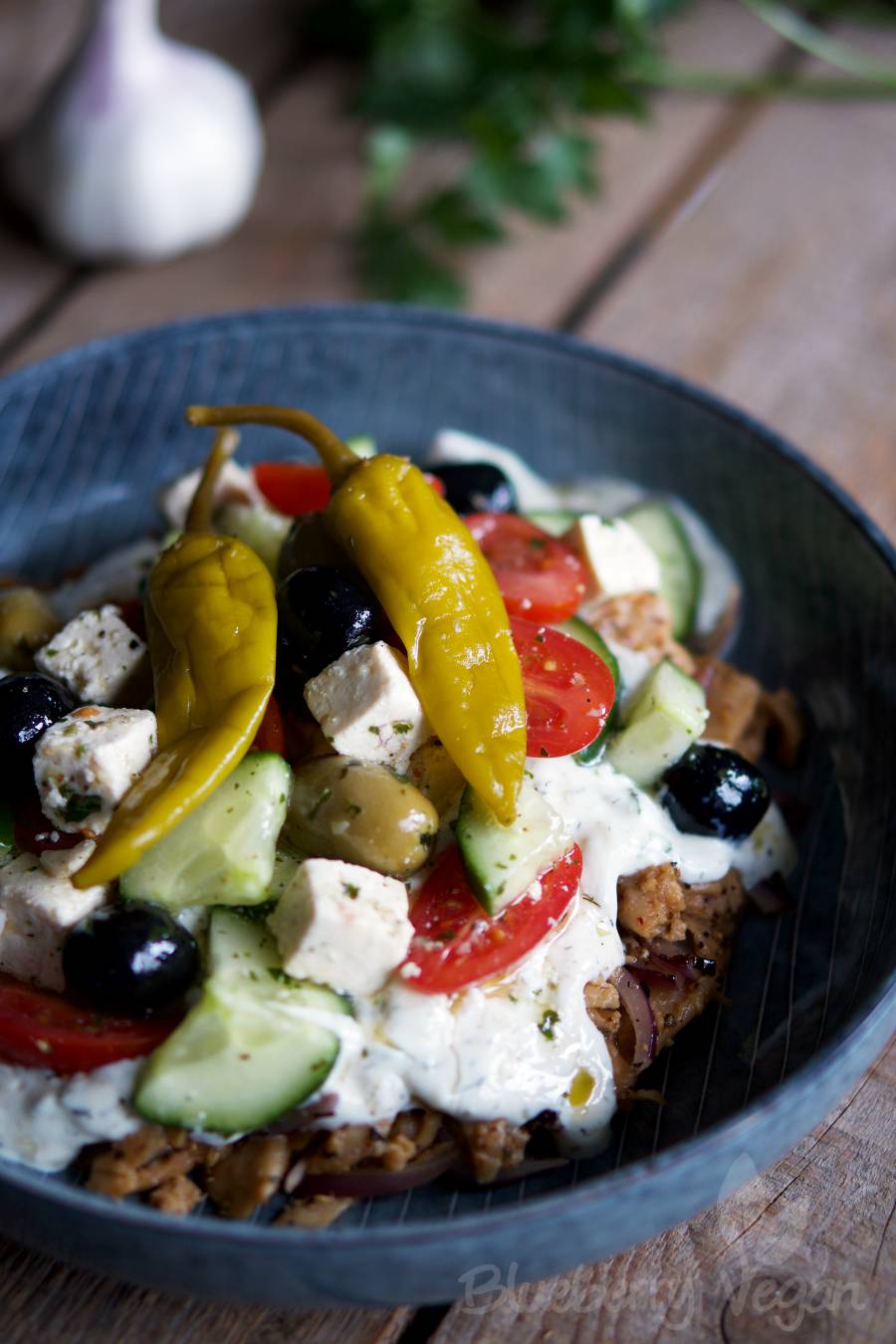 200 g (7 oz) gluten
1 tsp smoked salt
1 tsp garlic powder
1 tsp pepper
1/2 tsp paprika
1/2 tsp cumin
1/4 tsp nutmeg
250 ml (1 cup) water
2 tbsp soy sauce
400 g (14 oz) soy curd - alternative: drained soy yoghurt
1 tsp garlic powder - or 2 cloves garlic
1 tbsp lemon juice
1/2 cucumber
1 tsp salt
1 tsp dill, dried
4 servings tofu feta cheese
1 cucumber
2 hand full cherry tomatoes
4 tbsp marinated olives
8 pickled peppers
2 tbs herb vinegar
salt
pepper
seitan (see above)
1 tbsp oil
1 onion
1 tbsp gyros spice mix
salt
To prepare the seitan mix all dry and wet ingredients separately, then mix together and knead until combined. Let rest for about 5 minutes. Meanwhile bring a pot with water to boil. Cut the seitan in four pieces and put it into a steamer. Steam the seitan for 45 minutes and let it cool completely.
For the tzatziki shred the cucumber, mix with salt and let it drip in a sieve for 15 minutes. In the meantime combine soy curd, garlic powder or minced garlic, lemon juice and dill. Squeeze the excess water from the cucumber and stir in the curd. Let it steep in the fridge for about an hour. Season with salt and lemon juice if necessary.
Cut the cucumber for the salad lengthwise in quarters, then slice it. Cube the tomatoes and combine all ingredients, except for the peperoni, and set aside.
For the gyros, slice the onion and the seitan in strips. Heat up a frying pan. Fry the seitan strips in hot oil until brown. Then add the onions and sautée until transluscent. Season with salt and gyros spice mix.
Arrange the gyros on the plates, pour over the tzatziki, then the salad and tofu feta. Garnish with pickled peppers and serve with fresh baguette.
I like garlic powder more than fresh garlic in tzatziki, because it adds the flavor, but leaves out the hot note.
Recipe by
Blueberry Vegan
at https://www.blueberryvegan.com/de/seitan-gyros-mit-zaziki-salat-und-tofu-feta/