Pulled Jackfruit with Crispy Potatoes and Barbecue Sauce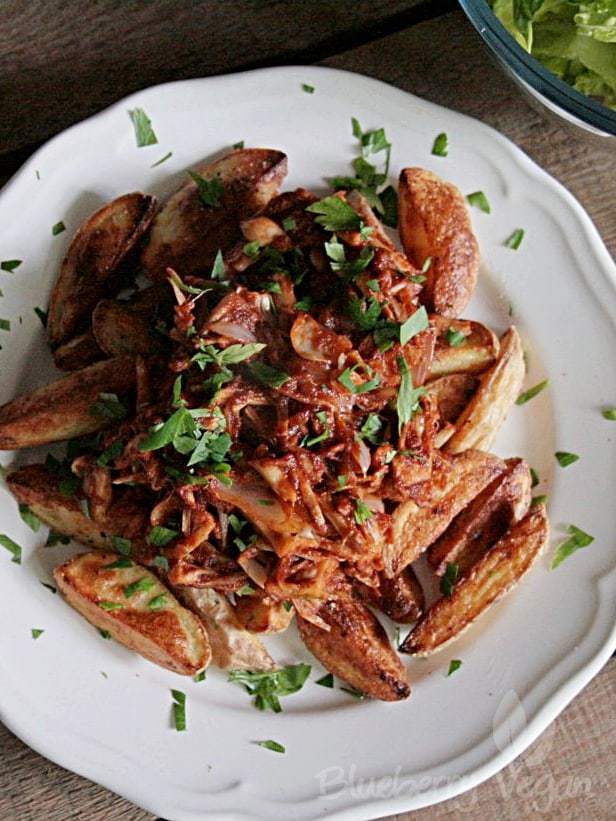 1 can (14 oz) green jackfruit in brine
1 tbs oil
1/2 onion, cut into stripes
400 ml (1 2/3 cup) tomato juice
2 tbs coconut sugar - alternative maple syrup
1 tbs maple syrup
2 tbs balsamic vinegar
1 heaped tbs apple butter - alternative sugar beet molasses
1 tbs tamari - alternative soy sauce
1/2 tsp cumin
1/2 tsp smoked hot paprika
1 tsp Dijon mustard
1/2 tsp liquid smoke
4 dashes worcestershire sauce
1 pinch cilantro seeds, ground
1/2 onion
1 clove garlic
1 tsp oil
450 g (16 oz) small potatoes
1 tbs starch
1 tbs oil
salt
pepper
Drain the jackfruit in a sieve and pull apart the slices. Rinse afterwards and let drain well.
For the barbecue sauce finely chop the onion and garlic and sautée it in some oil in a pan. Put the onions and garlic with the other ingredients for the sauce in a blender and blend well for about 1 -2 minutes. Pour the sauce in a pot and bring to boil. Then reduce the heat and let it simmer for about 25 minutes. Stir occasionally.
Preheat the oven to 220° C (430° F).
Quarter the potatoes lengthwise and put them and the starch in a freezing bag. Shake until every potato wedge is covered in starch. Then add the oil, salt and pepper and shake again to cover the potatoes with the oil.
Pour the potatoes on a baking sheet covered tray and spread them. Make sure they lie on one of the cut surfaces. Bake in the oven for about 15 minutes, then turn them over to the other cut surface and bake for another 10 minutes.
In a pan heat up the oil and fry the jackfruit for about 3 -4 minutes, then add the onion and sautée for another 2 -3 minutes. Remove the pan from the stove and stir in 4 - 6 tbs of the barbecue sauce.
Arrange the potatoes on two plates, pour over the pulled jackfruit and serve with a green salad.
Pour the rest of the barbecue sauce hot in a clean screw top jar and keep it in the fridge. It will stay fresh a couple of weeks.
Recipe by
Blueberry Vegan
at https://www.blueberryvegan.com/de/pulled-jackfruit-auf-knusperkartoffeln-mit-barbecuesauce/