Quesadillas with Soya Shreds and Cashew Cheese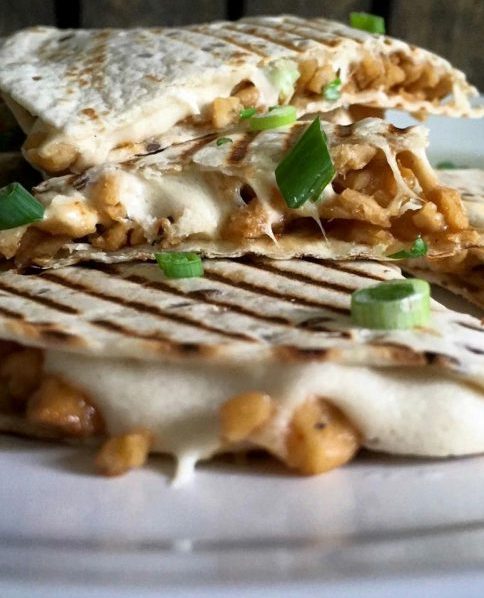 Gang/Type:
Main Dish, Snack
70 g (2.5 oz) cashews
200 ml (3/4 cup plus 1 tbsp) water
2 tbsp lemon juice
2 tbsp nutritional yeast flakes
1/2 tsp salt
1/4 tsp agave nectar
1 tbsp ground psyllium husks
75 g (2.65 oz) soya shreds
1 tbsp oil
1 spring onion
1 clove garlic
1 tbsp soy sauce
1/2 tsp smoked hot paprika
1/4 tsp cumin
1/2 tsp agave nectar
salt
pepper
For the cashew cheese mix all ingredients, except for the ground psyllium husks, in a high speed blender for about a minute until smooth. Then add the psyllium husks and blend again a couple of seconds. If you don't have a high speed blender you'll have to soak the cashews in water for about 2 hours, to blend them smoothly. Or use store-bought cashew butter. Pour the cheese in an airtight container and refrigerate for 1 hour.
To prepare the soya shreds. Put them in a bowl and pour over boiling water. Let it soak for 10 minutes. Then drain and rinse thoroughly and squeeze the water out of it.
Slice the spring onion and chop the garlic. Preheat your contact grill.
Pour the soha shreds in a pan without oil and allow them to vaporize excess water for about 3 minutes. Then add the oil and spring onions. Sautée for about 2 minutes. Add the garlic and briefly sautée it. Deglaze the shreds with soy sauce and season with paprika, cumin, agave nectar, salt and pepper.
On one half of the tortillas spread the cashew cheese generously. On the other half spread the soya shreds. Fold the tortillas and bake them in the contact grill until crispy. Quarter the quesadillas and arrange them on a plate.
Recipe by
Blueberry Vegan
at https://www.blueberryvegan.com/de/quesadillas-mit-sojahack-und-cashewkaese/