Spring Bowl with Radish, Pearl Barley and Asparagus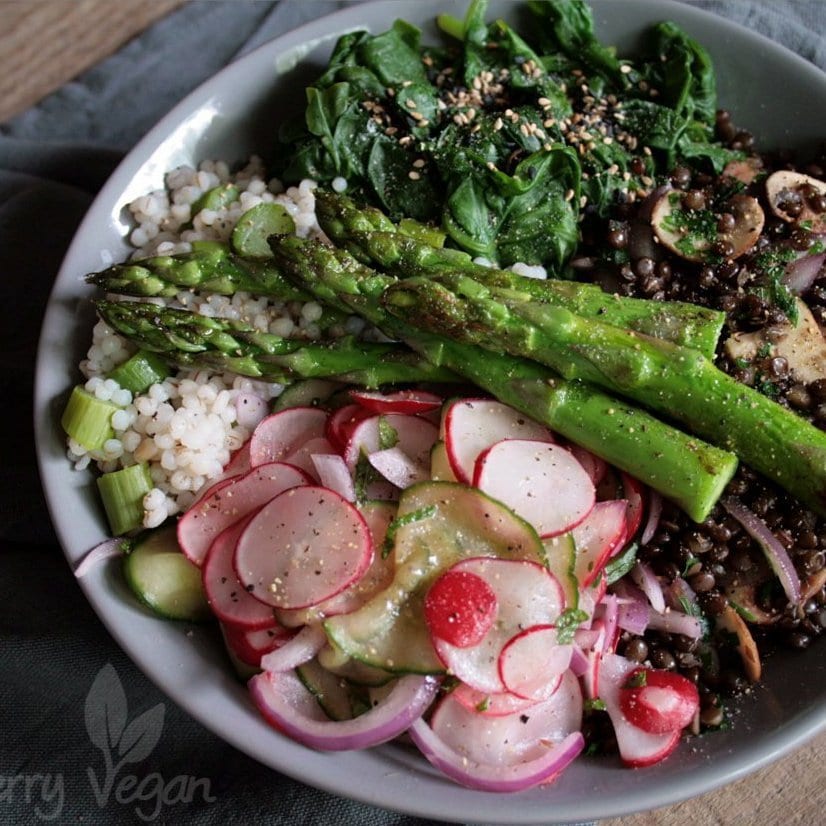 Ergibt/Yield:
2 Portionen
100 g (3.5 oz) pearl barley
The bottom third of the asparagus, cut into little pieces
salt
100 g (3.5 oz) beluga lentils
1 heaped tsp instant vegetable stock
salt
pepper
1 tbs oil
1/2 red onion
6 - 8 mushrooms
1/4 bunch parsley
1 dash lemon juice
300 g (10.5 oz) spinach
2 tsp sesame seeds
salt
pepper
1 bunch radishes
1/2 cucumber
1/2 red onion
1 tbs olive oil
1 tbs herbal vinegar
salt
pepper
1 tbs mint, chopped
10 spears green asparagus
salt
pepper
some oil
Start with the radish ceviche. Shred the radishes and cucumber in thin slices. Cut the onion in thin stripes. Mix with vinegar, oil, salt and pepper in a bowl and let it marinate in the fridge.
Put the lentils with the vegetable stock and water in a pot and bring to boil. Let simmer for about 15 minutes. Then drain the lentils.
At the same time start boiling the pearl barley. Wash it and then put it with some salted water on the stove and bring to boil. Let the barley cook for about 15 minutes.
While the barley ist boiling, cut off the rough edges of the asparagus and toss them. Cut off the bottom third and cut into small pieces. After the barley has cooked 10 minutes, add the asparagus pieces and boil them with the pearl barley for about 5 minutes. Then drain and briefly rinse both.
While the barley and lentils are boiling slice the mushrooms and onion and chop the parsley. Clean out the spinach and wash it.
In a pan roast the sesame without fat, set aside.
For the lentils heat the oil in the pan on medium-high heat. First sauté the onions and then the mushrooms for about 2-3 minute. Season with salt and pepper. Then add the parsley and lentils. Combine and add a dash of lemon juice.
Arrange the lentils and pearl barley in two bowls. Get the radish ceviche out of the fridge, add a litte salt, if necessary and stir in the mint. Also put in the bowls.
Put the spinach, wet from washing, in the pan on medium heat and let it collapse. Season with salt and pepper and mix with the sesame. Put in the bowls.
At last sauté the asparagus in some oil for about 1-2 minutes and season with salt and pepper. Put it on top of your bowl and serve immediately.
Recipe by
Blueberry Vegan
at https://www.blueberryvegan.com/de/fruehlingsbowl-mit-radieschen-graupen-und-spargel/