Strawberry Cake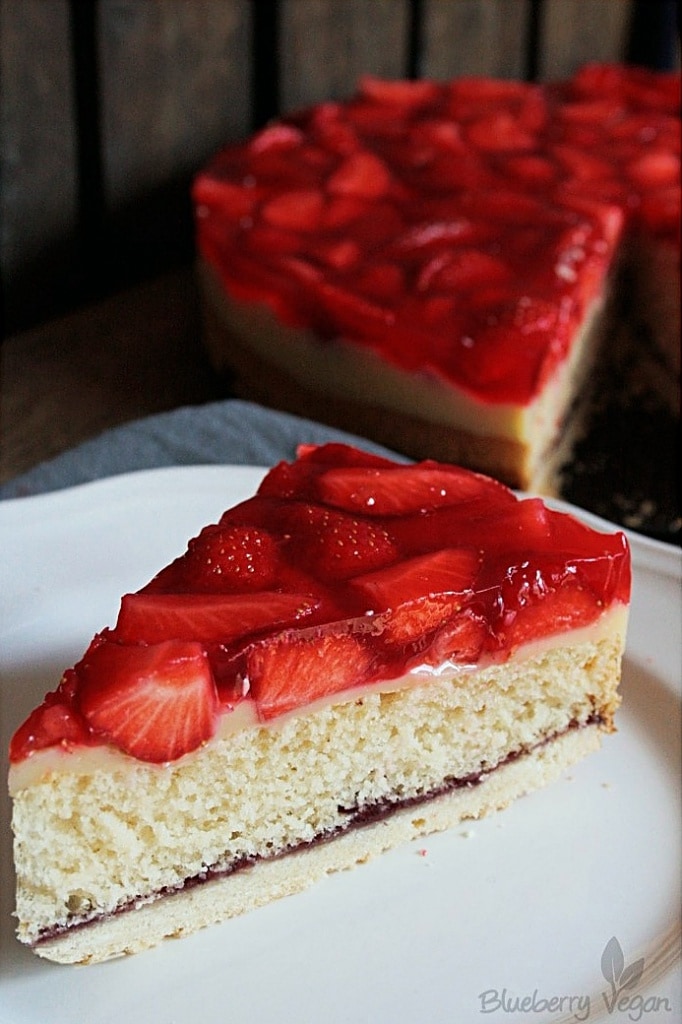 200 g (7 oz) white flour - spelt or wheat
60 g (2 oz) sugar
1 pinch salt
100 g (3.5 oz) vegan butter
2 tbs soy milk
220 g (7.8 oz) white flour - spelt or wheat
80 g (3 oz) sugar
1/2 pk. baking powder
50 ml (3 tbs) neutral tasting oil
200 ml (2/3 cup plus 2 tbs) sparkling water
350 ml (1 1/2 cups) soy milk
2 tbs sugar
1 Pk. vanilla custard powder
500 g (18 oz) strawberries
1 pk. red fruit tart glaze, vegan
2 tbs sugar
3 tbs strawberry jam
Preheat the oven to 180° C (360° F).
Cut the butter into small pieces and mix with the other ingredients for the crust. Knead until a homogen batter forms.
Grease a springform pan (26 cm - 10 inches) and put in the crust dough. Spread evenly on the ground and perforate with a fork. Bake in the oven for about 20 minutes until the surface is beginning to brown. Get the cake out of the oven and spread the strawberry jam on the crust.
For the sponge cake in a big bowl mix the dry ingredients, then add the wet ingredients and give it a short stir with a whisk. Just mix until only a few little lumps are left.
Pour the batter in the springform pan on the jam and bake in the oven for about 30 minutes until a toothpick comes out clean.
While the sponge cake is baking, clean the strawberries and cut them into quarters, set aside.
When the cake is ready begin to prepare the pudding. Just mix the ingredients and bring them to boil. Pour over the cake and immediately spread the strawberries on top.
For the glaze just mix all ingredients together and bring them to boil. Let the glaze cool down a couple of minutes, then pour over the strawberries.
Let the cake cool down a little bit and then place it in the fridge when its lukewarm. Give it 1 - 2 hours to cool and tighten, bevor you eat it all.