Fried Asparagus with Mushrooms and Vegan Cheese Sauce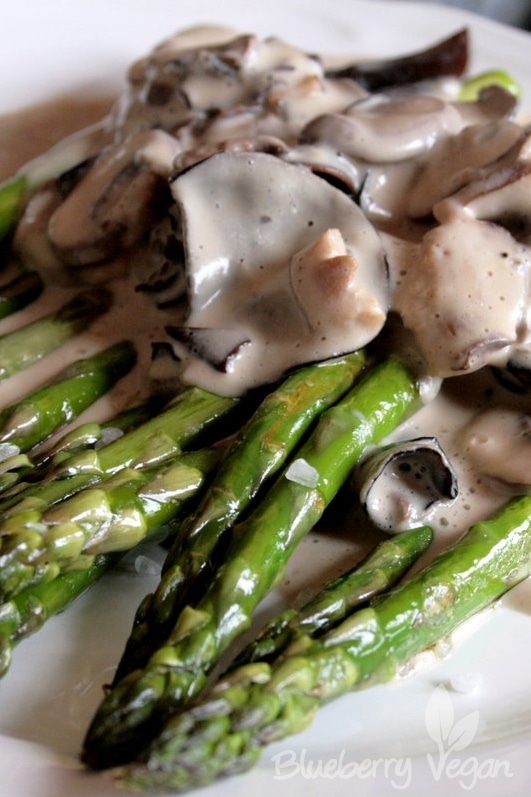 100 g (3.5 oz) cashews - alternative 4 tbsp cashew butter
400 ml (1 2/3 cups) water
1 tsp onion powder
1 tsp garlic powder
1 tsp instant vegetable broth
2 tbsp nutritional yeast flakes
1 tsp soy sauce or tamari
salt
pepper
100 g (3.5 oz) cashews - alternative 4 tbsp cashew butter
400 ml (1 2/3 cups) water
1 tsp onion powder
1 tsp garlic powder
1 tsp instant vegetable broth
2 tbsp nutritional yeast flakes
1 tsp soy sauce or tamari
salt
pepper
25 g (1 oz) dried mixed mushrooms
150 g (5.3 oz) fresh mushrooms
500 g (17.6 oz) green asparagus
1 tbsp olive oil
salt
pepper
Cover the dried mushrooms with boiling water and let hydrate for 15 minutes, then drain..
Slice the mushrooms and cut off the wooden parts of the asparagus.
Pour all ingredients in the blender and mix until smooth. Pour into a pot and add the mushrooms. Bring to boil and let simmer until it thickened. Season to taste with salt and pepper.
While the sauce is simmering, fry the asparagus in hot oil, add salt and pepper. Arrange on two plates and pour over the mushroom cheese sauce.
Recipe by
Blueberry Vegan
at https://www.blueberryvegan.com/de/gebratener-spargel-mit-pilzen-und-veganer-kaesesauce/