Eggplant Herring in Yoghurt Sauce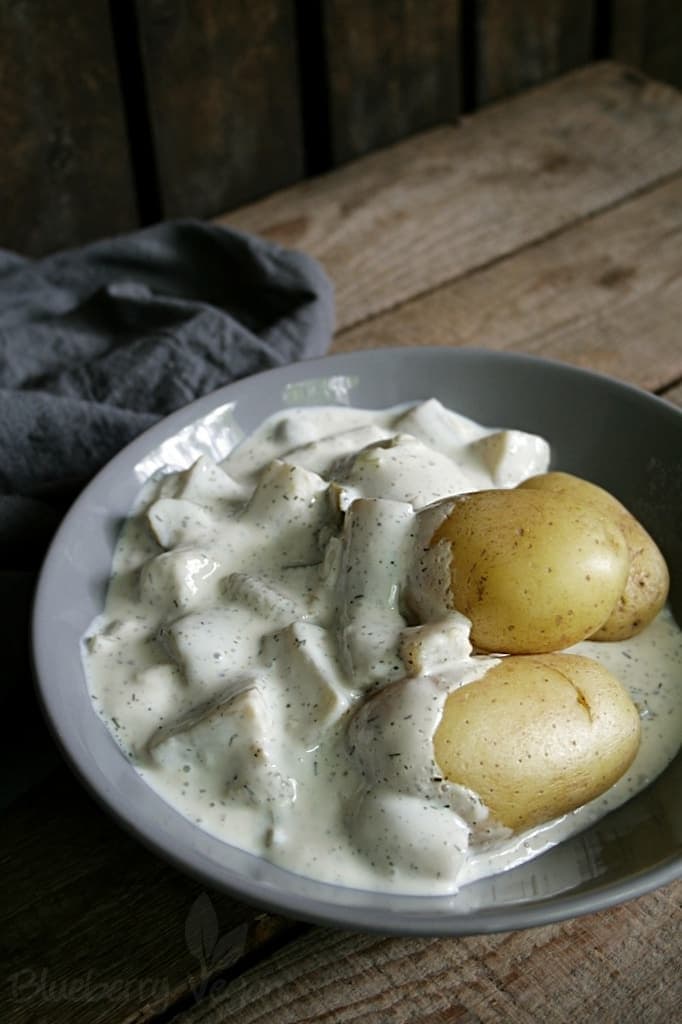 250 g (9 oz) eggplant
300 ml (1 1/4 cups) water
2 tsp salt, heaped
4 tbs vinegar
1 sheet nori
1 big pot non-dairy yoghurt
3 tbs dill pickle brine
1 tsp dill
1/2 small onion
3 small dill pickles
2 dashes lemon juice
Let drain the yoghurt overnight, using a coffee filter.
Peel the eggplant with a potato peeler, cut it lengthwise into slices and then into strips. Either use the strips or cut them into chunks.
Combine water, salt and vinegar, add the nori sheet and the eggplant and bring to boil. Cover with a lid and let simmer for 7 minutes. Let cool in the brine until lukewarm.
While the eggplant is cooling down, prepare the Sauce. So combine the yoghurt with the pickle brine and the dill and stir with a whisk until smooth.
Finely chop the onion an dill pickles and add to the yoghurt. Add the eggplant and mix well.
Let infuse for at least one hour. Season to taste with salt after that.
Cook the potatoes in salt water, peel (or don't) and arrange on plates. Pour over the yoghurt herring.
The nori sheet is falling apart while boiling and it doesn't look that tasty. So I put it in a nylon stocking. This way the algae taste is added to the eggplant, but the ugly scrap stays in the stocking.
Recipe by
Blueberry Vegan
at https://www.blueberryvegan.com/de/veganer-heringsstipp/