Creamed Mushrooms with Spaghetti and Rocket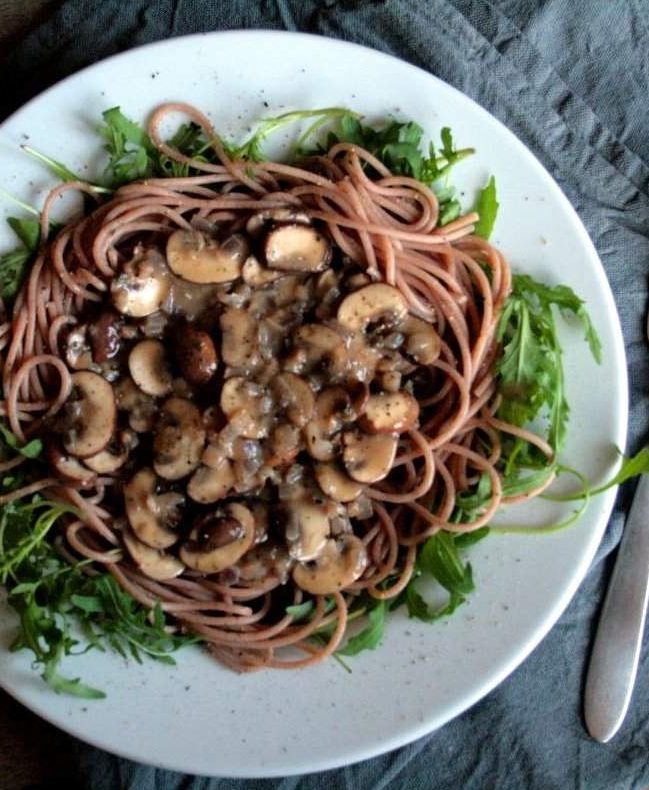 1 small onion
1 tbsp olive oil
250 g (9 oz) brown mushrooms
1 pk. Shiitake Pâté (alnatura or any other brand)
250 ml (1 cup) water
1 tsp vegetable stock
salt
pepper
160 g (6 oz) whole wheat or spelt spaghetti
2 hands full rocket
Wash the rocket and spin-dry and arrange on two plates.
Dice the onion and finely slice the mushrooms. Cook the spaghetti according to package instructions.
Sautée the onions in hot olive oil until transluscent, then add the mushrooms and sautée for about 2 minutes.
Add the water to to pan and stir in the pâté and vegetable stock and let it simmer for about 5 minutes. Season with salt and pepper
Drain the noodles and mix with the sauce. Pour over the rocket and enjoy.
Recipe by
Blueberry Vegan
at https://www.blueberryvegan.com/de/rahmchampignons-mit-spaghetti-und-rucola/