Pizza Wheels with Mushrooms and Wild Garlic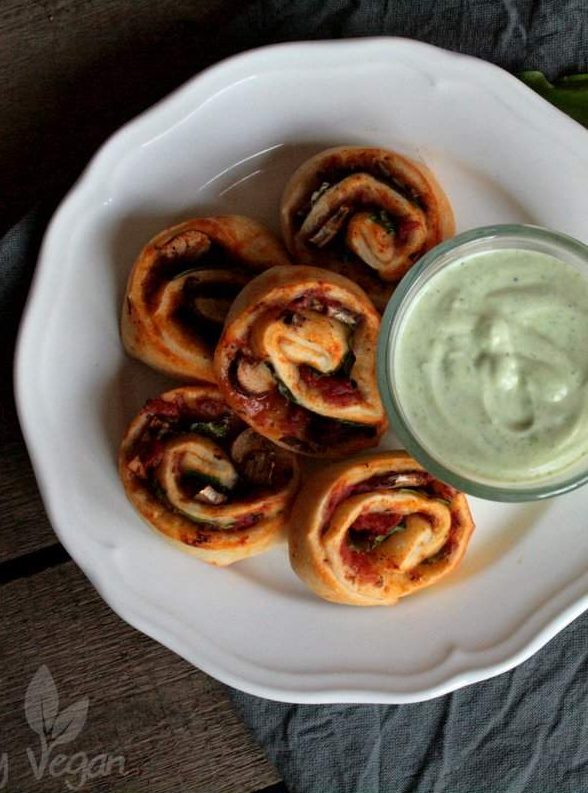 Gang/Type:
Main Dish, Snack
1 pack vegan pizza dough with sauce
6 medium-sized mushrooms
8 big leaves wild garlic
salt
pepper
4 tbsp non-dairy yoghurt
1 - 2 tsp wild garlic pesto (recipe follows)
salt
pepper
(yields one small jar)
80 g (3 oz) wild garlic
40 g (1.5 oz) cashews
1 tbsp nutritional yeast flakes
1/4 tsp salt
80 g (3 oz) oil
Preheat the oven to 200° C (390° F) and line a baking tray with parchment paper. Slice the mushrooms and wash and dry the wild garlic.
Roll out the pizza dough and spread the sauce. Leave an edge of one inch without sauce and season with salt and pepper. Arrange the mushrooms and wild garlic on the pizza. Roll up, beginning from the long side and cut in 16 slices. Place on the baking tray and bake for 10 - 15 minutes until golden.
Meanwhile make the wild garlic yoghurt. Just mix the yoghurt with 1 or 2 teaspoons wild garlic pesto and season with salt and pepper.
For the wild garlic pesto mix all ingredients in the Personal Blender or with an immersion blender.
Store the pesto in the fridge for a couple of weeks, but make sure to cover the surface with oil. Read more about my 
Personal Blender
.
Recipe by
Blueberry Vegan
at https://www.blueberryvegan.com/de/pizzaschnecken-mit-baerlauch-und-champignons/