Burrito Bowl with Brown Rice, Black Beans and Guacamole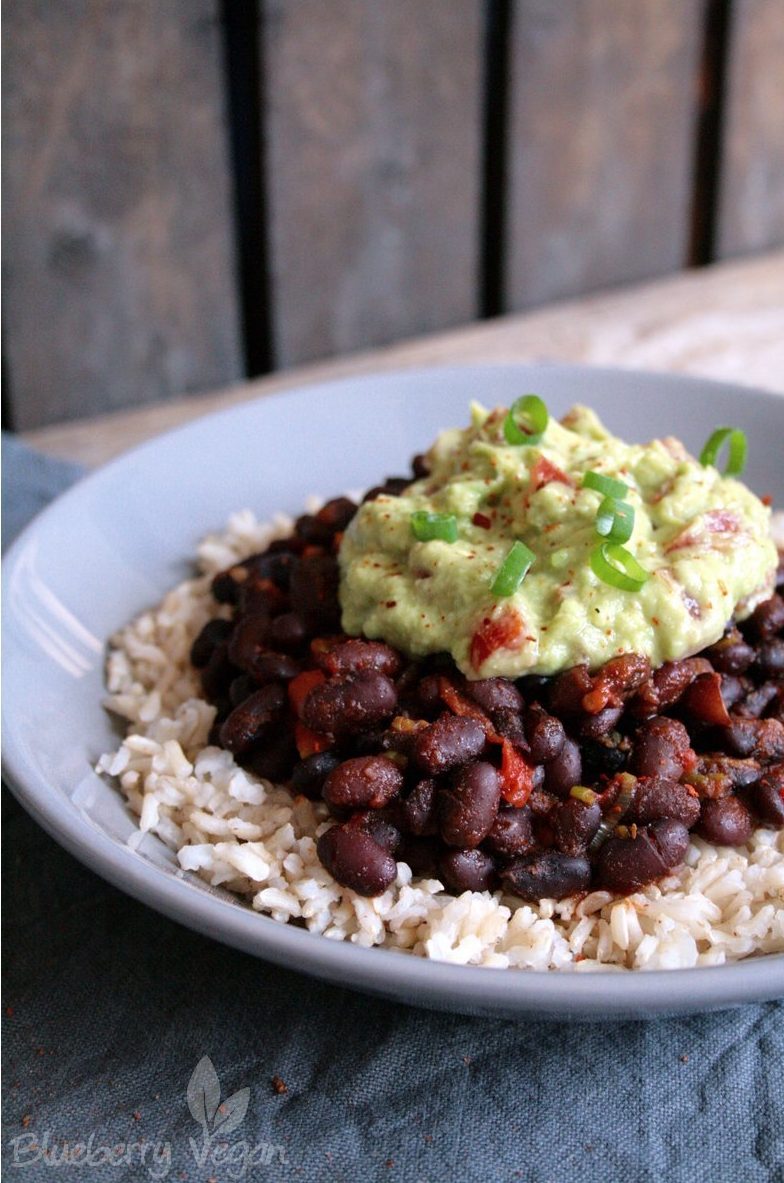 1 cup black beans
1 pinch baking soda
1 pinch salt
1 tbsp olive oil
2 spring onions
3/4 garlic clove
3 tomatoes
1 tsp sambal oelek
salt
pepper
1 avocado
1 tomato
1 - 2 tbsp lemon juice
1/4 garlic clove
1/4 tsp salt
1/2 cup brown rice
chili flakes
One day before cover the beans with water and let them soak overnight. Drain and add fresh water, bring to boil, add 1 pinch baking soda and 1 pinch salt and cook for one hour until soft.
When the beans have 30 minutes left to cook, start boiling the rice with 1 cup salty water. Cook for 35 - 40 minutes.
Drain the beans and rinse cold.
For the guacamole quarter the tomato, remove the seeds and finely cube the tomato. Press the garlic and halve the avocado. Mash the avocado with a fork and add tomato cubes, lemon juice and garlic, season to taste with salt.
Slice the spring onions, press the garlic and cube the tomato.
Heat the oil in a big pan and sautée the onions for 1 - 2 minutes. Add the garlic and sautée briefly.
Add the tomatoes and beans and cook for 3 - 4 minutes. Season with sambal oelek, salt and pepper.
Arrange the rice in two bowls, pour over the beans and top with the guacamole. Sprinkle with chili flakes.
If you don't have much time use canned beans.
Recipe by
Blueberry Vegan
at https://www.blueberryvegan.com/de/saettigende-burrito-bowl-mit-reis-schwarzen-bohnen-und-guacamole/