Phyllo Dough Rolls with Smoky Tomato Dip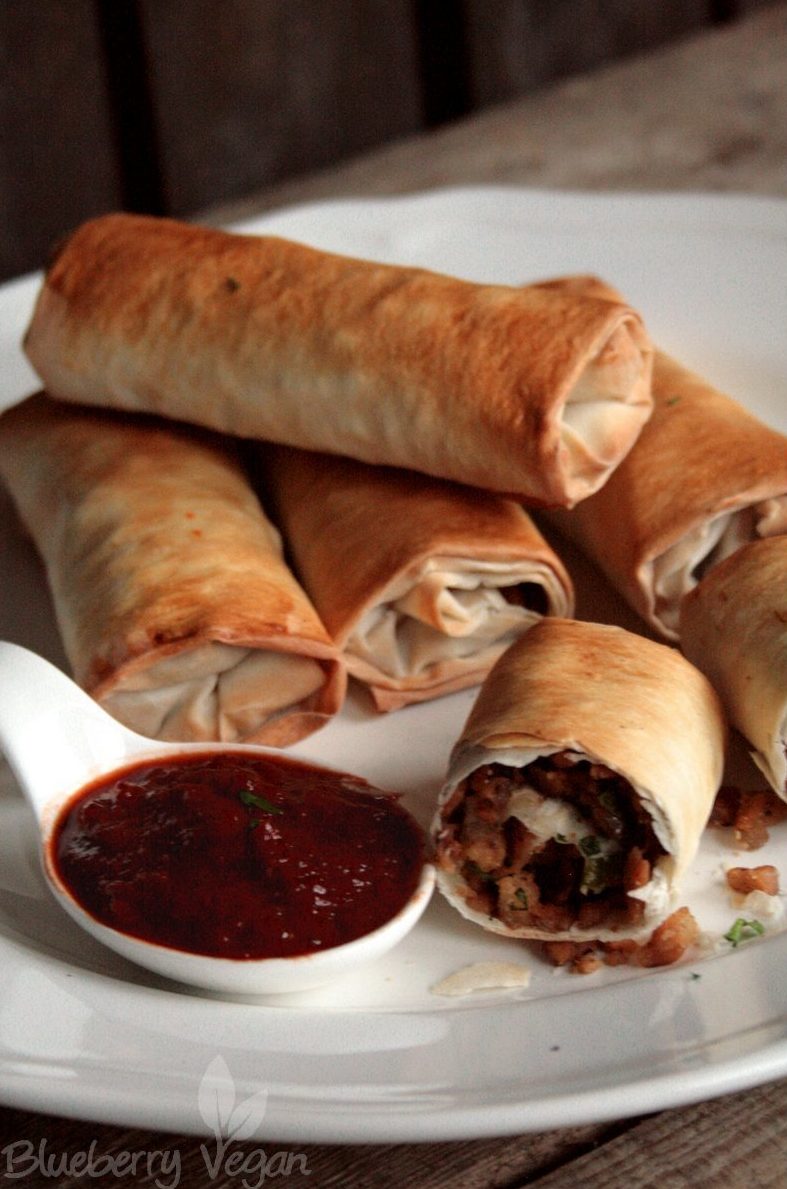 100 g (3.5 oz) soya shreds
1 onion
1 clove garlic
2 tbsp oil
2 tbsp soy sauce
pepper
2 tbsp chopped parsley
125 ml (1/2 cup) water
2 tbsp tomato paste
1 tsp maple syrup
1 tsp liquid smoke
1/4 tsp salt
pepper
6 sheets phyllo dough
1 tbsp non-dairy cream
Cover the soya shreds with boiling water and let hydrate for 10 minutes. Then drain and wash thoroughly, press out any excess water. Finely dice the onion and press the garlic.
Fry the soya shreds in a non-stick pan on high heat until all excess water vaporized. Then add oil and onions and fry for 2 - 3 minutes. Then add the garlic and fry for another minute.
Season with pepper and deglaze with soy sauce. Remove from the stove and let cool until lukewarm.
Fold the phyllo dough sheets lengthwise and place next to each other on the counter. Preheat the oven to 180°C (360° F).
Sprinkle over the parsley over the soya shreds and place each two tablespoons on each phyllo dough sheet. Fold in the sides and roll up.
Place the roll with the fold down on a lined baking tray, brush on the non-dairy cream and bake in the oven for 15 - 20 minutes until golden.
While the rolls are baking make the tomato dip. Combine all ingredients in a pot, bring to boil and cook for 15 minutes until it thickened to a consistency like ketchup. Season to taste with salt and pepper
Serve the phyllo dough rolls with the smoky tomato dip.
Recipe by
Blueberry Vegan
at https://www.blueberryvegan.com/de/filo-hack-roellchen-mit-rauchigem-tomatendip/