Colorful Glass Noodle Salad with Crispy Tofu and Chili Lime Dressing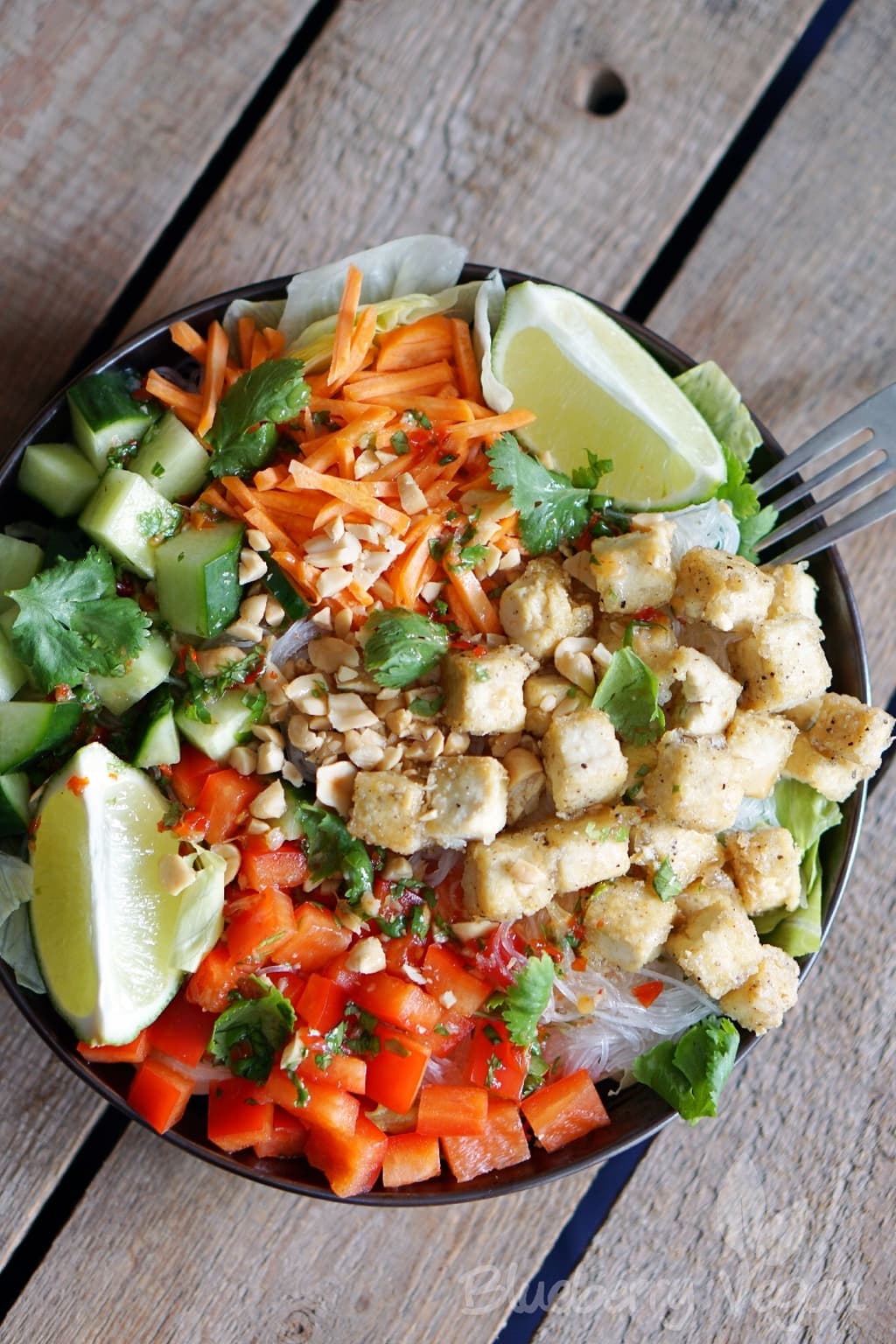 1/2 head of iceberg lettuce
100 g (3.5 oz) glass noodles
1/4 cucumber
1 carrot
1/2 red bell pepper
1 spring onion
2 tbsp peanuts, toasted
1/4 bunch of cilantro
1 lime for serving - optional
200 g (7 oz) plain tofu
2 tbsp corn starch
salt
pepper
Oil for frying
6 tbsp sweet chili sauce
4 tbsp lime juice
4 tbsp water
1 tbsp cilantro, chopped
Pour boiling water over the glass noodles and let them steep for 5 minutes. Drain, rinse with cold water and drain.
Dice the paprika and cucumber. Julienne the carrot, cut the spring onion into rings and cut the lettuce into bite-sized pieces. Roughly chop the peanuts.
Dice the tofu, season with salt and pepper and mix with the starch. Heat the oil in a pan and fry the tofu until crispy. Drain on kitchen paper.
Mix all ingredients together for the dressing.
Spread the iceberg lettuce on two deep plates and pour the noodles over them. Arrange the remaining vegetables and tofu on top of the noodles. Top with a few cilantro leaves, the spring onion and the peanuts as a topping. Drizzle with the dressing and serve with lime wedges if you like.
Recipe by
Blueberry Vegan
at https://www.blueberryvegan.com/de/bunter-glasnudelsalat-mit-knusprigem-tofu-und-chili-limetten-dressing/