Tangy Cavolo Nero Salad with Fried Tofu on Sourdough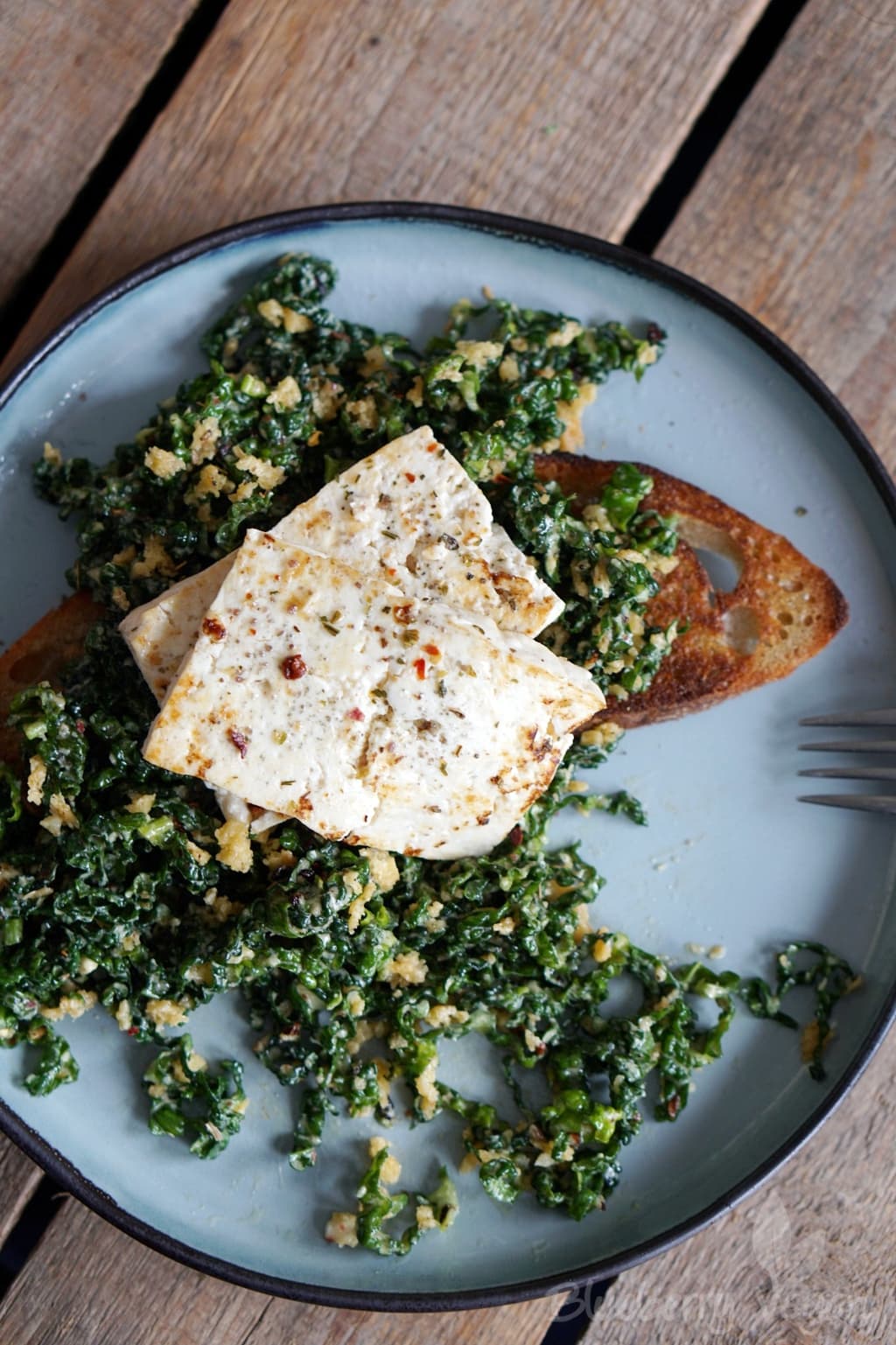 Gang/Type:
Main Dishes, Salads, Snacks
1 bunch of cavolo nero
1/2 cup panko, or breadcrumbs
1 tbsp butter-flavored oil
Mediterranean spice mix
1 handful of cashew nuts, ground
2 tbsp nutritional yeast flakes, heaped
1 organic lemon
2 tbsp olive oil
salt
pepper
4 slices of a fresh block of tofu
2 slices sourdough bread
1 tbsp butter-flavored oil
kala namak - black salt
Mediterranean spice mix
For the salad, remove the stalks from the cabbage, roll up the leaves like a cigar and cut into very fine strips, place in a bowl.
For the dressing, zest the lemon and squeeze out the juice. Mix together with the remaining ingredients and pour over the cabbage. Add more lemon juice, salt and pepper to taste.
Mix the panko with 1 tablespoon of oil and the Mediterranean spice mix and then toast in a pan until slightly turning brown. Add to the salad and stir in.
Heat the remaining oil in the pan on medium heat and toast the sourdough slices in it. Then increase the temperature and fry the tofu for 2 minutes on each side.
Place the sourdough on two plates, cover with the salad and top with the tofu. Sprinkle with Mediterranean spice mix and kala namak.
Instead of the butter-flavored oil, you can also use margarine or just another oil.
Recipe by
Blueberry Vegan
at https://www.blueberryvegan.com/de/wu%cc%88rziger-schwarzkohlsalat-mit-gebratenem-tofu-auf-sauerteigbrot/