Pearl Barley Salad with Spinach and Braised Tomatoes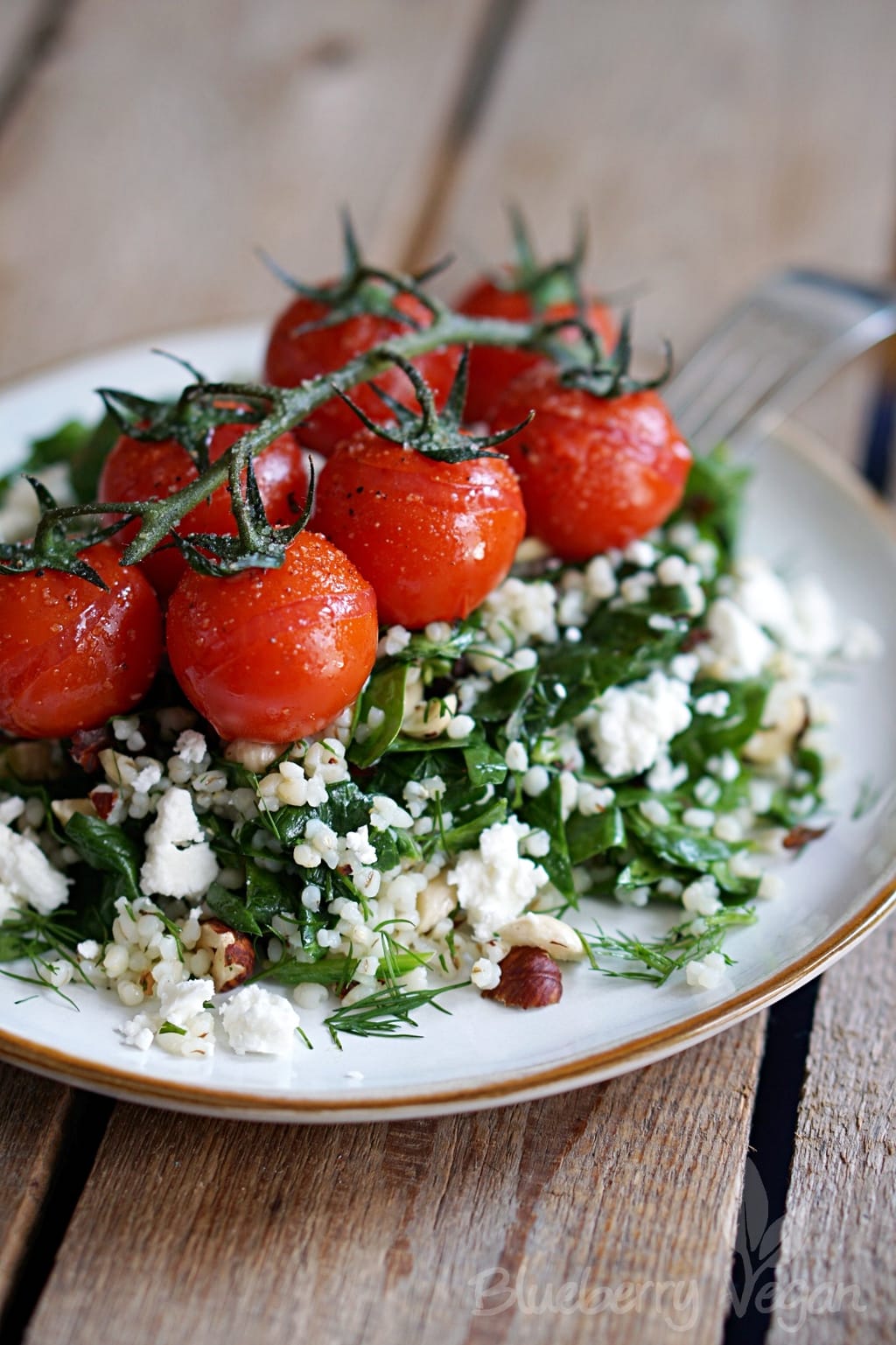 Gang/Type:
Salad, Main Dish
100 g (1/2 cup) pearl barley
1 lemon, untreated
2 panicles of cherry tomatoes
100 g (2 cups, packed) spinach
1/2 bunch of dill
50 g (1/4 cup) hazelnuts
100 g (1/2 block) vegan feta alternative
olive oil
salt
pepper
Wash the pearl barley thoroughly and bring to a boil with 2 cups of water and half a lemon sliced. Add a pinch of salt and cook according to the time indicated on the packaging.
Preheat the oven to 180 °C (360 °F).
Place the tomatoes in a baking dish, drizzle with a little olive oil, season with salt and pepper. Bake in the oven for about 15 minutes until the tomatoes have popped open.
For the first few minutes, add the hazelnuts to the oven to roast them. Then let cool and roughly chop.
Coarsely chop the spinach and finely chop the dill. Crumble the vegan feta alternative with a fork.
Rinse the pearl barley under running water to get rid of the starch. Then mix in a bowl with the spinach, dill, hazelnuts and a dressing made from olive oil, herb vinegar, salt and pepper.
Season to taste with a dash of lemon juice and divide between two plates. Sprinkle with the vegan feta and place a tomato panicle on top.
To add some more protein add lentils, which also taste great in the salad. Simply cook them together with the pearl barley.
Recipe by
Blueberry Vegan
at https://www.blueberryvegan.com/de/frischer-graupensalat-mit-spinat-und-geschmorten-tomaten/